GOAU Set to Test Its All-Time Highs as Inflation Climbs to Multiyear Levels
Bob Moriarty
Archives
May 22, 2021
The price of gold has risen to a more than three-month high on inflation fears and unexpectedly poor jobs numbers. Gold mining stocks are also performing well, with the NYSE Arca Gold Miners Index finishing Monday's session at its highest level since November 2020.
I happen to like a lot of the royalty and streaming companies because they sidestep much of the risk involved in mining. They also typically have contracts with a well-diversified portfolio of actively producing mines. Shares of Franco-Nevada (FNV), which reported record revenues in Q1, are trading at a nine-month high and on Monday signaled a golden cross, with the 50-day MA crossing above the 200-day MA.
By the way, FNV is the number one holding in the U.S. Global GO GOLD and Precious Metal Miners ETF (GOAU), with a weighting of 11.6%. The next four holdings by weighting are also leading royalty and streaming companies, for a combined weighting of 45.8% in the top 10 holdings.
GOAU is currently trading above its 50-day and 200-day moving averages as institutional investors exit cryptocurrencies and get back into gold. Inflation is also at its highest level in years. I expect to see the ETF test its all-time highs in the coming weeks.
(Click on image to enlarge)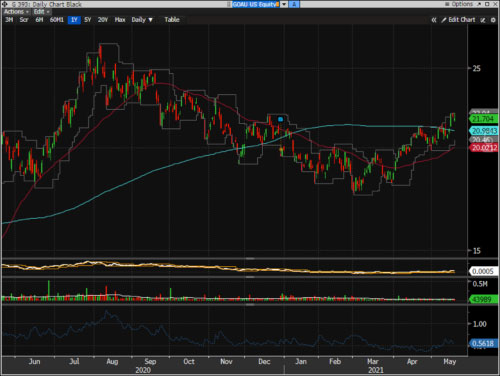 Since inception and year-to-date, GOAU is beating its much larger peers, the VanEck Vectors Gold Miners ETF (GDX) and VanEck Vectors Junior Gold Miners ETF (GDXJ). I believe this outperformance is mostly due to its overweighting of royalty and streaming companies.
I've recommended GOAU before ( here, here and here ), and since those calls, the ETF is up 52%, 46% and 23%, respectively. With trillions of dollars continuing to be printed every day and inflation expected to ramp up even more, I recommend GOAU again today. Check it out by visiting the fund page here.
###
Bob Moriarty
President: 321gold
Archives
321gold Ltd