Gold ETF That Makes a Difference
Bob Moriarty
Archives
Jul 27, 2019
The U.S. Global GO GOLD and Precious Metal Miners ETF (NYSE: GOAU) just had its two-year anniversary at the end of June, and since inception, the fund has absolutely obliterated its main competition.
GOAU delivered a remarkable 41% since inception through July 24, crushing the hugely popular VanEck Vectors Gold Miners ETF (GDX) and VanEck Vectors Junior Gold Miners ETF (GDXJ), which were up 32.7% and 27.6% over the same period.
(Click on images to enlarge)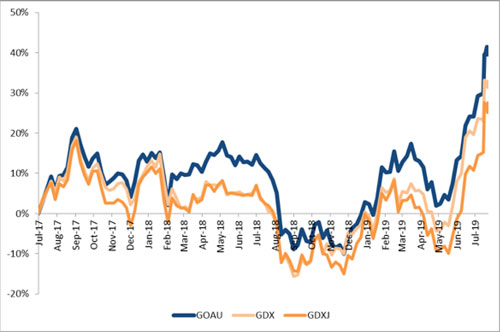 Some might call it beginner's luck. I call it superior planning. Here's why…
Dummy Diversification
If you look at the construction of VanEck's products, personally, I would describe them as dumb. The GDX and GDXJ are over diversified. GDX has close to 45 holdings while its junior counterpart has as many as 70. In the senior ETF, Newmont Goldcorp is the number one holding at almost 12%, followed by Barrick at just over 10% and Newcrest at 6.5%.
The GDXJ is even more watered down. The top holding, Northern Star Resources, represents only 6% of the fund.
What it really comes down to is that both funds are market cap-weighted. That's no way to build a gold fund, as I see it. No thought or analysis has gone into stock selection or weighting. Investors are getting little or no exposure to companies that are growing the fastest. The chart above makes that very clear.
Like I said: Dumb-as-bricks. VanEck takes you for a fool and is banking on you not having a clue. I hate to say it, but if you're fine with this, you deserve what VanEck is selling.
An Emphasis on Royalty and Streaming Companies
GOAU just does things differently and, frankly, better. I like it a lot. Unlike the GDX and GDXJ, GOAU is a dynamic, rules-based gold ETF. As of my writing this, the ETF is concentrated in fewer than 30 names, all of them high-quality with strong balance sheets, and it's rebalanced and reconstituted every quarter.
Obviously this is why it's destroying its much larger competition. But there's more to it.
GOAU is the first gold ETF that I know of that has such a large weighting in royalty and streaming companies. Approximately 30% of the fund is devoted to royalties.
If you don't know what these are, I suggest you buy my latest book, Basic Investing in Resource Stocks: The Idiot's Guide. I have an entire chapter on what makes royalty and streaming companies a solid bet in the gold industry. But in short, they help investors get exposure to gold and precious metals mining without taking on a lot of the risks that producers face.
Frank Holmes, CEO, U.S. Global Investors and a real "ground floor" investor, recognizes this better than most anyone else. As a young analyst in the early 1980s, he helped work on the IPO for Franco-Nevada (FNV), the very first such royalty company. He and his firm were also one of the seed investors in Wheaton Precious Metals (WPM)—now the world's largest precious metal streaming company—when it debuted as Silver Wheaton in 2004.
He and his team back-tested five key success factors going back over 12 years to feel confident before launching GOAU. The back tests were very compelling in picking the best quality names every quarter.
Again, 30% of GOAU is spread between Franco, Wheaton and Royal Gold (RGLD), the leaders in the royalty industry.
The GDX's exposure to royalty names, by contrast, is less than half that.
Check out Franco, Wheaton and Royal Gold's year-to-date performance against that of Newmont Goldcorp, the largest holding in the GDX. That's the difference GOAU provides.
If any of this sounds compelling to you—which it should—I highly recommend you learn more about the U.S. Global GO GOLD and Precious Metal Miners ETF (GOAU). You can do so by clicking here!
I have no financial interest in any of the GOLD ETFs but for a lot of investors they make sense. Do your own due diligence and again, feel free to read up on Gold ETFs in Basic Investing in Resource Stocks. We are solidly back into the gold bull and prices are going to go a lot higher.
###
Bob Moriarty
President: 321gold
Archives
321gold Ltd