Register Now for This "Must Listen" Gold Webcast
Bob Moriarty
Archives
Oct 30, 2019
A couple of months ago I had the privilege of participating on a webcast with U.S. Global Investors' Frank Holmes. Frank and I go way back—I've been writing about his gold funds since I started 321gold several years ago—so you can probably guess that the topic of the webcast was opportunities in gold investing.
I found the discussion timely and informative, and I hope it introduced listeners to Frank's new gold ETF, the U.S. Global GO GOLD and Precious Metal Miners ETF (GOAU), which I recommended back in July.
Frank has another upcoming webcast on the gold market, and this time he'll be joined by a certifiable legend in the precious metal mining industry, Pierre Lassonde.
Pierre, as you may know, is the billionaire co-founder of gold royalty company Franco-Nevada, which is one of the top holdings in GOAU. He's also the former chairman of the World Gold Council (WGC), a noted philanthropist and engineer, and author of the seminal Gold Book: The Complete Investment Guide to Precious Metals. Since going public in December 2007, Franco-Nevada has outperformed not just gold bullion but also major producers.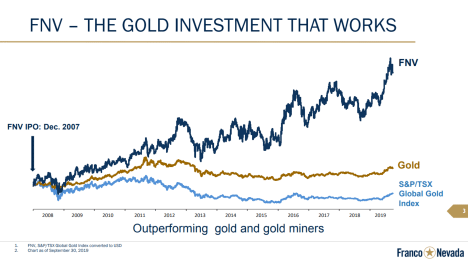 I've seen and heard Pierre speak a number of times before, and he's always worth a listen.
At the Denver Gold Forum in September, Pierre shocked the CEOs and analysts in attendance by forecasting that gold could hit $25,000 an ounce by 2049.
I'll be curious to hear him elaborate on how he arrived at this outlook.
In such a competitive arena, this educational webcast is sure to be a "must-listen." U.S. Global Investors does quality work. That's reflected in the fact that they've won an incredible 88 marketing awards for their work in mutual funds and ETFs.
The webcast will be held October 31 at 11:00am PST/2:00pm EST. You can register for it by clicking here.
I'll definitely be listening in, and I hope you do as well!
###
Bob Moriarty
President: 321gold
Archives
321gold Ltd