Aben Hits Eskay Creek Grade Gold in the Golden Triangle
Bob Moriarty
Archives
Aug 10, 2018
I've written about Aben Resources (ABN-V) before. In my first piece, I talked about Ron Netolitzky, the man who discovered Eskay Creek and the Snip mine. It looks as if he may have done it again with assays of 62.4 g/t gold over 6.0 meters in a zone of 38.7 g/t Au over 10.0 meters.
Those are Eskay Creek grade intercepts.
(Click on images to enlarge)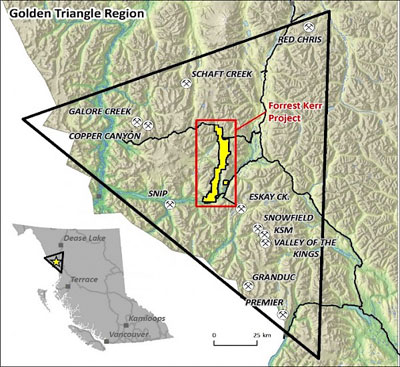 The hole is the first of eight holes already drilled in the newly discovered North Boundary zone in a planned 5,000-meter drill program. Aben feared the numbers being leaked out so made the decision to announce early.
The highest grade intercept within that 10.0 meters was 331.0 g/t Au over 1.0 meter but there were four high grade intercepts overall in the one hole, including 22.0 g/t Au and 22.4 g/t Ag over 4.0 meters, 3.9 g/t Au and 4.0 g/t Ag over 13.0 meters and 8.2 g/t Au and 1.4 g/t Ag over 6.0 meters.
The area was drilled before, over twenty years ago but the high cost of operation due to a lack of power and road access meant progress came at too high a cost. A recently commissioned power plant has lines running across the southern portion of the Forrest Kerr project. And the BC government has built road access to much of the Golden Triangle. What couldn't be afforded 25 years ago can be worked now.
If you look at photos from Google Earth from above, you can see how the glaciers receding have opened up a lot more ground to be prospected. The Golden Triangle is going to be the go-to area for the near future with results coming from a whole heap of companies.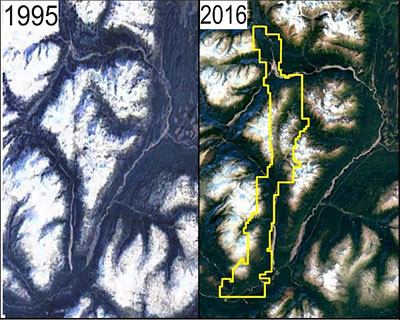 Aben's terms on the Forrest Kerr project call for the company to spend $3 million by 2020 to earn 100% of the project. The company has over 40 million warrants outstanding at an average price of $.14 that would bring in over $5 million so them spending $3 million in exploration on Forrest Kerr is not going to be a problem.
I suspect Ron Netolitzky just hit his third high grade gold mine in the Golden Triangle. My subscribers have been informed in the past and their present just arrived.
Aben is an advertiser. I participated in the past PP and own shares. Naturally I am biased. Do your own due diligence.
Aben Resources
ABN-V $.29 (Aug 09, 2018)

ABNAF-OTCBB 81.4 million shares

Aben Resources website
###
Bob Moriarty
President: 321gold
Archives
321gold Ltd