Aben Looks for an Instant Replay of 2017 in the Golden Triangle
Bob Moriarty
Archives
Jun 20, 2018
I will keep repeating the same message. We are in the timeframe of June/July for a tradable low in gold and silver. The DSI fell below 10 but the COTs do not yet reflect the extreme of emotion required for a vibrant bull move.
For those readers not familiar with supply and demand as a factor in price, manipulation is the worse reason to invest in anything. If you believe that the only issue with why gold and silver sell for what they do is JP Morgan or the fictional "Bullion Banks" manipulating the price 24/7 you really owe it to yourself to consider investments more suitable to your investment style such as Beanie Babies or Bitcon.
Bitcon topped in December and has fallen 70% since then. The "True Believers" are yet to realize that over $500 billion of their money went to cliptocurrency heaven never to return but in a year or two they will begin to understand what a bubble looks like when it blows up.
Between those still tossing their pennies into the Bitcon fraud with 1,907 variations and the herd chasing the FANG stocks a lot of money that could have gone into the penny dreadfuls was off chasing a wisp of the will-o. Our beloved President Trump just started a trade war and unlike other wars, with a trade war you always know the score as soon as the first bullets fly. Everyone loses. And you can count on it giving a giant thump to the already unsteady world financial system.
So while the tiny segment of the resource followers climb the mountain to howl at the moon about how unfair markets are, those who understand that supply and demand do matter, as does market sentiment, are preparing for the next move higher. The lower the DSI and COTs go over the next month, the stronger the rally will be. This is not a good time to be whining about manipulation but a wonderful opportunity to start harvesting a crop of low hanging fruit.
As readers may remember I have started writing a book about investing in junior resource stocks. (At least I'm up to starting to think about writing a book. Seriously thinking, mind you.) The company I am writing about today makes a perfect example of why you need to trade stocks and sell when you can at a profit.
Aben Resources (ABN-V) was the subject of a piece last September just before they came out with brilliant results. You should read the piece because it gives a lot of background on Aben and their three key projects. In any case Aben was drilling their Forrest Kerr gold project in the Golden Triangle and was about to release results.
A year ago the Golden Triangle was hot with GGI up from $.12 in June to $5.27 in October before starting a major correction to $2.10. I make the very valuable point in Nobody Knows Anything that everything goes up and everything goes down. Also if you don't take a profit when you can, your only alternative is to take a loss.
If you bought GGI at $.12 and rode it all the way up, you made $5.15. But if you didn't sell, you also may have lost $3.05 on the way down. My point is that no matter how brilliant results are, you need to have a plan to sell at a profit or the market gods will bite you on the ass and hand you a loss.
Likewise, Aben Resources was at $.09 in June of 2017 and rocketed higher, with all of the Golden Triangle sisters, to a top of $.495 before correcting to $.105 in November as we drifted into the seasonal low at the end of the year.
(Click on images to enlarge)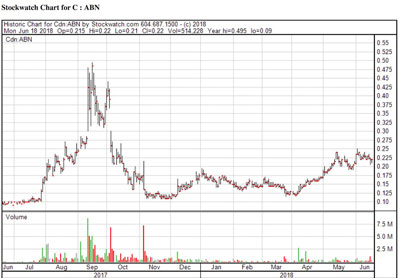 Results from Forrest Kerr for the 2017 drill season were as high as 18.9 g/t gold, 16.6 g/t silver and 2.2% copper over three meters. In a hole slightly deeper but in the same zone, results came up as 21.5 g/t gold, 28.5 g/t silver and 3.1% copper over six meters.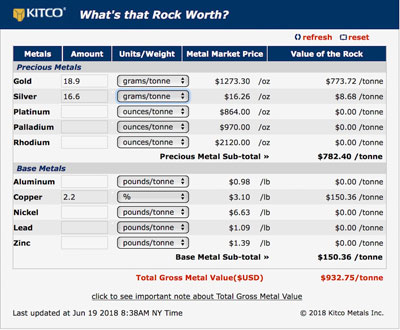 Aben just began a 5,000-meter drill program at Forrest Kerr to follow up on the discovery from last year they call the Boundary zone. Look for assays coming from a variety of companies in the Golden Triangle to start hitting the market in just over a month. Hopefully with a tailwind from the price of gold and silver Aben Resources will duplicate last year's action.
Aben is an advertiser and I am biased, naturally. I participated in a PP with the company and own shares. Do your own due diligence.
Aben Resources
ABN-V $.22 (Jun 18, 2018)
ABNAF-OTCBB 78.9 million shares

Aben Resources website
###
Bob Moriarty
President: 321gold
Archives
321gold Ltd