Correction ending soon, True Gold Digs

Bob Moriarty
Archives
Jun 2, 2014
I mentioned two weeks ago that we were in a necessary and desirable correction. After dribbling sideways for the last couple of months, gold finally fell out of bed on Monday as it began the final bottoming process.
I've mentioned many times before the value of being able to measure investor sentiment using the ratio of the XAU over gold. I know of no one who has ever made a fortune doing squiggles on a chart. If the value of the dollar changes every single day, the value today cannot be the same as the value yesterday or 34 years ago so you are treating a curved value as a fixed value. If charting worked, we would all be rich. Likewise with fundamentals. At every top there are 100 fundamental reasons why you should buy. And at every bottom there are 100 fundamental reasons to sell. That's what makes tops and bottoms.
Markets move on the psychology of investors. Investors are a herd and when they all want to buy, you should sell to them. When they all want to sell, you should buy from them. Right now investors hate gold. When you have major banks telling people "don't be tempted to buy gold mining stocks" when they are at the lowest prices relative to gold in history, you are seeing a giant buy signal.
As the chart of the XAU over gold shown below shows, we had a low for gold and gold shares in late June of 2013, another test in December of 2013 and another retest now. The ratio is actually lower than it was in June and slightly above where it was in December. In either June or December, the signal provided an excellent opportunity to invest in resource stocks if you were then willing to take a profit two to three months later. Most investors won't take a profit, they want to sell at new lows and buy at new highs.
(Click on images to enlarge)
Even Kitco and that has to be the home of the gold bugs, came out with their weekly survey showing 2/3 of respondents being negative on gold.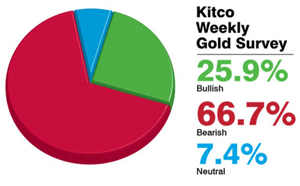 Savvy investors should remember back in December, the Wall Street Journal did a hatchet piece on Eric Sprott at about the same time CNBC set up Frank Holmes to show how stupid gold investors are. That's one of the 100 fundamental reasons for selling gold that you see at a bottom. They hate gold so you should. Actually if you are savvy, that's a giant buy signal.
My temptation is to say the July bottom that everyone is calling for may come earlier than expected. Remember, Mr Market does whatever he has to do to prove the biggest number of investors wrong. When you absolutely for certain know where the market is going to go, you will be wrong.
I made a one day trip to Burkina Faso a little while ago to see the mine groundbreaking for True Gold at their Karma Gold mine. I met Dwayne Melrose when he was country manager for Minco Silver over six years ago in China. He has an interesting habit of under prompting and over delivering. That's quite refreshing in the mining business.
He's brought that habit over to True Gold. When I first visited the project a year ago they were talking about producing some 70,000 ounces of gold a year. With the drill results they were reporting that were not included in the 43-101 it seemed obvious that they had a lot more ounces than they were reporting. I was right, they have updated their 43-101 and are now talking 97,000 ounces a year production over an 8.5 year mine life at a 43% IRR.
But even a casual look at their resources shows a lot more gold in the ground. Their indicated resources of transition and sulfide material show an additional 1.9 million ounces. Toss in the inferred resources that they can increase the quality of by more drilling and you have another 2.3 million ounces of gold. They are now talking about increasing capacity and perhaps an additional leach pad and production of as much as 140,000 ounces a year. That would be nice.
I like the habit of understating expected results. Their feasibility study called for an initial capex of $131.5 million. Dwayne and his crew have completed their detailed engineering and construction-level design work and come up with $9.7 million in savings over their initial figures. In a world where 100% cost overruns are common, it's refreshing for surprises to be the nice kind.
I happen to be a big fan of Mark O'Dea and his stable of companies. He was the brains behind Fronteer and subsequent sale to Newmont for $2.3 billion. Today he is the Executive Chairman of both Pilot Gold and True Gold. Based on what I know about him he is better at monetizing assets than anyone in the mining business. He knows how to raise money and how to hire and keep the best teams in the business.
True Gold has the equity necessary to build the Karma Gold Mine in Burkina Faso. With groundbreaking taking place in May of 2014, the company has an 18-month time line to commercial production that is expected by the end of 2015. The project has an all-in cash cost of about $720 per ounce of gold and a remarkable 43.1% IRR at $1250 gold. With gold at $1350, the IRR goes slightly over 50% and at $1500 gold almost 60% IRR.
As a result of recent fund-raising, TGM has $63 million in cash. Their next step will be to set up a debt facility to finish the mine. I see them continuing to drill and upgrade their existing resource as well as to move forward briskly into production.
As a result of the price of gold going down, everyone has slowed the pace of going into production. The Karma Mine of True Gold will be one of the few opportunities to invest in near term production. The price has been held down by the certainty of needing to raise equity but that is past.
True Gold Mining has one of the best technical teams in the world and has the strongest management people. Expect them to continue to surprise in a good way and look forward to the first gold pour in about 18 months.
True Gold is an advertiser and as such I am biased. As always you are responsible for your own due diligence.

True Gold Mining
TGM-V $.375 (May 30, 2014)
RVREF-OTCBB 397.5 million shares
True Gold Mining website
###

Bob Moriarty
President: 321gold
Archives