Nevada King Delivers Thirteen 100 Gram/Meter Gold Holes
Bob Moriarty
Archives
Feb 7, 2023
We appear to have entered a correction for both gold and silver but it is not clear if the mining stocks intend to participate. In my view, any correction will be short-term and not particularly serious. The permabulls always crap their pants when either gold or silver goes down but corrections are normal and work off any excess in the market.
Silver bottomed a month or so before gold and it appears to have topped according to the DSI a bit early as well. The highest the DSI for silver got was 88 on the 9th of December but the price for silver went about $1 higher before clearly starting a correction the first week of January. Gold on the other hand had a high of 92 on the DSI on January 13th suggesting a correction was due but the metal didn't top until last week just after the Fed announcement.
It's interesting to me that while both gold and silver gave accurate indications according to the DSI, trying to measure sentiment for gold shares isn't so clear. The $BPGDM hit a high of 55.17 on about the 10th of January but that is not a clear indication of a top and the index has barely moved since then. So while the metals and the shares are related, they are hardly married. Each moves at its own pace.
(Click on image to enlarge)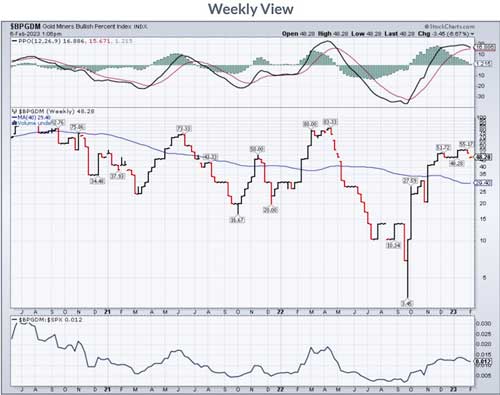 We have had a decent rally since September but it wasn't a barn burner. I don't think this correction will last for long and frankly there are so many Black Swans flying around it looks like the darkest of nights. There are lots of things that could ignite the metals, first and foremost some pretty clear signals from both Russia and China that gold is going to be a key player in the new BRICS resource based financial system. I would not be surprised if there was a new sort of Bretton Woods meeting among the BRICS to determine the exact new financial system. And since gold has worked for thousands of years, I would expect they would just settle on a gold system because it is so simple.
A correction is not a signal that you sell everything you own. While I advocate selling when you have a nice profit, corrections are normal. However, I do think that if you are looking to invest in some resource stocks, you consider the top tier, best companies. Last September-October I was suggesting buying the really cheap stocks, those under $.05 a share, now I think you should aim for the high quality companies with solid management in safe jurisdictions generating good numbers in drilling.
A company that I like a lot and have owned for a couple of years now is named Nevada King (NKG-V). I wrote about them last October. They keep coming out with barn burning drill results including:
54.9m of 3.41 g/t Au
50.3m of 2.65 g/t Au
51.8m of 2.23 g/t Au
32.0m of 3.19 g/t Au
96.0m of 1.38 g/t Au
165.5m of 0.92 g/t Au
77.7m of 1.92 g/t Au
29.0m of 4.03 g/t Au
82.3m of 3.60 g/t Au
33.5m of 3.43 g/t Au
67.1m of 2.88 g/t Au
51.8m of 2.95 g/t Au
51.8m of 2.23 g/t Au
All of the results were for oxide gold. That is significant. The holes are part of a 30,000 meter serious drill program for 2022 -2023. Some 90 holes have been drilled and sent to the lab so there will be a steady flow of information from the company.
I visited the Atlanta Mine project probably a dozen years or so ago when it was owned by another company. Frankly that company didn't advance the project and pretty much gave it away to Nevada King. There was an open pit. The mine had been in production with its own mill from 1905 until low prices for gold convinced management to shut down the mill and mine in 1985.
Some people have expressed concern at the depth of mineralization and potential strip ratio of the latest holes. The project has a current 43-101 showing about 600,000 ounces of gold and 5.5 million ounces of silver. None of last year's drill results are included in the 43-101 so the numbers will be higher with an updated resource. I suspect the amount of oxide gold will justify a transition from the open pit to underground mining fairly quickly.
The CEO is Collin Kettell founder and CEO of the massive ultra high-grade gold find at New Found Gold in Newfoundland. The company got very aggressive about picking up new land positions in Nevada in 2016. According to the Fraser Institute, Nevada is the #1 gold mining district in the world. Nevada King is focused on the Battle Mountain gold belt that has produced 92 million ounces of gold. 98% of the land Nevada King has staked is royalty free.
As a result of the latest staking work, Nevada King is now the 3rd largest land holder in Nevada behind only Kinross and Nevada Gold Mines. (Barrick + Newmont)
There are probably 25-50 really high quality proven, exploration companies out there with money, resources and management. Until the correction is clearly behind us, focus on the top tier companies for now.
Nevada King is an advertiser and I own shares. Do your own due diligence.
Nevada King Gold Corp
NKG-V $.34 (Feb 06, 2023)
NKGFF-OTCQX 278.5 million shares
Nevada King Gold website
###
Bob Moriarty
President: 321gold
Archives
321gold Ltd