Gold and Silver updates
Clive Maund
Archives
3 March, 2005
Gold
About 10 days ago gold blasted strongly above resistance at $428 in the vicinity of its falling 50-day moving average. Because there was so much resistance at this point this move was considered unlikely, and its occurrence was - and is - regarded as a bullish development, and the price action since then is not expected to lead to renewed decline.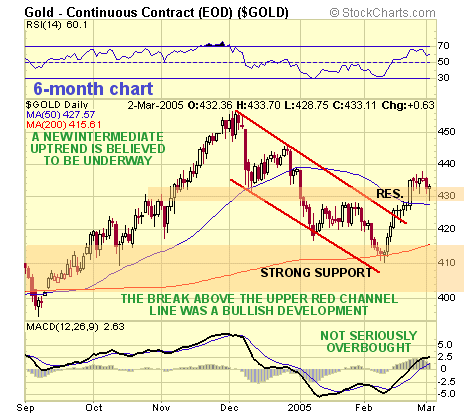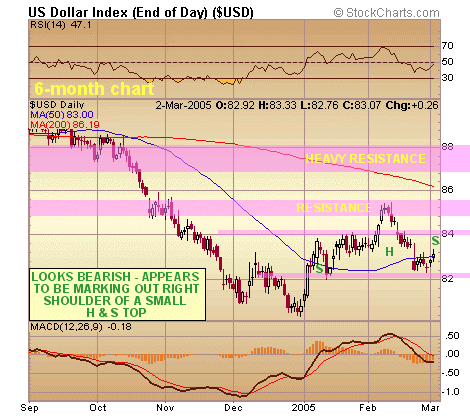 The dollar's countertrend rally, which ran from late December through early February is believed to be over. This rally stalled out at a resistance level at 85 on the index, and the following decline cut through some important support, triggering breakouts by both gold and silver. The entire formation that has developed this year looks like a "Head-and-Shoulders" top, and if it is, a break of 82 can be expected to usher in a sizeable decline that will take it to new lows. If this interpretation proves to be correct, then gold is likely to find support in the vicinity of its flattening 50-day moving average, i.e. around the current level, and then push on higher to challenge the highs of early December, at which time the moving averages will be in bullish alignment, increasing the probability of a break to new highs. The action over the past week or so is viewed as necessary consolidation, following the sharp advance from the early February low, and makes possible further significant gains.
Silver
Although at first sight silver looks short-term toppy, when one takes into consideration the outlook for gold and the dollar, the action over the past few weeks is viewed as a healthy period of consolidation, following the strong advance during the first half of February. Price action on the 2nd of this month was bullish, revealing significant underlying support, and moving averages are now in bullish alignment, increasing the likelihood of further significant gains.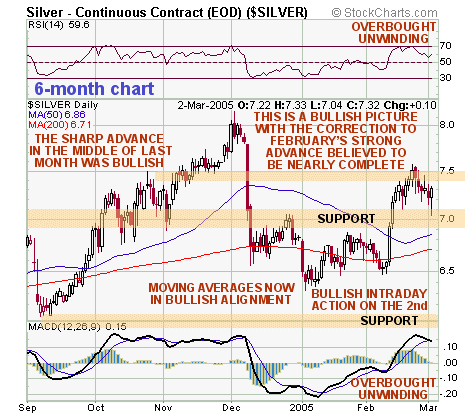 When gold broke strongly higher about 10 days ago, silver didn't really join in. This was because it had already risen a lot earlier in the month, and needed to consolidate those gains, a process that has continued up to the present.
Another rally to challenge the December highs at about $8 looks increasingly likely in coming weeks, especially if the dollar breaks below its "neckline" support at 82 on the index - see Gold Market update (above) to view the dollar chart.
Clive Maund
Archives
Clive.Maund@t-online.de

Clive Maund is an English technical analyst, holding a diploma from the Society of Technical Analysts, Cambridge and living in southern Bavaria, Germany.

Visit his subscription website at clivemaund.com.[You can subscribe here].

No responsibility can be accepted for losses that may result as a consequence of trading on the basis of this analysis.

Copyright © 2003-2005 CliveMaund. All Rights Reserved.

321gold Inc