Gold ETF Continues to Flex Muscles
Todd Stein & Steven McIntyre
Archives
The Texas Hedge Report
January 27, 2005
Courtesy of www.texashedge.com

My, how things change. It was only several weeks ago that the yellow metal was hovering above the $450 mark, and pundits were cheering the launch of the gold exchange traded fund (GLD). Finally, there would be a way for the average Joe to purchase gold using his E*Trade account instead of having to meander to the local coin shop and then to his safe deposit box. Everything seemed to be pointed towards the sky and suddenly, the air was let out of the balloon. A contentious debate about GLD's viability ensued as gold bugs complained about the fund's custodians' lack of transparency regarding physical gold backing. Meanwhile, the price of physical gold and the gold mining shares plummeted into a sea of pervasive pessimism.
In its first three days of trading, GLD traded roughly 30 million shares... and nearly all of that had been incremental demand (new buyers) according to the press. After a few weeks, however, the volume dropped off and there hasn't been a peep since about GLD from the press or the gold community. Obviously, the drop in the price of gold has muted the public's interest in GLD and the mining shares ­ this is why we are so keyed up.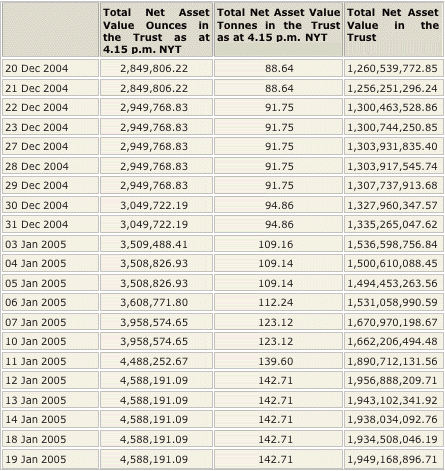 If you take a look at the streetTRACKS web site, there is a real time account of the amount of gold sitting in GLD's vault. Despite the drop in gold's price, the amount of GLD's ounces has been rising steadily over the last month, which shows that someone is quietly accumulating gold through the ETF.
Is it a fund liquidating gold mining stocks in an effort to diversify into physical? Perhaps. But we tend to think that word is getting out to individual investors that the U.S. Dollar's long-term prospects are grim to say the least. Heck, even Warren Buffett was on CNBC the other day saying that he is still very bearish on the greenback. Buffett has about $40 billion reasons to think he might be right long-term on the Dollar's downward direction and we don't think this fact is lost upon individual investors.
Foreign currencies are decent ways to play the Dollar's decline, but they have limitations in both the ease of availability to individuals and the fact they are hampered by clueless central bankers much like in the U.S. Gold and silver remain the only currencies not controlled by inept governments. Sure, the central banks could sell some more gold if they desire, but it will be a drop in the bucket if widespread gold investment demand picks up as we think it will. The quiet accumulation of GLD ounces is yet another early indicator that this gold bull market and dollar correction has just begun.
January 25, 2005
Todd Stein & Steven McIntyre
Archives
Texas Hedge Report
email: info@texashedge.com
For more information, go to http://www.texashedge.com

Todd Stein & Steven McIntyre are internationally known analysts and editors of The Texas Hedge Report, a market newsletter that highlights under and overvalued securities in the equity, bond, currency, and commodity markets.
________________
321gold Inc