Nicaragua Gold
Bob Moriarty
Archives
Dec 28, 2012
Horses and I have an agreement. I don't try riding them and they don't try throwing me. It's an agreement that has been in force for 66 years and has served me well. I last violated the agreement when I was 6 and was promptly thrown. I've never forgotten nor forgiven. I hope that horse was in the glue I pasted leaves to pieces of paper when I was 7.
So I cannot tell you just how thrilled I was recently when I went to visit an interesting gold property of FDG Mining in Nicaragua and was told our transport was to be via horseback. My mount seemed just as thrilled as I.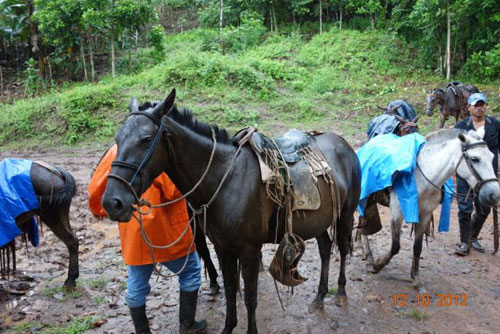 I've followed FDG Mining (FDG-V) for years. I know the founders well and was intrigued with the sample results. I've owned shares for most of the last four years. Basically FDG has an option on a 9300 ha gold project in the Southeast part of Nicaragua. They can buy 100% of the property for a balloon payment of $3 million before April 30, 2016 with payments of $120,000 to $180,000 yearly between now and then. FDG has spent about $2.5 million in exploration defining some 340,000 ounces of gold in the inferred category at an average 3.97 g/t. The landowner will retain a 3% NSR.
The company has warts. Management was spasmodic until the founders took back control and brought in professional managers. The original purchase agreement called for a balloon payment of $3 million dollars on or before May 1, 2013. With the 18-month downturn in the junior markets, management realized the first priority was to get the finances under control. They issued $531,000 in the form of a one-year note now due October 31, 2013. They also managed to postpone the $3 million dollar balloon payment until May 1, 2016 giving them some breathing room.
From a purely technical point of view, the project has legs. Mining has taken place in this region since the 1890s when gold was first discovered in veins at the surface. A Brazilian company named CPRM started work on the project in 1984. CPRM completed a detailed VLF-em geophysical survey, trenching and channel sampling along with a diamond drill program in order to do a pre-feasibility. Their non-43-101 historic resource showed 1.4 million ounces of gold and 3 million ounces of silver at grades of 4.96 g/t gold and 8.33 g/t silver. This isn't a marginal deposit. It has substance.
If you accept the CPRM numbers as being accurate and I do, remember, this is all prior to BreX and NI 43-101, you are paying about $4 an ounce for high grade gold at surface by buying FDG at $.135. It's pretty hard to beat that.
The issue today is, and always has been, the ability to raise money. FDG's VP of Exploration Bob Suda took me on a tour of just some of the 27 veins. The project has 27 steeply dipping 1 to 3 meter wide epithermal quartz veins. Most of the drilling has been shallow, less than 150 meters and clearly open pit mining is possible with the mineralization coming right to surface.
It has cost FDG about $7 an ounce to define gold. That's good most of the time but in the lousy markets we have had for the last 18 months, a lot of companies get between $8-$10 in market capitalization. FDG's Topacio deposit is high grade, it's in one of the most mining friendly countries in North and South America and they know where the veins are already. They can define as much gold as they can raise money to drill.
Management is making noise about going into production on a small scale, 100 tpd. I fully approve, they have the gold and the grade but again, it's going to be a function of their success in raising money. One very reasonable alternative would be to go looking for a partner with deep pockets interested in a quick production play.
I like the project. I like management. Bob Suda has done a brilliant job given limited resources and everyone's attitude is good. They know they have the gold and they want to get it into production. If they can find some money to advance, they will.
Please take some responsibility for your own due diligence.
FDG Mining
FDG-V $.135 (Dec 27, 2012)
FDGMF-OTCBB 45.5 million shares
FDG Mining website
###
Bob Moriarty
President: 321gold
Archives