Gold Home Run in Kosovo
Bob Moriarty
Archives
Dec 19, 2014
Project generator company Avrupa Minerals (AVU-V) gave their shareholders an early Christmas present this year with some outstanding drill results from a JV in Kosovo they call the Slivovo project.
Hole 4 of the first ever drill program on the semi-massive sulfide project reported a 126.5 meter intercept of 6.2 g/t gold material. The 126.5-meter intercept is not as significant as the 6.2 g/t gold because the drill hole was down dip as opposed across the mineralization. Avrupa believes the block may be between 30 meters and 80 meters thick. But the gross metal value of the intercept is excellent with the rock being worth $264 in the ground.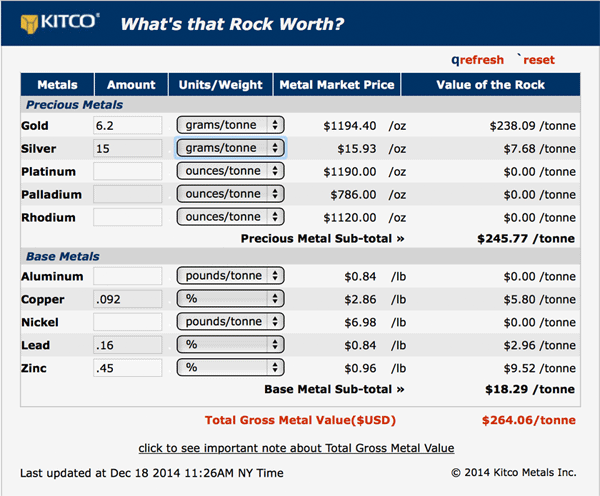 Avrupa entered into a joint venture with Australian company Byrnecut in mid-April of this year. The JV calls for Byrnecut to spend $1 million euros by April 10, 2015 to earn 51% in Slivovo. Byrnecut can earn an additional 24% by spending an additional $1 million Euros by April 10, 2016 and 10% more to a total of 85% by completing a Pre-Feasibility Study by April 10, 2017. Avrupa Minerals is the operator.
Avrupa was targeting a gossan that came to surface. The initial drill program of 2000 meters and 13-14 holes is targeting a mineralized body that appears to be as much as 100 meters wide, 30-80 meters thick and 175 meters down dip. That could be as little as 1.3 million tonnes to 3 million tonnes.
Avrupa has done an excellent job of describing the project and the drill program on their website. I would encourage all interested potential investors to read it carefully. It's a good example of how a great company communicates very real and valuable information.
Holes 5 and 6 are being sent to the lab with results to be announced in January. Investors in AVU not only may have a nice Christmas present but a January surprise.
I am an investor in Avrupa and I am biased. They are advertisers. Please read their press releases and do your own due diligence.
Avrupa Minerals
AVU-V $.34 (Dec 18, 2014)
AVPMF OTCBB 43.4 million shares
Avrupa Minerals website
###
Bob Moriarty
President: 321gold
Archives
321gold Ltd