Nevada Copper Delivers Copper Now
Bob Moriarty
Archives
Dec 18, 2019
A very short nine weeks ago I was giving good advice to my readers when I said:
"I was writing about Nevada Copper five months ago and the shares were $.395. Today as the price of copper has gone down by ten percent and we move into tax loss silly season, the shares are $.215. They were cheap then, they are cheaper now along with most of their brethren."
Those wise enough to invest are up 40%, which beats the heck out of a red-hot stick in your left eyeball.
Nevada Copper had two things providing a potential tail wind. We moved into Tax Loss Silly Season a month ago. NCU-V hit a new yearly low at $.185. And when nothing at all has changed except for the price, when you are in TLSS from mid-November to mid-December that is a great time for picking up quality shares in the bargain bin.
But more importantly than that, on the 16th of December Nevada Copper announced what they have been promising since at least February of this year: they have gone into production. I can't tell you how many hundreds of promises made to me over the past eighteen years that didn't come true. And after all, "Now a promise made is a debt unpaid, and the trail has it's own stern code."
There is a third factor that investors need to consider. The world is working with a 10-day supply of copper on hand. Traditionally copper supply bottoms with price. Certainly the recent prices for copper support the idea that a bottom has been reached with prices up 10% in the last two weeks alone.
(Click on image to enlarge)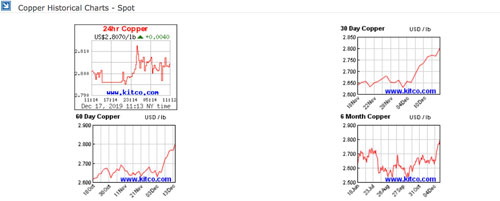 Nevada Copper promised production in Q4 almost a year ago and unlike 90% of the promises made to me in the last 18 years, they didn't change at all. They charged forward and are producing now. By the way, did I fail to mention that just before a company goes into production and for the first six months is the sweet spot of investing? Long patient shareholders are rewarded and new shareholders often see nice profits at once. Add to that the irrational as hell TLSS and the price of copper going up and you have a perfect storm.
I love working with Nevada Copper. They do what they say they are going to do. Management is brilliant. Nevada Copper is an advertiser and I own shares bought in the open market. Do your own due diligence.
Nevada Copper
NCU-T $.30 (Dec 17, 2019)
NEVDF-OTC 762 million shares
Nevada Copper website
###
Bob Moriarty
President: 321gold
Archives
321gold Ltd