Emperor Gets Serious About Gold
Bob Moriarty
Archives
Nov 30, 2022
Tax Loss Silly Season runs from maybe mid-November into just before Christmas. Punters can dump their losers selling at new lows and claim the loss on their taxes for the year. I did an interview three weeks ago and said that I thought we were well into TLSS back then and it was time to buy to make your retirement. I still believe that. Also I did a piece on November 3rd where I listed ten stocks selling at a yearly low that were all below $.05. You don't have to like the Penny Dreadful lottery tickets but the cheapest of the herd goes up the most in a bull market. And the gold and silver bull market started back in September just as I predicted.
Emperor Metals (AUOZ-C) has added a new twist. The company is only eighteen months old but is run by seasoned mining professionals who know what they are doing.
They recently added an option on the Duquesne West Gold Property located in Quebec Province in Canada. The 100% option is a little confusing because it consists of cash payments of $10 million in total over a six-year period, shares in Emperor over the same six years according to a formula and a work commitment of $12 million and a current resource estimate by 2028.
The Abitibi Gold Belt project comes with a $1.8 billion CAD high-grade resource done in 2011 just in time to catch the peak interest in gold and silver. That's 727,000 ounces of gold at 5.42 g/t Gold.
(Click on image to enlarge)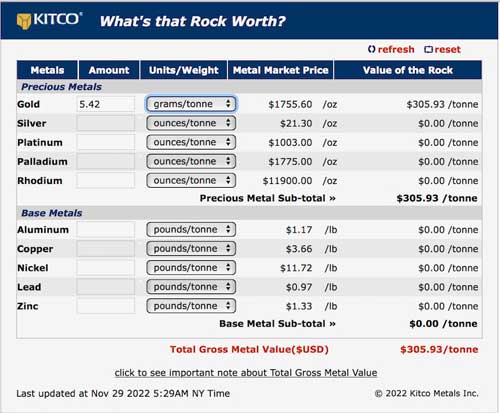 While the property is in the Abitibi, which is good, it is also located on the Quebec side of the belt, which is great. Canadian investors can deduct 120% of their investment from their taxes. The company is in the midst of a private placement for up to $5 million that will close soon. Emperor does not yet have a US symbol so Americans are pretty much out of luck for buying either the shares or in the PP.
Emperor is paying about $15 CAD per ounce of gold in the resource but what most people are missing is that the payment schedule is backend loaded. I see hyperinflation coming and that means Emperor will be paying with cheaper dollars, perhaps a lot cheaper.
Emperor can drill during the winter so with the closing of the PP the company plans on starting a 10,000-meter drill program on the project.
I participated in the last private placement so I am biased. Emperor might become an advertiser so do your own due diligence.
Emperor Metals Inc
AUOZ-C $.19 (Nov 29, 2022)
32.3 million shares
Emperor Metals website
###
Bob Moriarty
President: 321gold
Archives
321gold Ltd