Tax Loss Silly Season Whacks Viva Gold
Bob Moriarty
Archives
Nov 26, 2019
Investors spend a lot of time pondering both Technical Analysis and fundamentals to determine entry and exit points for investing. Perhaps they would make more money studying human behavior. Investing is not as difficult as the Gurus and Expert try to make it; it is no more complex than buying cheap and selling dear.
Every year human behavior gives us a month long sales event where investors dump shares just like the after Christmas sales rack at Macy's. It has to do with selling shares that have gone down and taking the tax loss rather than sitting on long-term losses. In other words, it has to do with the tax laws and has nothing at all to do with either TA or fundamentals.
If you understand human behavior you can make a lot of money as a result. In general investors want to buy what has gone up and sell what has gone down. When Tax Loss Silly Season starts to kick in November investors start unloading those shares that have gone down for the year to write off those losses. Once that starts, the herd instinct kicks in with the rest of the sheep and they keep selling into mid-December.
So if a wise investor looks at a number of charts of otherwise good companies they will soon find some suitable candidates. Obviously it helps if the overall resource sector is in a bull market. We know that gold bottomed in late 2015 early 2016. Indeed, in the past year gold is up 20% so in theory gold resource shares should have a tailwind.
You want to find shares hitting new lows and be putting in stink bids in order to capture those shares being tossed into the bargain bin.
(Click on image to enlarge)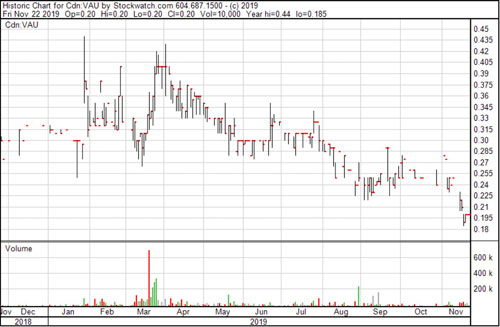 I looked at the shares I own and follow and found a perfect candidate. I have written about Viva Gold (VAU-V) before. They have a 100% owned gold project in south central Nevada about forty miles from the Round Mountain Gold Mine. Their Tonopah gold project has a 43-101 resource of just under 400,000 ounces of gold.
Viva shares were as high as $.44 a share in January (that being after the 2018 Tax Loss Silly Season) and have meandered as high as $.40 and averaging about $.30 until early November when TLSS kicked in. In the next three weeks, Viva shares plummeted some 33% even though nothing at all changed with the company to a new low of $.19 late last week.
This project has had over $20 million done on it by Viva and the prior owner, Midway. But at today's price, the total market cap is less than $5 million and investors are getting reasonable grade, good location gold for about $10 USD an ounce. That's pretty hard to beat. The company is moving forward and just announced plans for a PEA as soon as results come in from the 2019 drill program and column test work.
The company did exactly the same thing last year with the price fading into November and then almost doubling in late January from the November 2017 lows. It could easily do the same this year.
Investors like to believe they are buying into some combination of the fundaments and technical analysis of a particular company. In reality they are not. If you are to profit, you need to focus on the stupidity of other investors. If they want to dump good stocks in November and December, let them. Put in your stink bids, pluck the shares from the weak hands and book your 50% profit in January/February.
I own shares bought in the open market and I have participated in their last private placement. Viva Gold is an advertiser and that means I am biased. Do your own due diligence.
Viva Gold Corp
VAU-V $0.20 (Nov 25, 2019)
VAUCF-OTCBB 24.2 million shares
Viva Gold website
###
Bob Moriarty
President: 321gold
Archives
321gold Ltd