White Rock's Three for One Sale
Bob Moriarty
Archives
Nov 22, 2021
I suspect the annual Tax Loss Silly Season Sale has started a little early this year. Gold and silver shares declined from March until the very end of September and appear to have turned the corner since then into a new bull leg.
Every year investors tend to dump their losers from about the first of December until the last week of the month in order to offset any capital gains with losses and avoid paying taxes on phantom profits. The problem is that when markets are bottoming, liquidity dries up and they have to schedule dumping shares a week or so in advance just to get an execution. Since they have already lost money, often they don't care how much more they lose just to get rid of the fleas in their bed.
It's a great opportunity for astute and quick on their feet investors to make quick money. Because from the end of Silly Season until March or so you often get big rebounds in the shares of companies that disgruntled investors were shedding only weeks before.
A company called Fundamental Research Corporation just did a report on White Rock Minerals (WRM-AX, WRMCF-OTCBB). They valued the company at $.87 a share. It was an excellent report but the company has ten-fold potential, not triple. WRM was about $.59 as little as nine months ago. A combination of assay lab delays and getting totally screwed by their drill contractor in Alaska cut the company's value by 65% between April and September.
What Fundamental Research treated as a single asset in Alaska I consider it as two distinctly different assets. The first is the Red Mountain VMS project near Fairbanks showing a 9.1 million tonne resource deposit with a 609 g/t silver eq. That's a $4.4 billion chunk of rock in the ground. At 609 g/t silver eq or $480.88 a tonne rock, it is one of the highest grade VMS deposits in the world. There are bigger assets but none so rich. And as we know from following Eskay Resources, VMS deposits tend to occur in clusters.
(Click on images to enlarge)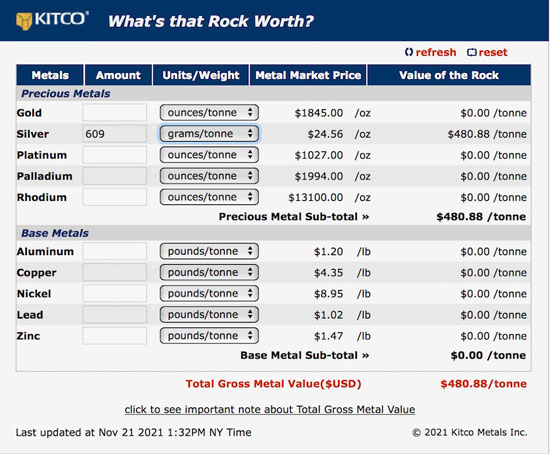 White Rock was well cashed up at the beginning of the limited drill season in Alaska and the drill contractor could only field a short crew. So White Rock did a tiny portion of what they have planned and budgeted for. And naturally the assay labs are totally backed up so even the few drill holes they finished were delayed.
But they poked a giant hole into Red Mountain that came up with outstanding results two hundred meters down dip from their existing 9.1 million tonne 43-101 resource.
The value of that rock in the ground is about $507 a tonne in USD, which is even higher than the average $480 a tonne rock in the resource.
Currently if you had a resource of fifty kilos of $12 a tonne rock located in Eastbumfuckastan that was 600 meters under a volcanic cover, the fifty kilos would have a higher market value than White Rock is being given for Red Mountain.
But I said Alaska was really two different projects that happen to be glued together. Right next to Red Mountain is what WRM calls their Last Chance gold project with stream sediments showing higher numbers than the Pogo Mine nearby. The WRM website is out of date on discussions about Last Chance so I don't know what they accomplished this year.
The original bedrock property for the company was their Mount Carrington gold/silver project in Australia with 23 million ounces of silver and 352,000 ounces of gold. The property is 100% owned by WRM. You might believe that with all those mineral rich properties the company would get some respect but you would be wrong.
White Rock has a joint venture partner on Mt Carrington whereby Thomson Resources (TMZ-AX) can earn up to a 70% interest in the project. White Rock is carried free through to a Definitive Feasibility Study and an Environment Impact Study. A 2020 PFS showed a before tax NPV of A$94 million and an IRR of a remarkable 82% implying WRM's 30% is worth an NPV of $28 million. Fundamental Research suggests the market is giving WRM a zero valuation to both Mt Carrington and Red Mountain/Last Chance.
So recently management added an additional Australian asset, with 670 square km of a prime Victorian goldfield surrounded by the $100 million market cap and heavily promoted Fosterville South. Historic production from mines on the property has shown over 880,000 ounces of high grade produced at 26.5 g/t Au.
In August of 2021 White Rock picked up AuStar Gold in an all share deal. WRM picked up 95% of the asset with the high-grade Morning Star mine and an 80,000 TPA processing plant. They began drilling in September and now have two drills turning. Drill results are already showing brilliant promise.
You can take your pick as to which prospect the market is actually giving any value to and realize that you are being given the other two and a half projects for free. I think that what is going to happen is similar to that of De Grey Mining that caught a bid and went from a dismal $.04 in February of 2020 to $1.55 in September of 2020. Australian stocks are funny. Investors either love them or hate them and they often turn on a dime. When they run, they really run. White Rock has the management and the assets and someday the market will actually get it. With a less than $30 million Aussie enterprise value I have no problem suggesting this puppy could go up ten fold.
I'm quite unhappy with the state of the website. A website is a sales pitch for a company that works 24 hours a day, seven days a week. I wouldn't call it exactly criminal to have a website out of date but it's as close to criminal as you can get without crossing a line. Their most visible asset right now is the Woods Point gold mine and mill and their website says fuckall about it. Other sections that investors value highly in doing their research are two years out of date. That's just lazy.
White Rock is an advertiser. I have bought a lot of shares in the open market and in multiple private placements. Naturally that makes me biased so do your own due diligence.
White Rock Minerals Ltd
WRM-AX $.295 Aussie (Nov 19, 2021)
WRMCF-OTCBB 142 million shares
White Rock Minerals website
###
Bob Moriarty
President: 321gold
Archives
321gold Ltd