Torchlight in the Middle of 20 Billion Barrel Oil Field
Bob Moriarty
Archives
Nov 22, 2016
I wrote about Torchlight Energy just a few days ago just after the USGS issued a remarkable report saying that the Midland Basin in Texas is home to a 20 billion barrel oil field with an additional 16 trillion cubic feet of natural gas and 1.6 billion barrels of natural gas liquids. And Torchlight is right in the middle of it. I asked the management of Torchlight to show me exactly where their 8,800 net acres is located in the field.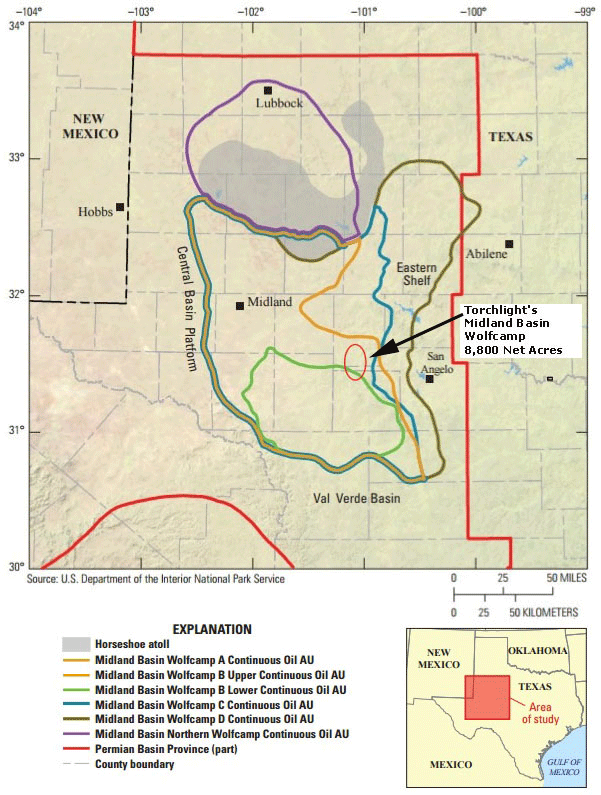 Torchlight's cost of the new ground is about $663 an acre. They are targeting the Wolfcamp formation. Other unconventional land in the Permian Basin near Midland is going from up to $50,000 and $60,000 an acre.
The company is going to drill a 2nd well on their Midland land starting in early January with a horizontal leg that will prove just what the value of the land should be. At a conservative $12,000 an acre, the shares would be worth $2 apiece and that ignores their 47,500 net acres in Orogrande that is probably worth something. From a technical point of view, the Orogrande Wolfpenn formation is slightly better than the Wolfcamp ground in the Permian.
After my last piece, the shorts attacked Torchlight and the stock was down 6% in two days on remarkable volume of 1.6 million shares, some three times the normal pace. Then in the next two days the shares popped up 55%. The shorts were busy again on Monday November 21 on four times normal volume but are about to get burned once more. Look for Torchlight to bounce over $1.50 when the shorts panic.
I have owned Torchlight shares since they were $4 apiece. I have participated in private placements, they are an advertiser and I am biased, naturally. Do your own due diligence.
Torchlight Energy Resources
TRCH-NASDAQ $1.33 (Nov 21, 2016)
50 million shares

Torchlight Energy website
###
Bob Moriarty
President: 321gold
Archives
321gold Ltd