Cuprum
Bob Moriarty
Archives
Nov 19, 2013
What's in a name? From the Latin word cuprum, which means "from the island of Cyprus." Copper literally got its name from Cyprus.
Someone told me about a company named Northern Lion (NL-V) a couple of years ago. I followed them closely and have been bugging them for a site visit for a year. I don't do that for many companies, they have to come to me. But Northern Lion looked interesting. I finally got to visit; I was in Europe anyway on my way back from Africa.
It was an interesting visit to say the least. Cyprus has been associated with copper for 7000 years. The shiny metal was found in native copper form at surface and used in basic tools in between the Stone Age and the Bronze Age.
About 3000 BC people discovered that if you mixed tin with copper, you produced bronze, a much harder metal suitable for farming tools and weapons. It was the beginning of the Bronze Age. But there were few tin mines where copper was found. Tin from Cornwall and Wales began to be traded to the Middle East to be mixed with copper from Cyprus and globalization began.
(Click on images to enlarge)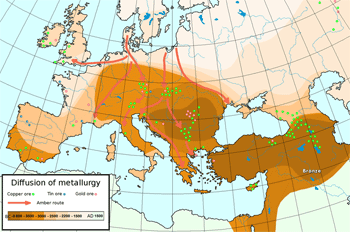 Cyprus Type deposits were formed at the bottom of the seabed in a zone of seafloor spreading. The famous Black Smokers or hydrothermal vents created Cyprus Style deposits of copper sulfides associated with gold, silver and other base metals. These are also named VMS for Volcanogenic Massive Sulfide deposits.
Once the native copper found at surface was used up, the Cypriots discovered you could smelt copper from sulfide deposits by literally melting the stone or pyrometallurgy. This is done in a clay kiln with the heat coming from olive oil and oxygen needed for the fire from bellows. It was a long labor-intensive process that testifies to the high value of the copper metal.
Eventually the African plate subducted under the Anatolian Plate and uplifted the numerous black smokers found in Cyprus into a high formation called the Troodos Range in Central Cyprus.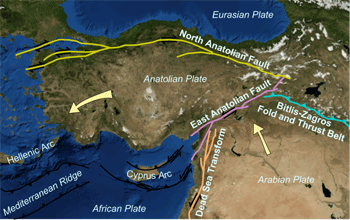 Slag heaps are found throughout the Troodos Range even when no evidence of mining is still present. There wouldn't have been any reason to move the ore long distances for processing so evidence exists from dozens of mining locations.
Northern Lion shifted their focus from Portugal to Cyprus in mid-2008. Their timing could have been better as the resource market was in a long slow slide to new lows in late 2008. The shares got down to below $.03 a share before recovering to more than $.50 by 2011. I began buying when I saw the shares slide below $.10 in 2012. Again from the point of view of simple survival, the timing of the company could have been a whole lot better.
They delivered drill results in mid-July of 2012. They pretty much shot themselves in the foot. There was possible down-hole contamination so the company only reported 3 meters of $530 rock. Visual inspection of what is obviously sulfide rich chips showed what visually appeared to be massive sulfide over an 8 to 27 meter length. 27 meters of $530 rocks is a whole lot more attractive to potential investors than 3 meters.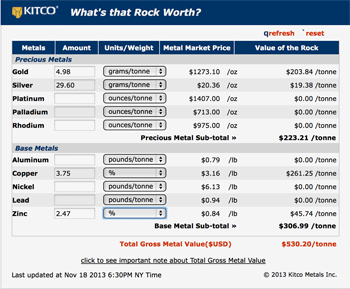 The share price began a long slide to as low as $.02 giving the company a valuation of about $900,000. Mere survival was at stake. Faced with the choice of life or death, the company made a Hail Mary Pass that looks like it will save the day. I understand the issues better than most and that's why I have pushed the company very hard to get me over to Cyprus.
In February of this year, Northern Lion announced a JV deal with Centerra Gold. From the reaction of the market the deal looked like Northern Lion gave away the keys to the candy store in a deal that hands 50% of most of their Cyprus projects away for Centerra spending $3 million in exploration. Actually the deal is a whole lot better than the market gets for a bunch of reasons.
If Centerra's 51% is worth $3 million then it stands to reason that Northern Lion's 49% is worth at least $3 million. Centerra spending $3 million on the project almost has to make the project more valuable than $6 million or their board wouldn't have voted for the deal in the first place. But there are things going on behind the scenes that are far more significant.
Centerra's primary project is called the Kumtor Gold Mine in the Kyrgyz Republic. They produce over 315,000 ounces of gold a year and have produced over 8 million ounces between 1997 and 2012. The mine is the economic backbone for the Kyrgyzstan economy.
I never cease to be amazed at the stupidity and cupidity of governments. It took the Obama administration 6 weeks to admit they signed up 5 people on the first day of Brocare. Centerra gave 33% of the Kumtor Mine to the national government. The president of the country just announced in an interview on the 8th of November that while Centerra has offered a 50% stake in a new JV, parliament rejected the agreement and is demanding 67%.
The Kyrgyz Republic is about to pull an Ecuador. I hope they aren't real surprised when Centerra pops them the bird and tells them to pound sand.
So basically Centerra really needs a giant project. And they selected teeny, tiny Northern Lion as a JV partner. By and large Centerra doesn't do JVs with tiny juniors with no money.
So NLs future is relatively secure. Management has pared expenses to the bone. They didn't even pay my expenses on this trip. For the first time ever I paid my way and I don't do that. I really believe in the story and I think it's a real opportunity for investors to pick up a piece of a nice asset cheap.
Centerra is in the midst of a 1500-2000 meter drill program that began about 6 weeks ago. I'd expect results to be released either before the 15th of December or just after the New Year.
The deal calls for Centerra to spend $3 million over a 3-year period to earn 51%. They can earn an additional 19% by spending another $3 million over two years or they can maintain a 51/49% JV with Northern Lion. All of that deal is excellent for Northern Lion. If Centerra finds a large enough deposit for a mine for them, Northern Lion can end up with 30%. If Centerra doesn't find a deposit large enough for them, it may be just perfect for NL. It's a no lose deal.
I didn't see any drilling or core while I was in Cyprus, Centerra was being very closed mouth about what they are doing and the results. I am just fine with that. I did get to see a number of the Northern Lion projects; they do have a giant land position. I met with a number of the NL geos and got a solid brief on the geological background of the island. I was very impressed with everyone I met. Northern Lion has hired several local and highly educated geologists who understand the island. I salute them.
As of today Northern Lion has a market cap of about $1 million. Simple logic tells us that the price should be at least three times that. Drill results will be out shortly. Centerra conducted extensive due diligence before signing the deal and they have excellent people on staff. The market may not get it but you should.
I own a lot of shares and I am biased. Northern Lion isn't an advertiser. It wouldn't be a smart way of spending the limited funds they have. I'd like to see them conserve. If the drill results are what I expect, expect a pop in the stock and a small financing. Do your own due diligence.
Northern Lion Gold Corp.
NL-V $.025 (Nov 18, 2013)
45.8 million shares
Northern Lion website
###
Bob Moriarty
President: 321gold
Archives