Palamina Wants to Ride the Golden Pony in Peru
Bob Moriarty
Archives
Nov 15, 2019
Many gold stocks continue to tumble into yearly lows as we approach the annual Tax Loss Silly Season when the good, the bad, and the ugly get tossed on the bargain table for no reason at all other than they went down in price. For intelligent investors it's a great chance to pick some low hanging fruit.
I expect a short-term blip higher in the price of gold but the COTs and sentiment suggest the price of gold will continue lower. I think we will see a DSI under ten and a low about the same time dumb investors stop throwing good stocks away. Look for that in mid-December.
I've been following a couple of companies trying to work in the Puno Gold Belt.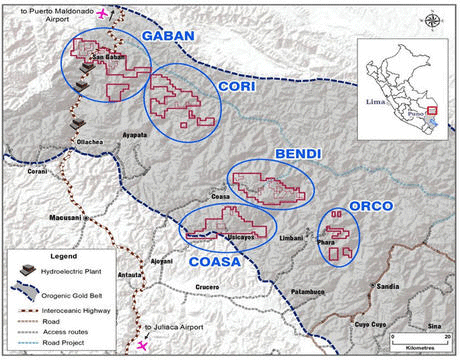 In 2010 Peru completed construction of the Intercontinental Highway. It helped create a modern day gold rush in the Madre de Dios river basin with tens of thousands of illegal miners having destroyed 700 square km of the Amazon jungle so far. The government of Peru is trying to get the illegal miners under control with a giant lack of success. Mercury pollution is widespread with up to 78% of the residents in the area showing mercury levels 500% higher than WHO recommends.
Andrew Thompson founded Palamina Corp (PA-V) in 2015 after Agnico Eagle took over his existing Mexican mining company Soltoro. Thompson's technical team believed the biggest gold opportunity was in Peru in the Puno Gold Belt next to the alluvial workings in the Madre de Dios gold rush. Palamina has spent over seven million dollars advancing five major projects to the drill ready stage.
In mid-September Palamina announced the sale of two of their Puno Gold Belt properties to Helio Resource Co for ten million shares and a 2% NSR. Helio will make an advance royalty payment of $25,000 on the first and second anniversary of the agreement. After that the ARP will double every two years until Helio has completed 5,000 meters of drilling or abandoned the project.
Helio intends to drill test Gaban in 2020. Currently they are conducting the typical groundwork necessary for a successful drill program to include mapping, soil samples and trenching. For the first year Palamina is the operator of the project.
Palamina's flagship project is called Coasa. The company has spent over $1.8 million on it including a heli-borne survey, a 43-101 and structural studies. They have completed a DIA (environmental study required by the government of Peru).
As with most of South and Central American countries, wading through the bureaucratic swamp of reports and regulations can be cumbersome. Palamina is in the final stages of the drill permit/DIA and have a 2,500-meter program planned for Coasa in 2020.
Coasa has a 1.6 km mineralized gold structure including the recently identified Cayos Zone that has demonstrated a chip sample of 75 g/t Au and a channel sample measuring 3 meters of 35 g/t gold. The Veta discovery zone is where the first 2,500 meters of drilling will take place. The highest gold sample from the Veta zone showed 620 g/t gold and the best channel sample was 1 meter of 123 g/t Au.
Within the stable at Palamina are five projects in total. Each has company making potential. Having done one deal already with Helio, the company would love to partner with a major or a mid-tier on some of their other projects.
Palamina is one of the very few pure gold plays within the country. Clearly the extraordinary gold riches of the Madre de Dios came from somewhere and Palamina believes they have staked the premier ground in the district. Due to a lack of infrastructure, much of the area has had limited systematic exploration and next to no drilling. Roads have been built and access is far better today and this could become a major gold camp.
With a market cap of about $7 million CAD, Palamina is an especially cheap option with two serious drill programs for 2020 in a district that has to contain a lot of gold. Next year should bring some interesting results just as gold buyers learn the effects of "Not QE" on the price of gold.
Palamina is an advertiser. I own shares I bought at a higher price in the last private placement. Do your own due diligence.
Palamina Corp
PA-V $.19 (Nov 14, 2019)
PLMNF-OTCBB 36.2 million shares
Palamina website
###
Bob Moriarty
President: 321gold
Archives
321gold Ltd