Crap Shoot
Bob Moriarty
Archives
Nov 11, 2013
Colorado Resources shot from $.16 to $1.74 in May of this year based on one extraordinary drill result at their North Rok project in Northern BC just to the northwest of the new mine being built at Red Chris.
Colorado Resources continues to drill their North Rok project with results that are still interesting but not nearly as good as their initial hole.
A tiny junior named Revolver Resources with a market cap of under $1 million released the results from a 3D IP Survey on Friday last on their Summit B property adjacent to North Rok and on trend with the Red Chris Mine that shows some interesting potential. It appears to show a red hot IP anomaly near surface some 2 km long.
The company is in the process of doing a small money raise to fund a winter 1000 meter three hole drill program to test the IP results. Surface chip samples and historic channel samples showed values of .1 to 1.5% copper and gold values of 3.0 g/t, 17.9 g/t, 12.3 g/t and 10.9 g/t. If they hit the same kind of numbers that Colorado did, their shares would react the same way. It's a crap shoot.
(Click on image to enlarge)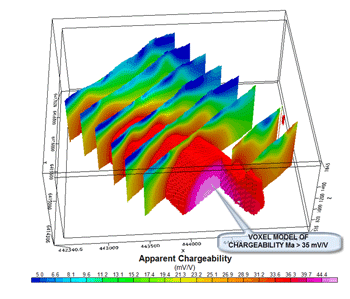 Revolver is not an advertiser. I have participated in a PP last December, before this project came up. I am biased, as I own shares.
Revolver Resources
RZ-V $.025 (Nov 8, 2013)
34.6 million shares
Revolver website
###
Bob Moriarty
President: 321gold
Archives