Regency Silver Scores Bonanza Gold Intercepts in Sonora
Bob Moriarty
Archives
Nov 6, 2023
I wrote a piece in the last week of September commenting on how the DSI was suggesting gold, silver and multiple currencies were about to change direction. A week later they did and gold is up a remarkable $171.20 in the past thirty days. It was pretty much invisible to most gold investors because at the same time gold shares as measured by the XAU and HUI were down. But if you look at a chart of the XAU over Gold you will see what happened exactly thirteen months ago. The ratio hit a new low in 2022 near the end of September and gold shares raced higher for the next four months. The chart will also show that last week the ratio again declined to a new yearly low before reversing big time on Friday. I predict that for the next four months or so gold and silver stocks will outpace the metals. The advance should be good until about March or so.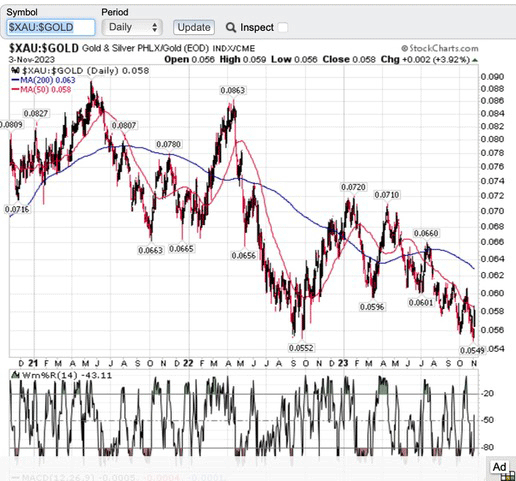 After the results delivered in a press release last week, Regency Silver (RSMX-V) may have to change its name. While the Dios Padre Silver Mine located in Sonora Mexico was a high-grade silver mine, Regency seems to have tapped into an entirely new high-grade gold and copper portion of the deposit. The Dios Padre property comes with an existing 43-101 resource of 11.375 million ounces of 255.64 g/t AgEq. On the strength of just that silver resource, the shares of Regency shot to $.70 in April of this year before retreating to a low of $.175 in late September.
The results releases on Friday show the company has vastly expanded on the discovery drill hole from last year, REG-22-01 that showed a blistering 35.8 meters of 6.84 g/t Au along with almost a percent of copper and 21.82 g/t Ag. To give you an idea of how significant both results were, the industry pretty much accepts that anything over 100 grams per meter <!changed 'meters' to 'per meter'> of gold (100*1 g/t or 1 meter of 100 grams) is an outstanding intercept. This year's REG-23-21 is a 65 meter stepout from the discovery hole and shows higher gold and higher length of intercept. That's what any technical team wants to see. REG-23-21 reported 54.65 meters of 5.34 g/t gold. That's a 292-gram meter hole. In dollar terms when you add in the tiny bit of copper, it's a $353 USD intercept or $480 in CAD.
(Click on image to enlarge)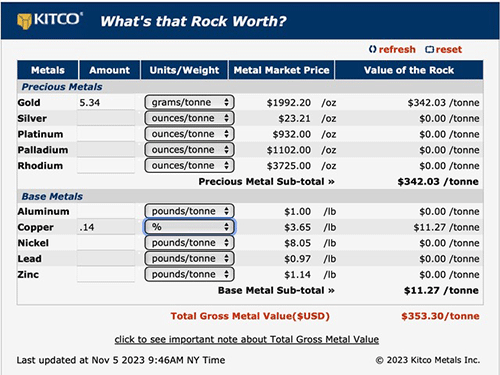 The 2023 ten-hole drill project consisted of 6105 meters of core. While Regency did the deal on the mine for the existing silver resource, it may be time to change the name to Regency Gold, Copper and Silver. Regency picked up the Dios Padre Silver project in late 2017 by paying $145,000 in USD and incurring $750,000 in exploration and the issue of 300,000 shares to the vendor. An advance royalty payment of $100,000 USD is due January 1st of each year. There is a 3 percent NSR on the project.
The existing 43-101 silver resource of over 11 million ounces of AgEq pretty much puts a floor under the price of the shares. The share price made a small $.02 dip on the release of the results but in a illiquid market that's pretty common. I see Regency attracting a lot more attention as the current gold bull market advances.
Regency is an advertiser. I participated in the last private placement so naturally I am biased. Please do your own due diligence.
Regency Silver Corp
RSMX-V $.21 (Nov 03, 2023)
RSMXF-OTCBB 93 million shares
Regency Silver website
###
Bob Moriarty
President: 321gold
Archives
321gold Ltd