Prosper Gold Hits Big, Says Nothing
Bob Moriarty
Archives
Nov 6, 2018
Prosper Gold released incredible results on Monday. The stock did respond, moving up 42.6% on 332,000 shares. If the market actually understood the release, it would have moved a lot higher on a lot more volume. So far the company hasn't bothered even putting the news on their own site.
Here's the real story.
In March of this year Prosper Gold led by Peter Bernier optioned a project named the Currie Project in the Abitibi greenstone belt. The terms were easy and cheap, payment of $130,000 in cash followed by 450,000 shares on the company over one and a half years with a 2% NSR. The property has been drilled in the past with good results.
I'm going to apologize to my readers for not having a link to the release on Prosper's website. I have sent off a flaming email to Peter Bernier about the utter lack of communication. I didn't even know they were drilling Currie or anywhere else. They didn't bother telling anyone so the drill results just showed up out of the blue.
Other than that, Mrs. Lincoln, how was the play?
(Click on images to enlarge)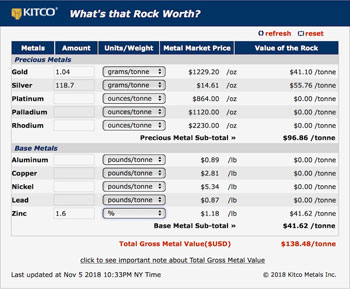 The company didn't feel it was worth telling investors much of anything about the hole other than the results. They did intersect mineralization in four zones going as deep as 263 meters so we know the hole was at least 263 meters. We have no idea of if they stopped in mineralization or how many holes they drilled or if they are ever going to do any follow up holes. They didn't think it was worth their investor's time to actually communicate with them.
The first zone was interesting without being barn burning. It's $138 USD rock over 19.6 meters. The grade is ok but the length of the intercept is excellent. The second zone was great consisting of $245 rock over six meters.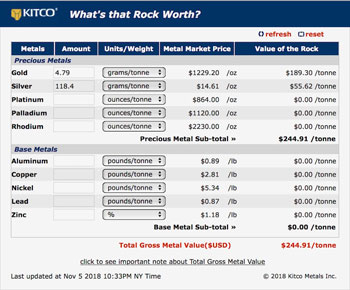 This property is in the Timmins camp. Gold mines with similar grades surround it. These are excellent results well worth expanding on and telling investors what they have, what they found and what they intend to do in the future. I highly suggest the company learn to communicate because if they don't these will be my last words on Prosper.
When the news came out, they were a $3 million CAD company. If a Vancouver based junior resource company has five acres of Moose Pasture located in East Bumfuck and has a two line phone, they would be worth an even $3 million CAD. In other words the market was valuing Prosper Gold at an even ZERO. That probably has something to do with their lack of willingness to communicate.
HOWEVER, and that is a big however, these results will result in substantially higher valuation than the 42.6% increase on Monday. I think on the strength of the reported hole and past drilling that you would be looking for a $25 to $50 million valuation. That would mean a $.50 to $1.00 a share price. I hope so, I have a lot of shares.
That's all based on them learning to communicate.
I have participated in the latest PPand the company is an advertiser. Naturally that makes me biased and you are as always responsible for your own due diligence.
Prosper Gold Corp
PGX-V $.095 (Nov 05, 2018)
PRGTCF-OTCBB
54.7 million shares

Prosper Gold website
###
Bob Moriarty
President: 321gold
Archives
321gold Ltd