Obviously I was Wrong Calling for a Market Crash in October
Bob Moriarty
Archives
Nov 5, 2021
Over the last year I have written many pieces and done a number of interviews saying that I believed we were going to have a major market crash in late October.
Obviously I was dead wrong.
I did get it right that the markets topped in late August, early September just as they did in 1929 but we didn't have the similar very late October crash that I foresaw. Indeed the Dow and S&P and Nasdaq have all set new all time records.
Based on near record high measures of sentiment as listed by the DSI it looks as if I may have missed my call of a major crash by a week or so. As of Thursday November 4th, the DSI for the S&P hit 93. The DSI for the Nasdaq also hit 93 and the DSI for the VIX stands at an extreme of emotion at 9.
The Fear and Greed index is showing Extreme Greed but it has been higher.
(Click on image to enlarge)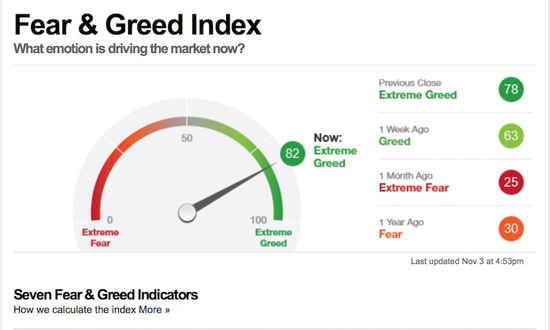 We are going to have a turn shortly.
It will be violent.
From September of 1929 at the high until July of 1932 at the low, the Dow dropped 89%. I expect a similar move again.
###
Bob Moriarty
President: 321gold
Archives
321gold Ltd