Riley Gold Surrounded by Majors in Nevada
Bob Moriarty
Archives
Oct 19, 2021
I remain convinced that the general stock market is on the precipice of a massive slide into the depths similar to that of 1929-1932 and 2000-2001. It could be some minor bank in Europe collapsing as in the Credit-Anstalt did in 1931 causing a cascading banking system plunge. Or it could be the overpriced stock and bond markets tumbling from their own weight or even a collapse of a volcano in La Palma. Something bad is about to happen.
More and more people are waking up to the total fraud of the mass hysteria we call the Covid Cult. We know how to prevent what is little more than a bad flu. We know how to cure it with inexpensive common drugs and we highly suspect the real Bioterrorist weapon isn't Covid, it is the so-called "vaccine" that isn't a vaccine at all. Since when do you need to change the definition of something in order to make it seem reasonable? And why do we allow the use of experimental drugs that kill more than they pretend to save?
The whole Covid nightmare is little more than a preplanned massive wet dream produced by Bill Gates and the rest of the Davos crowd. When Gates talks about population reduction just what did you think he really meant?
Gold relative to the S&P and commodities in general is the cheapest in many years. Gold shares relative to gold are also at an extreme of emotion. Measured by the DSI, gold should have bottomed about three weeks ago. We have a full moon coming up on the 20th. Look for fireworks. One day soon the resource stocks are going to wake up. I have been very quiet but I have a number of stocks I want to bring to the attention of my readers shortly.
As my readers know who have bought either of my two investment books, Nobody Knows Anything and Basic Investing in Resource Stocks I advocate buying when things are cheap and selling when they are dear. Today, this minute, stocks are cheap. Put in stink bids and you will be surprised at how often you get filled.
Riley Gold (RLYG-V) has two company making projects in Nevada. One of the projects is very important not just because of what they have but because of who lives next door.
(Click on images to enlarge)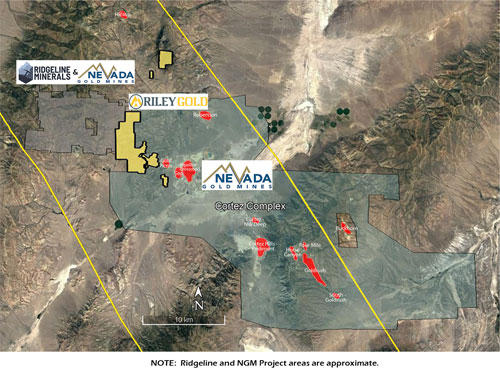 If you look closely at the picture above you will see the Riley 24 km Pipeline West project is sandwiched in between the Swift project owned by Ridgeline Minerals to their west and the Cortez Complex owned by a joint venture between Barrick and Newmont called Nevada Gold Mines. That fact is important because just four weeks ago Ridgeline and NGM announced a $20 million USD deal where NGM can earn up to 75% of Ridgeline's 75 km Swift project.
The deal is interesting because NGM is committed to a $4 million mandatory exploration in the next 26 months and another $16 million USD to earn the first 60%. It's a guaranteed good deal for Ridgeline and it was done because NGM realized prior mapping had missed the fact that the Wenban formation, home to most of the gold mineralization had been discovered in the 2020 drill program of Ridgeline. The Wenban is where most of the 35 million ounces of gold in the Cortez Complex is found.
Riley Gold has a complicated lease/option on the Pipeline West project. Details can be found here. [Login req'd] If NGM thinks the Swift project of Ridgeline is valuable, they also will want to do a deal with Riley before Riley starts to drill. Should Riley drill a major hit, the price for Pipeline West will go up a lot. NGM can throw pennies at Riley now or they can throw hundred dollar bills at them next year.
Riley has a 2nd major potential company making project in the 21 square km Tokop gold project located fifty miles south of Tonopah in the Walker Lane trend of SW Nevada. In June of 2021 Riley announced the first three holes of a planned 3,000-meter drill program. In hole 21C they reported 17.1 g/t Au and 235 g/t Ag over 1.4 meters from near surface.
That is an $1145 intercept from a company that has only a $10 million CAD market cap. There are an additional nine holes with results yet to be announced. There is ongoing work at Tokop with continuous news flow into 2022.
Management owns nearly 20% of the 32 million shares of Riley so their interests are certainly aligned with that of shareholders.
I participated in the private placement that closed in August of 2021. It was done at $.40 so investors are underwater. Riley is an advertiser so naturally I am biased. Do your own due diligence.
Riley Gold Corp
RLYG-V $.29 (Oct 18, 2021)
RLYGF 32.2 million shares
Riley Gold website
###
Bob Moriarty
President: 321gold
Archives
321gold Ltd