Head for the Hills
Bob Moriarty
Archives
Oct 18, 2007
My favorite indicator is looking a little nervous.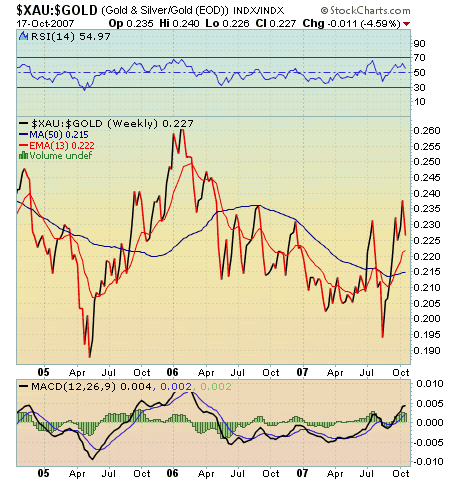 chart courtesy of stockcharts.com
The overall market is getting nutso. India dropped an amazing 10% in one day and it's time to hunker down. The gold cheerleaders are howling at their most shrill and when they do, it's time for a correction. There are far too many gold bulls for me.
Look for another giant swoon in the overall market and gold heavies to do a 10-15% drop. The next move up in gold is going to be wonderful but it isn't going to be tomorrow. It's time for a minor setback in advance of a major move higher in the juniors.
The "subprime" crisis hasn't even started and this time there will be blood in the streets. Some giant financial companies are going to get hurt big time. When a problem is caused by loose money, it cannot be solved by loose money.
Bob Moriarty
President: 321gold
Archives