Vendetta has Zinc in Australia
Bob Moriarty
Archives
Sep 26, 2016
A future shortage of zinc has been in the cards for years. Major zinc mines have closed and none have opened. Zinc started this year at a paltry $.70 a pound as commodities in general registered their lowest prices in constant dollars in 5,000 years. It's up to a more interesting and more profitable $1.03 today.
Vendetta Mining (VTT-V) has a lead/zinc deposit in Australia. The shares have been on a roller coaster ride this year, going from a low of $.045 in February to a high of $.13 in August. Recently they corrected down to $.06 before popping up 66% on eye watering drill results just released last week.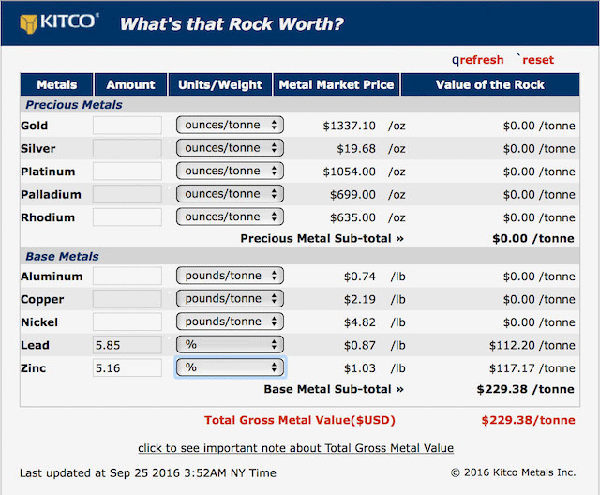 Michael Williams, founder of Underworld Exploration sold to Kinross in 2010 for $140 million, CEO and President of Vendetta, acquired the Pegmont lead/zinc project in Queensland, Australia in 2015. Terms for the 100% option included cash payments of $2.25 million AUD by November of 2018 and exploration commitments of $3.0 million AUD by August of 2017.
I didn't realize it but Australia is already the #2 zinc producer in the world and the leading lead producer. The Pegmont deposit is located less than eighteen miles from two different base metals mills that could use the Pegmont feed. In addition there is nearby rail service and a natural gas pipeline nine miles away.
Pegmont is highly unusual in that it is one of the best-undeveloped lead/zinc projects in Australia not currently owned by a major. The fact that there are mills nearby infers that Vendetta could have one of the lowest Capex mines in the world since it's possible they would not need to construct a mill.
The company will release an updated 43-101 resource in Q4, 2016. More drill results from the 25-hole; 4,600-meter program will be released shortly. The project is highly advanced and perfectly positioned to take advantage of the next move higher in the zinc price cycle. Smelters are starting to compete for concentrate as LME zinc stocks are the lowest since 2007.
Management and institutions own about 50% of the shares outstanding. As a result of past financings there are 50 million warrants at $.10 not due to expire until May of 2018. Naturally management would like to see those exercised because they need to do a lot of drilling to expand their resource. I would expect management to be highly aggressive in promoting the shares over the next few months and the share price to go higher as more investors learn the story. As of now Vendetta has a market cap of about $7 million. I think that's going to increase a lot.
Vendetta is an advertiser so I am biased. Vendetta has done an excellent job of communication and their company presentation is a model of how companies should tell their story. Read it and you will understand why I like them as much as I do. If you like the future of zinc, you will love the future of Vendetta.
Vendetta Mining Corp
VTT-V $.095 (Sep 23, 2016)

72.6 million shares

Vendetta Mining website
###
Bob Moriarty
President: 321gold
Archives
321gold Ltd