Treasures of the Walker Lane

Bob Moriarty
Archives
Sep 25, 2013
Walker Lane in Nevada, straddling the California border hosts some of the most prolific gold mines in the United States. The trend is where the North American Plate meets the Pacific Plate. More than 50 million ounces of gold have been produced from mines on the Walker Lane including the world famous Comstock Lode and the Round Mountain gold mine owned by Kinross and Barrick Gold. I visited three projects in the Walker Lane recently and I want to share with you what I learned.
My first visit was to an unusual company called Star Gold (SRGZ-OTCBB). I say unusual because it has many of the attributes of a private company. The vast majority of the shares are owned by a small number of investors. That's both bad and good. It's good in that it's easy for the company to raise money but it's bad in that it can be hard for a new investor to pick up a reasonably sized position.
The shares pretty much trade by appointment. Do not even think of ever putting in a market order. If you do, it's like telling the market maker, "Steal from Me." Currently the company is only on the OTCBB but they are making plans for either a major listing on something like the Amex in the US or a Canadian listing. Insiders own 42.7% of the shares.
I say the company is run like a private company and I mean exactly that. Management has a large equity position in the company and the major officers take no salary. They intend on putting their project into production as soon as possible as cheap as possible. I really like that.
Their keystone project is named Longstreet and is located some 50 miles northeast of Tonopah. It was discovered in the early 20th century but not put into production until about 1929. There was a mill but evidently little actual production. The project is a Round Mountain lookalike. It went as far as a pre-feasibility report in 1988. Star Gold picked it up in 2010 with the intent to put it into production just as soon as possible.
Star paid $270,000 in cash to the vendors along with a $3.55 million work commitment and 400,000 shares for 100% interest in the project. There is a 3% NSR at production. The 2013 Technical Report showed just over 155,000 ounces of gold equivalent in resources. Star intends to increase the resource to at least 250,000 ounces before making a production decision even though they are moving forward with permitting.
It was a large tour with about 25 people, mostly investors. The first day of the tour we visited Round Mountain. I wasn't real sure why until I actually saw Longstreet. Then I understood, it is a Round Mountain lookalike.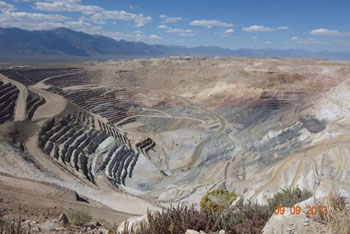 Round Mountain was first discovered in 1904 and operated as an underground mine from 1906 until 1942. The mine went through a series of owners between 1943 and 1969. Over 350,000 ounces of gold and 360,000 ounces of silver were produced during this time. It was turned into an open pit mine in 1977 and has produced about 13.5 million ounces of gold since then.
The primary host for the gold mineralization is found in what Round Mountain calls Type 2 ore. It's a poorly welded volcanic tuff. There are two advantages to the rock type, one is that it sucks up the gold and the 2nd is that it also sucks up the cyanide solution used to leach the gold from the rock.
Like Round Mountain the Longstreet project is located on the edge of a caldera. That's significant both for rock type and the heat necessary to move gold bearing solutions through the rock. Longstreet is a near perfect location for a gold mine. The mine itself is in a north trending range and just to the east in the flats is an area perfect for a leach pad.
Preliminary geological work completed since 2011 shows 8 distinct targets and some 70 northwest trending veins. The 2013 drill program consisted of 6930 feet of RC drilling in 20 holes. The company released the results from the last 14 holes in late August.
What was significant and visible from the tour of the Longstreet project was just how permeable the rock was. Everything that we saw was the same Type 2 poorly welded tuffs found at Round Mountain. But Longstreet has more. The rock is lightweight and just sucks up fluids. That's a good thing.
Management is adamant about going into production. This is not one of those, "Let's drill and spend until the shareholders figure out it's all about our compensation and fire us" companies. Management isn't taking a salary and they are all in.
The mineralization is a simple oxide gold and silver quite amenable to heap leaching. Star intends to start permitting a small pad and mine and bootstrap to higher production. The project is on Forest Service land and that can be a bit of a problem for permitting but once the Forest Service has gotten to know Star Gold, permitting should be easier and shorter.
My only objection and I expressed it clearly to management was that during the 2-3 years necessary for permitting, the lack of news flow would kill the price of the shares. In this I was in total agreement with the geologists who said they had to continue drilling. It's a target rich environment and good drill results will continue to give support to the shares as permitting and construction goes on.
The company expects a scoping study to be completed soon. Star will begin baseline environmental studies in early 2014 and expects permitting of the leach pad in late 2014, construction in late 2015 and full-scale production in 2016. The company is in the process of completing a $1 million placement right now.
Seeing Star Gold and Round Mountain made it easy for me to understand the next project I visited, another treasure in the Walker Lane Trend, the Lapon Canyon project owned by Walker River Resources. Walker River, too, wants to expedite production.
The Lapon Canyon project was discovered around the same time as Round Mountain and Longstreet, about 1907. Between 1914 and 1924 a two stamp mill was erected and the mine put into production. Numerous values showed over one ounce gold per ton and a sample taken in 1994 from the lower adit showed a grade of 20.6 ounces per ton.
Walker River intends to commence a basic ground-mapping program and small drill program intended to produce a minable 43-101 resource. Preliminary figures from the company indicate they believe they could commission a 200-tpd mill in about a year and cost about $3 million. The project is made up of 36 claims totaling some 720 acres. The company is paying $40,000 per year with no work commitment and no NSR at production. They can buy the claims for a total of $1.5 million.
I really like the plans of both companies. Star Gold wants to start a small heap leach pad for production of a low-grade bulk tonnage rock. They estimate they could be in production for about $20 million in 2-3 years. They have giant expansion potential. They have a total market cap today of about $11 million
Walker River on the other hand wants to put a prior producing high-grade gold mine back into production doing 200 tpd at a total cost in the $3.5 million range in about a year. That's very doable. I walked the project. It's 3 km from high-tension power, water is available, it won't cost much to survey and test the project. They have a market cap of about $4.5 million and a lot of potential for expansion.
I am very biased. The business model of drill and raise money, drill and raise money, drill and raise money has proved itself to be a bad model for investors. Both of these companies are taking mines that were in production before and restoring them with today's technology. I have participated in private placements in both companies and they are advertisers. Do your own due diligence.
Star Gold may be difficult for Canadian investors to buy because of their OTCBB presence. Walker River Resources may be difficult for American investors to purchase because of their lack of an American symbol. Each of the companies has a very tight share structure and strong management ownership.
Star Gold Corporation
SRGZ OTCBB $.38 (Sep 24, 2013)
30.7 million shares
Star Gold website
Walker River Resources
WRR-T $.16 (Sep 24, 2013)
28.4 million shares
Walker River website
###
Bob Moriarty
President: 321gold
Archives