At Surface Gold
Bob Moriarty
Archives
Sep 19, 2014
I just came back from an interesting site visit over the past weekend. I went to see the Hasbrouck Gold Project for West Kirkland Mining located in the Walker Lane Trend near the city of Tonopah, Nevada. The Walker Lane is home to dozens of major mining project including Round Mountain, the largest gold mine in the US and the famous Comstock Lode.
(Click on images to enlarge)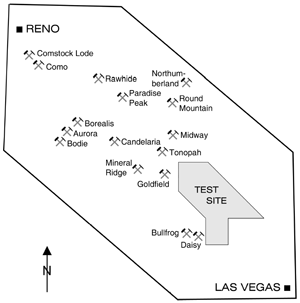 As projects go, this is an especially interesting one. The management team is one of the most successful groups in junior mining. President and CEO R Michael Jones along with CFO Frank Hallam were founders of Mag Silver. Major parts of the team came from the merger of West Timmins Mining with Lake Shore Gold in 2009. These guys have a history of rewarding shareholders before.
West Kirkland was formed in 2009 after the merger with Lake Shore and began a search for a serious, near-surface gold production project in a secure jurisdiction. Their search resulted in them looking at over 250 different projects all over the world. They settled on the Hasbrouck Project then owned by Allied Nevada.
West Kirkland has a bit of a problem when they approached Allied Nevada with an offer. Allied Nevada was advancing the project with the intention of putting it into production themselves. They completed an initial PEA on Hasbrouck in 2012.
The price of gold faltered after hitting a high in September of 2011 and Allied Nevada desperately needed money. In early 2014, Allied Nevada and West Kirkland came to terms. Allied Nevada valued the 2 million ounce gold resource at Hasbrouck at $30 million dollars. WKM paid $20 million cash for a 75% interest outright. The deal was concluded on April 23, 2014 and WKM has 30 months until October 2016 to fork over an additional $10 million for the remaining 25%. Allied Nevada does not have to accept the $10 million; if they decline the project will turn into a 75/25 joint venture.
Certainly getting oxide at surface gold at $15 an ounce is a hell of a deal for WKM. The project actually consists of two individual smaller projects called the Three Hills gold project and the Hasbrouck gold project. Each will be permitted and put into production by itself. The PEA generated by Allied Nevada called for an NPV of $98.7 million and an after tax IRR of a blazing 60% at a gold price of $1000. With a gold price of $1400, the NPV soars to $230.3 million. Allied planned on production of 135,000 ounces of gold and 540,000 ounces of silver yearly over a 5-year mine life.
The projects actually have higher potential than a five-year mine life. While a high-grade core of .66 oz./t gold was being produced starting in 1926, no one in the area has ever done any heap leach projects even though Round Mountain is a short distance away. The entire Tonopah area is littered with the remains of ancient head frames from mines mining a high-grade core. There is a lot of lower grade but economic ore within trucking distance.
It was interesting to me that no one on the tour pressed the issue of expansion. No one in any industry builds a business around a five-year life span. I looked at all the old head frames and thought to myself, "I'd love to have a big permitted leach pad sitting in the middle of all this pretty rock." I don't think management wanted to be warning the holders of projects in the area. I have little doubt management of WKM is talking deals with others surrounding them.
The numbers are pretty simple. The pair of projects contains 1.2 million ounces of gold and 29.3 million ounces of silver in the M&I and an additional 761,000 gold equivalent ounces in the indicated category. WKM will begin mining at Three Hills where they estimate recovery at about 80%. Their gold processing plant will be there. When mining and leaching begins at the main Hasbrouck deposit later, the company will simply take the saturated carbon material and truck it to Three Hills for processing.
If there is a cloud attached to their silver lining, it's in the number of shares. When WKM management presented the deal to Allied Nevada, they had to put up a $500,000 non-refundable deposit. WKM President Mike Jones quickly got commitments for $20 million but ran into a lot of reluctance on the remainder of the funds necessary to complete the transaction. He approached Rick Rule from Sprott and was told, "I like you but it would be an insult for me to demand the only terms I would accept." Facing either the loss of $500,000 or terrible terms, he chose the terrible terms.
The company completed a placement for $33 million total with 220 million shares at $.15 and a full tradable warrant at $.30 for five years. As life turns out, that is not all that bad a deal. Gold shares continued down, while we were on the tour, the shares could be had for $.10 and the warrants for $.03. While the warrants have a lot of time on them, at $.30 they are non-dilutive and would bring in another $66 million in capital that would pretty much finance construction of the project.
The company should do a roll back at once. This was about the only bone of contention on the tour. Management had a convoluted plan for rolling back the shares eventually. But the shares are currently in the strongest of strong hands and institutions control 72% of the shares. As long as they are on board, it simply doesn't matter when you do a roll back. All of the newsletter writers were in favor of a roll back and management wouldn't budge.
West Kirkland Mining offers investors a near term gold production story in a secure and safe jurisdiction. With a current market cap of only $28.6 million a 2 million ounce gold deposit isn't valued any higher than the cost of the original drill steel still in the ground. $15 an ounce for gold production is about as low as you will ever see.
The tour had about a dozen investors, representatives of institutions that had invested and writers. Everyone seemed to agree the management team was about as strong as any in the business.
I believe we are at a major bottom in metals prices. Hasbrouck would make money at $1000 gold and has wonderful leverage at any higher prices of gold. One day, perhaps down the road, investors will actually value real gold projects with real management.
West Kirkland Mining is not an advertiser. I do not own shares. I really like the management team a lot so you could do far worse in this environment. I think WKM will be a leader when the market turns and a few years down the road, I think the mine life will surprise about everyone. Except me.
Please take some responsibility for your own investment decisions.
West Kirkland Mining
WKM-V $.13 (Sep 18, 2014)
WKLDF-OTCBB 294.1 million shares
WKM.WT $.03 220.9 million warrants at $.30 until April 2019
West Kirkland Mining website
###

Bob Moriarty
President: 321gold
Archives