Two Extraordinary Stories: West Red Lake Gold and Dynasty Gold
Bob Moriarty
Archives
Sep 12, 2023
As I am certain my regular readers fully understand I am a contrarian. Investors don't buy and sell shares because of interest rates or the S&P or value of the dollar. They buy and sell based on how they feel. If optimistic, they buy. If pessimistic, they sell. So if you can measure with accuracy their sentiment, you can profit by trading regardless of interest rates or price of the dollar.
I've found the very best way to track sentiment with great precision by following the brilliant Daily Sentiment Indicator put out by Jake Bernstein. The DSI doesn't track the resource indexes; only commodities but it will tell you where we are with gold and silver. Gold hit a low of 12 a month ago and regardless of the volume of pessimism from resource stock investors, gold is holding up near an all time high. Silver was 16 on Friday and could hit a low very soon.
But there are dozens of ways to measure sentiment. Many are showing low levels of sentiment for the metals and certainly for the resource stocks. The palpable level of despair is about as negative as I have ever seen. We are near a major bottom; actually we are in the very last phase where resource funds are dumping some of their very best shares just because they are liquid. In the absolute last stage of a decline, ordinary investors rush to sell to see if they can capture the very low.
The CEF used to provide a wonderful measure of sentiment for silver and gold at the same time. The closed end CEF was taken over by Sprott and is now called the Sprott Physical Gold and Silver Trust. When the market took the dive I had predicted in March of 2020 the discount went to over 6%. In mid-July of this year it hit the lowest price it had been in over three years and is currently sitting at an extreme of negative sentiment at minus 5.08%.
(Click on image to enlarge)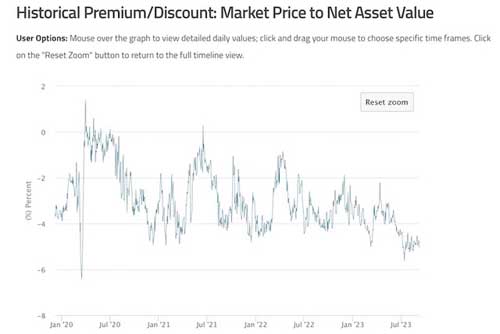 Measuring the XAU over Gold will give investors a relative idea of where the resource stocks sit compared to gold. Do remember that the price of gold is only a few percent below its all time high yet gold and silver stocks in relative terms are the lowest in a year.
My all time favorite measure of sentiment for resource stocks is the BPGDM that is helpful at tops but simply brilliant at bottoms. It shows the Gold Miners Bullish Percentage Index at the lowest price since the low of last September. It could well go lower but it is screaming that we are near a major low.
(Click on image to enlarge)
One of the best stories of this year was the announcement that West Red Lake Gold (WRLG-V) put out saying they had done a deal on the Madsen Mine and Mill in Ontario. The company had already bought the last 28% of the Rowan Mine just a month before. Pure Gold had owned the Madsen Mine but they ran out of money and time together and put it into bankruptcy.
WRLG paid $6.5 million in cash along with 40.73 million shares and a 1% NSR with an additional USD $6.8 million deferred. That gave them an asset with $350 million invested already and a brand new fully permitted 800 TPD mill with 80 square km of prospective ground in Red Lake. While the key property for Pure Gold, the Madsen Mine and mill was valued as high as $1 billion.
Just after closing the deal on Marsden, WRLG added one of the top mine builder and operators in the world named Shane Williams. Shane has worked for Skeena, Eldorado and Rio Tinto putting mines together in B.C, Quebec and Greece. In simple terms he would be the best guy in the world to rationalize Marsden and restore it to that magic $1 billion dollar market cap. Which by the way would be a dozen times higher than WRLG's market cap today.
WRLG plans on using a hub and spokes approach to mining and milling at Marsden including trucking in higher-grade ore from Rowan at startup. Drilling at the 844 thousand ounces of Rowan gold resource has delivered excellent results already including 2.0 meters of 66 g/t Au, 3.11 meters of 21.8 g/t Au and 10.1 meters of 6.27 g/t Au. WRLG has completed 9,000 meters of drilling at Rowan so far and has another 16,000 meters planned so the news flow will be constant. Some day investors will get it.
On September 6th WRLG announced commencing a 3,000-meter drill program at the Wedge project located only two km from the Madsen mill. WRLG already shows a 43-101 resource at Marsden of just over two million ounces of gold. Previous drill results from Wedge showed assays of 10.33 meters of 24.94 g/t Au and 16.6 meters of 17.49 g/t Au from near surface.
WLRG has a 30,000 meter drill program planned for the main Marsden mine mostly infill but some deeper holes targeting the deep but high-grade material.
If you can get someone to teach you how to fall off a bike, you can make money investing in WRLG. It is backed by some of the biggest names in Canada mining, has experienced and serious management and money in the bank. With all that and a market cap of about $85 million CAD it will regain the $1 billion market cap in the next major gold advance I see around the corner.
Another great story with outstanding results but little publicity would be Dynasty Gold (DYG-V) subject of one of my very first visits to a mining junior about twenty years ago. China turned into an impossible dream so company President and CEO Ivy Chong did a deal with Teck Resources to pick up a 100% interest in their Thundercloud gold project in NW Ontario.
Thundercloud came with a 182,000 ounce gold 43-101 but that number hides the truly outstanding drill results Dynasty has come up with and the areas of interest that Teck just ignored including trenching at surface showing 8.02 g/t gold over 39 meters with no follow up.
The area of Ontario that Thundercloud calls home hosts over half a dozen gold mines with over a million ounces of high-grade gold up to over nine million ounces at Red Lake.
(Click on image to enlarge)
Prior Teck and Noranda drill results going back fifteen years included 125 meters of 1.73 g/t gold including 1 meter of 38.37 g/t gold, 60.3 meters of 1.74 g/t gold with 8.57 g/t Au over 1 meter and 68.8 meters of 1.55 g/t gold.
Last years four hole drill program indicated Dynasty geos seem to have a firm handle on the gold bearing structures. Hole 22-02 showed 5.98 g/t Au over 34.5 meters. 22-03 intercepted 8.42 g/t Au over 73.5 meters and 22-04 had 0.764 g/t Au over 40.5 meters including 8.61 g/t Au over 3 meters.
Dynasty followed up on the trenching done by Teck but ignored and added 30 meters of strike giving 69 meters averaging 5.85 g/t Au at surface in 2018.
Dynasty just completed a 2023 phase-one drill program of 2,344 meters. The first four holes are 100 meters from the 2022 excellent results. The intention is to determine the size and continuity of the high-grade mineralization. In addition DYG plans on releasing an updated 43-101 this year that will include those four holes and fifteen previously announced holes from years past.
On September 6, 2023 Dynasty released results from the first three holes from this year's program. Hole 23-01 showed 52.8 meters of 2.67 g/t Au including 3.0 meters of 19.34 g/t Au and 1.5 meters of 37.20 g/t Au. Also 3.0 meters of 18.28 g/t gold. Hole 23-02 shows 51.0 meters of 1.4 g/t gold including 3.0 meters of 5.91 g/t Au. Hole 23-03 reported 57.8 meters of 3.28 g/t Au including 28.3 meters of 5.33 g/t Au and 14.8 meters of 7.14 g/t gold.
Dynasty joins West Red Lake as pretty much a slam-dunk. Dynasty is an exploration company but is nestled in a nest of high-grade gold mines in one of the most mining friendly jurisdictions in the world.
I participated in placements in both WRLG and DYG. Both companies are advertisers so that makes me biased. Do your own due diligence but now is the time to start picking the low hanging fruit.
West Red Lake Gold Mines
WRLG-V $.49 (Sep 11, 2023)
WRLGF-OTCBB 171.8 million shares
West Red Lake Gold Website
Dynasty Gold Corp
DYG-V $.305 (Sep 11, 2023)
DGDCF-OTCBB 61 million shares
Dynasty Gold Website
###
Bob Moriarty
President: 321gold
Archives
321gold Ltd