Artemis Resources, One Man Band and Flavor of the Week
Bob Moriarty
Archives
Aug 23, 2017
Some sixty years ago when my parents wanted to give us kids a treat they would load the whole herd into our station wagon and run us down to the local Baskin Robbins ice cream parlor. Once there we would all order the flavor of the week in a single scoop ice cream cone apiece. The company introduced new flavors all the time and would put them on special so customers could try them.
When I began to make site visits some sixteen years ago I had no technical background similar to what most of the other letter writers had. I had never taken a geology course or a chemistry course. I had mined on a very small scale in the summer of 1980 but I lacked all formal education in mining. So I was forced to wing it, I had to use other measures to determine the potential success or failure of a company or project I was looking at.
By the time I had visited forty or fifty properties, I had picked up a few rules of thumb by observing the companies I saw. One was that every company should be good at something. That might seem pretty obvious but among newsletter writers we talk about "the flavor of the week." I devote a chapter to it in my Amazon bestselling investment book, "Nobody Knows Anything."
You have to watch out for those companies chasing "the flavor of the week." Even worse are those pitiful companies who think they can cover every "flavor of the week" at the same time.
Now if we go to the Artemis Resources' website, we can see that Novo's JV partner at Karratha is in the gold business. And base metals, and platinum and platinum group elements and antimony and iron ore and last but hardly least, graphite in Greenland. But the website could use a makeover because I think they dumped the graphite in Greenland venture last year. And I forgot, it's not covered on their website but the latest flavor of the week for Artemis is cobalt and of course, nickel and if you count the resource at Mt Clement, silver. And operating some sort of mill.
Two months ago Artemis had a market cap of about $20 million Aussie. Now they may well believe they have the bandwidth to support gold and silver exploration, platinum exploration, base metals exploration, antimony exploration, iron exploration, cobalt and nickel exploration and graphite in Greenland but nobody in the market gave them any credibility.
While they actually identified the gold at Purdy's Reward as being possible a Wits type deposit in February, there wasn't anyone in the company who understood what that might mean. And when Novo stakes a whole bunch of ground and releases a brilliant set of assays, Artemis doesn't even have a single geologist in the company who knows enough about the Witwatersrand gold to know that there was no watermelon seed gold found in the Wits. The gold was far smaller than the nuggets found at Purdy's Reward.
No newsletter writer in the world would take such a company seriously. Nobody in geology could possibly do justice to that many different minerals. Flavor of the month companies always fail.
But if you add in "one man bands" it gets worse. Those are the companies run by one guy who makes every decision and shapes the company to reflect his values or lack of values. Artemis has a "one man band" in the person of Chairman David Lenigas. Apparently he seems to think of himself as the direct reincarnation of "Tiny" Rowland.
British Prime Minister Edward Heath referred to Rowland's actions as "the unpleasant and unacceptable face of capitalism." I think Lenigas is more of a mixture of "Tiny" Rowland and Soapy Smith. He even has his own pony-tailed enforcer in charge of whatever enforcers do.
Artemis announced an agreement with Novo Resources on the 29th of May. In it they said, "Artemis Resources Limited ("Artemis" or "the Company") (ASX:ARV) is pleased to announce that it has signed a binding farm-in and joint venture agreement with Canadian listed gold explorer Novo Resources Corp…"
Evidently the concept of a binding letter of agreement was confusing to Mr. Lenigas. Novo Chairman Quinton Hennigh spent weeks in July and early August trying to contact Lenigas in order to agree on the terms of the definitive agreement. Lenigas wouldn't return phone calls, skipped agreed on meetings and ignored emails. Basically he was letting Novo understand that a binding agreement was only binding on Artemis until Novo made a discovery.
On an Australian chat board called Hot Copper Artemis Chairman David Lenigas began to post cheap shots at Novo before the definitive agreement terms were agreed to. Posting as werdna007 (I suspect Lenigas also sees himself as the reincarnation of James Bond as well) he says, "ARV own 100% of Purdy'S. NOVO own 0% at the moment. NOVO's MC has risen more than $400m on ARV's tenement.
Stay tuned."
Now it may seem outrageous that I am claiming to be able to identify David Lenigas as werdna007 but actually if you just read his various posts it's quite clear as to who is speaking. It's either David Lenigas or someone in bed with David Lenigas. He's being as cute as a cartload of monkeys but giving away his bias.
On the same day, the 15th of August, he posts an entry called, "My estimate of Novo SP fair value" saying, "20-40c ,maybe 50c with overvalued Beaton's creek. Very little workable real estate for quite some time and little cash to do anything more than that. No mill to process gold...no native title...no exploration licences....no mining licences.....no money...... no FIRB approval...no TSX approval....no ASX approval...no environmental approvals.....no understanding of the MOA they entered into....almost says it all.
Cheers"
So someone on Hotcopper believes that Novo owns 0% of Purdy's and ARV owns 100% and that Novo is worth $.20 to $.40. That's interesting because at the time that was written, Novo shares were going for $4.85.
Some 50 years ago, I went through an Army Basic Intelligence Officer's course in Holabird, Maryland. We spent eight weeks being told again and again to ask the right questions and ignore what you are being told but pay attention to what you see.
If you took every single investor in the world that was familiar with both Artemis and Novo, there might be ten of them who felt that Novo was only worth $.20 to $.40 even though it was selling for twenty to forty times that much. You certainly wouldn't find any more than ten and you know the poster is one of those ten. But which one? Obviously we need more information and our werdna007 gives it away in another couple of posts.
He says, "QH failed to sign an unconditional contract and may be a visionary, but not a corporate genius!!" The inference from the writer being, Quinton is not a corporate genius but he, the writer, is. And in one more quite telling email gives it away when he answers a perfectly reasonable question about the value of Artemis. If Novo is only worth $.20 what is Artemis worth?
Werdna007 states, "ZEN, have reconsidered your request and have placed absolute minimum MC's on a few of ARV's tenements over the course of time - minimum values only on (1),(2) and (3),
(1) Purdy's - $1 b mc-wits gold
(2) Oscar - $1b mc-wits gold
(3) Carlow Castle - $1b mc -Cobalt-gold copper
(4) Mt Clement - JV with Black rock - gold mining - $ 250m mc
(5) -other - diamonds - platinum group metals- antimony - whundo copper- silica hills - $100m
(6) Radio Hill Plant refurbished and other fox jorced tenements - $150m
Total $3.5B with 440m shares on expanded capital as at 30/9/17 equals approx $8.00 per share.
With confirmation of wits gold at purdy's and oscar (over the next 6 mths to 3 years) an increase of mc of $108.5B
+ Carlow Castle -(with high grade cobalt/gold/copper) an increase in mc of $20 B
to a combined share price of $300.00 per share minimum within 3-5 years (on capital of 440m shares) -
profit taking opportunities at $50/$100/$150/$200/250 and $300 a share over that period for around 10-16% of shares per segment."
It should be obvious to anyone capable of thinking for themselves and asking the right questions, if someone believed on the 15th of August before the Definitive agreement between Artemis and Novo was signed that Novo was worth $.20 to $.40 a share when it was selling for $4.85 on the market and Artemis was really worth $8 a share when it was selling for $.215 on the market, there is only one person in the world quite that delusional and that would be Mr. David Lenigas, Chairman of Artemis.

Lenigas was only continuing his shenanigans. Knowing and making it quite clear with veiled threats in various press releases that Novo had until the 23rd to get in line, on the 4th of August Artemis sets up a private placement for 23.7 million shares at $.1266 knowing that Novo is about to release results from Purdy's Reward.
The stock exchange smells a rat and issues a demand that Artemis explain why they did a private placement to insiders when they could reasonably expected that the Amended Earn-In Agreement would have a material effect on the price of the stock.
(Click on image to read)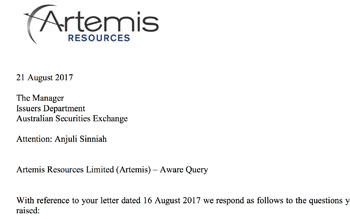 This is where the pirate in David Lenigas comes right to the surface. In his response to the exchange he says, "Artemis was not aware of the Amended Earn-In Agreement prior to conducting the Placement. . . " And that's perfectly true. He knew Novo was about to release results from the sample and may well have had them in his hands, I don't know.
But for sure he fully understood that he had pointed a gun to the head of Novo and was demanding more value in shares than his entire company was worth two short months before. Novo hadn't agreed yet but when you have a gun pointed at your head, what does any reasonable person do? In his response to the exchange he essentially said, "Novo made me do it."
David Lenigas sees himself as a big toad in the pond. And while it may be true that he's a big fat toad, Australia is a little tiny pond. Let me give my readers one more simple question that Lenigas should have asked.
Let's pretend Novo's shares shoot up when the original video came out on Youtube on July 11th and Lenigas puts out a press release from Artemis. "Congratulations to our JV partner with their success at our 50% owned Purdy's Reward. Artemis is thrilled to have gained Novo Resources as a valued associate in this venture. Artemis is overwhelmed to have joined the team of Newmont Mining 3rd largest gold mining company in the world, Sumitomo Corporation, Mark Creasy, the most successful prospector in Australian history and Eric Sprott of Canada, billionaire investor and we get the services of one of the top geologists in the world for free and two million dollars spent advancing our projects. Here's my pen, where do I sign the definitive agreement?"
What do you think the shares would have done that day? Well, they wouldn't have gone to the mythical $8 a share but they would have easily spiked to $1 a share. Instead, Lenigas gets cute, cuts a deal good only for his eastern European backers and stiffs both Novo and his other shareholders.
While Lenigas fully understood what he was saying when he kept issuing the veiled threats to Novo in a number of press releases, he needs to pay a lot of attention to the shot the Australian exchange just fired across his bow. He's playing with the big boys now and the chicken shit little games need to stop at once.
Certainly Novo now understands just how far Lenigas can be trusted. I'm guessing the exchange is going to keep a sharp lookout for more silly games from Artemis.
I own shares in both Artemis and Novo. Do your own due diligence.
Artemis Resources
ARV-AX $.22 (Aug 22, 2017)

ARTTF OTCBB 470 million shares

Artemis Resources website
###
Bob Moriarty
President: 321gold
Archives
321gold Ltd