Novo Releases Better Gold Results than the Wits
Bob Moriarty
Archives
Aug 10, 2017
I have been to the Pilbara to visit Novo Resources' Witwatersrand analog deposit in Western Australia four times since June of 2009. Until last week, I was the only newsletter writer to have visited any of Novo's ground. Jay Taylor has been a long-time supporter of Quinton Hennigh, Chairman of Novo, for years but has yet to actually see the project.
Last week the highly respected Brent Cook and I got a tour of Novo's new Karratha projects. I was really interested in picking his brain; Brent is the ultimate skeptic about mining projects and companies. He suffers no fools gladly. Each of us eagerly awaited the first assay results taken from the 25 square km Purdy's Reward venture in partnership with Artemis Resources.
Artemis announced discovery of gold in conglomerates at the Purdy's Reward property back in February. When Quinton Hennigh of Novo learned of the press release he made a trip to the Karratha region to see the potential. Purdy's Reward has a 1-2 square km region with the conglomerate coming to surface along a 2 km stretch.
If you go to the Artemis home page and read about the company you will find they have 11 different projects and are looking for gold and copper, antimony, platinum and other PGMs, iron, nickel and cobalt, diamonds in WA and graphite in Greenland. I know of no company that has either the management bandwidth or financial resources to do a bang up job on so many different commodities.
Quinton thought about the conglomerates coming to surface and realized that if local prospectors could discover high grade gold at surface using nothing but metal detectors, it fit his precipitation model that the gently dipping conglomerate beds might also contain high grade gold.
He staked all the free ground he could peg until he ran out of money. Then he did a financing, raised more money and staked ground until Novo has 100% control over 7638 square km of the Karratha region. That's 2,950 square miles. Then he went to Artemis and approached them to do a deal on their 1536 square km of projects in the region including the 25 square km Purdy's Reward. The Binding Letter of Agreement calls for Novo to spend $2 million on exploration in two years to get 50% of only the gold found in conglomerates.
If Artemis survives for the next 100 years, it will be the very best deal they will have ever done. Quinton Hennigh has literally handed them a gold mine. He took a piece of ground they put no value on and applied his theory to show that the potential is large indeed.
On July 12th Novo released a press release showing two YouTube videos of people actually using metal detectors to find gold nuggets on the Purdy's Reward property. Novo shares exploded higher eventually going from $.96 to $3.33 on August 8th.
Artemis shares went along for a free ride and rose from $.06 to a high of $.19. Artemis somehow managed to recruit the services of the guy I consider the finest geologist in the world today for free and got Novo to commit to spending $2 million in exploration. That's a good deal in any language. Interestingly enough both Novo and Artemis had been talking about nugget gold at surface for months. Novo kept talking about prospectors using metal detectors to find gold on the surface in several press releases and investors ignored him until Novo posted the YouTube videos.
There was an adjoining piece of ground called Comet Well controlled by three prospectors next to Purdy's Reward. It has a four km exposure of the conglomerate. Quinton did a deal with them where Novo controls 80% of the 55 km project and carries the prospectors to feasibility. That is an exceptional deal for the three and they recognize it.
It's vital for potential investors to understand that the work being done today on Purdy's Reward is because Artemis is permitted for drilling and trenching. The 25 km Purdy's Reward block is less than 1% of Novo's total land package. It's an extraordinary good deal for Artemis and pretty meaningless for Novo. While the results are great, the permits will be in place on Comet Well in the next month or so and work will begin there as well.
Novo took a bulk sample of 700 kilograms and split it into two different batches and sent it off for assay on the 12th of July. The world has eagerly awaited those results. Novo released them on August 7th, 2017. Even I was surprised at the results. They are better than Wit's grade. If in fact they really reflect the true grade of the conglomerate it would be the highest-grade gold mine in the world. A lot more testing is required to prove or disprove that.
Once they pried the rock out of the 2x2 meter hole, they shipped it to the lab where it went through a machine that detected gold and sent the rocks containing gold to another process.
(Click on images to enlarge)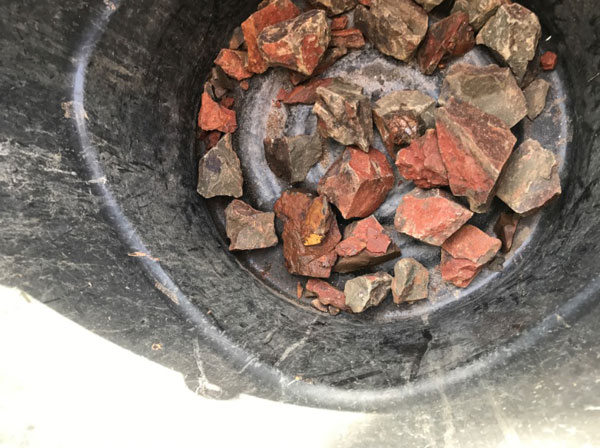 When the rock was crushed, the fine and coarse gold was collected and weighed.
I will keep reminding the reader that these results are significant only from that particular pit. This is the gold from a 2x2x.5 meter pit at surface. Quinton calls the conglomerate layer 11 meters thick and mineralized but until we drill test it, we don't know. We don't know how thick it is, we don't know if it is all mineralized, we don't know if or how far it extends under the basalt, we don't know any of the dimensions. In fact it may be 100 years before we fully understand this particular gold find.
The Wits was discovered in 1886. One hundred and thirty one years later, geologists are still bickering over how the gold got there. Quinton Hennigh postulated that the gold precipitated out of salt water as the chemistry changed some 2.7-2.9 billion years ago. But the Karratha gold, this watermelon seed looking gold is totally different than the Wits gold. They do not have watermelon seed gold in the Wits, it's much finer than that. This gold is unique in the world.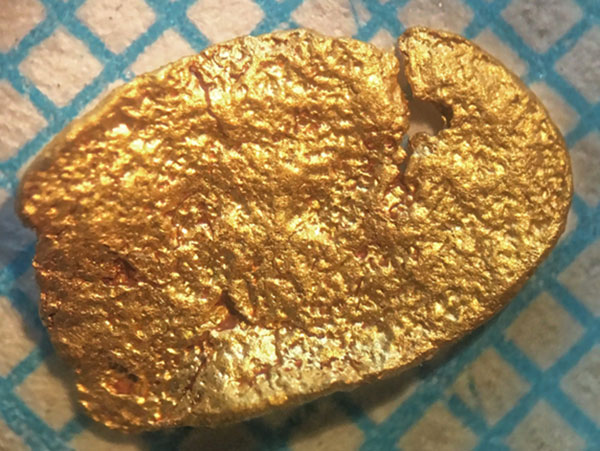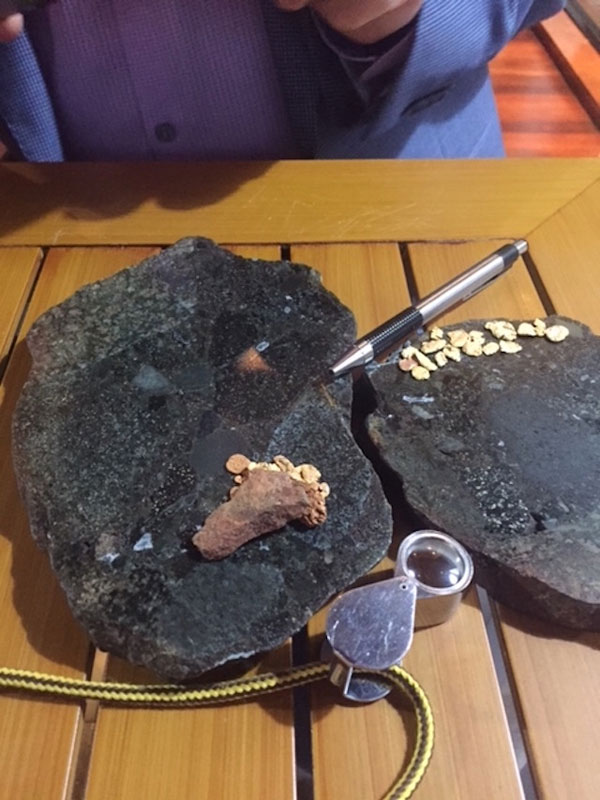 And even though I am the source of much of the speculation about this being a Wits analog, having pounded on that particular drum for over five years, what I could see on my visit looked wonderful and the assays reflect what I thought the grades would be, I didn't see dimensions. I want to see grade and thickness. I want to know how long the mineralized strike is. I want to know how far the conglomerate extends into the basin. Is it all mineralized? I didn't see that because it's far too soon.
HOWEVER and that is a giant HOWEVER, John Callegari, one of the guys working for Novo was driving us around when we were looking at Comet Well. He mentioned a Geological Survey from 1909 talking about "nearly all the alluvial gold was of the uniform shape and size of small melon seeds." That's identical to the gold from Comet Well and Purdy's Reward some 110 km away. You start getting into some really stupid numbers when you have those kinds of dimensions. Same identical gold in size, shape and fineness. But 110 km in strike. WOW.
Other writers late to the party are mumbling about 10 million ounces of gold at Comet Well or billion ounce potential for the whole caboodle. Hell, I was the guy pointing out for years how this was a Wits analog. I don't use those numbers and won't until we have at least three drill holes. That's a TSX requirement. You can't claim to have 10 million ounces of gold until you have at least three drill holes.
Times are going to get interesting for Novo. The last three weeks are just a taste. Brent Cook has done a wonderful piece on the project and I've been whining to him about how I'd like to repost it down the road for my readers. The stock is going to go up and it's going to do down.
In the first piece I ever wrote about Novo, I made a couple of predictions. "The one thing this gold cycle has lacked is a really monster gold find. I think this is it and I've been waiting and waiting to write about it… It is easily a ten-bagger. It could be a 100-bagger. It's going to be big."
It's taken a long time to get to this point and we are a long way from knowing the full story but in my view, this is the Voisey's Bay discovery. This is going to suck money out of tulip bulbs, Beanie Babies and crypto-currencies and make billions for investors.
Novo has been my largest holding for over five years. They are advertisers and naturally I am biased. Do your own due diligence.
Novo Resources
NVO-V $3.15 (Aug 08, 2017)
NSRPF OTCQX 119.7 million shares
Novo Resources website
###
Bob Moriarty
President: 321gold
Archives
321gold Ltd