GoGold Webcast on Aug 11
Bob Moriarty
Archives
Aug 6, 2020
Gold is trading near all-time highs, having already broken its former record of $1,921 an ounce, set in 2011. The historic price action is being driven by unprecedented monetary and fiscal stimulus as well as record low yields on U.S. government bonds. On Friday, July 31, the real 10-year Treasury yield closed at -1 percent, a level unseen before now. This helps improve the investment case for gold.
The fundamentals look strong and sustainable. Look at the chart below. Since January 2019, gold has been in a "golden cross," a bullish signal that occurs when the 50-day moving average is above the 200-day moving average.
(Click on image to enlarge)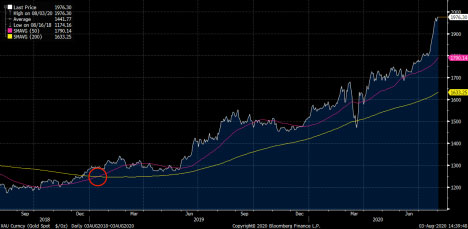 Although I tend to shy away from making predictions on where the gold price could be headed next, I try to make it a point to hear what some analysts and experts are saying. In a recent interview, my friend Frank Holmes, CEO and chief investment officer of San Antonio-based U.S. Global Investors, said that gold has the potential to hit $4,000 an ounce if it follows the same trajectory of previous cycles.
Speaking of Frank, you may already know that his firm has a gold mining ETF, the U.S. Global GO GOLD and Precious Metal Miners ETF (GOAU), that's done very well during the current gold rally. Coming up on August 11, at 1:00pm Central time, Frank will be co-hosting a webcast with ETF Trends' Tom Lydon. The two will be discussing gold and GOAU.
Back in June 2019, I had the privilege of being a guest on one of Frank's previous webcasts. Since then, GOAU is up an impressive 76.8 percent. I highly encourage everyone to listen in on August 11. You can register by clicking here.
###
Bob Moriarty
President: 321gold
Archives
321gold Ltd