Great Drill Results, No Respect
Bob Moriarty
Archives
Jul 30, 2010
My best call ever was probably when I wrote, Sell in May and go away a few months back. The market is so dead that you have to have a copperplate engraved invitation delivered three weeks in advance to sell 100 shares of a nickel stock right now. You can't give stocks away right now. That may be a good thing.
To understand where we are, you need to look at a chart of the XAU over gold. I used to use the chart to pick both tops and bottoms because the chart was a pure reflection of sentiment. When investors were optimistic, they favored gold shares, when they were pessimistic; they favored gold more than the shares. The ratio had never gone below .183 until August of 2008. When it violated the .18 level, it has never returned. Gold shares are cheaper today with $1160 gold than they were in relative terms in the summer of 2001 when gold shares bottomed. Gold actually bottomed in August of 1999.
(Click on images to enlarge)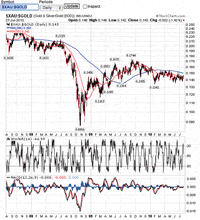 There is another chart all metals investors should be aware of. I plucked it from somewhere and I hope no one is offended by my plucking it. It does give credit to the group who put it together.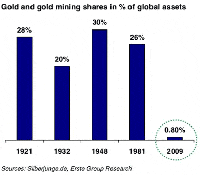 Basically what the chart shows is the percentage of gold and gold shares compared to all assets. Between 1921 and 1981 the ratio varied from 20% to 30% and probably averaged about 25%. That gives you some idea of what part gold and gold shares played in the total investment world. The percentage is now .8%.
That means that for gold and gold shares to return to the norm between 1921 and 1981, gold and gold shares would have to increase in value 2900%. Notice I don't put a price on gold. You can't, when you assign a price for gold, you are also talking about what you are valuing it in.
In the case of the POG, you are really talking about the price of the dollar. Since we know the dollar changes its value 10,000 times a day, assigning a future price of gold is a chump's game.
The chart shows that in relative terms, gold could go up 30 times IN PURCHASING POWER just to return to the norm. It doesn't matter if the dollar is destroyed by deflation and an ounce of gold is worth $100 or the dollar is destroyed by inflation and an ounce of gold is worth $25,000, it will increase its purchasing power 30 times. The thought tells me gold has a lot of room to move and so do gold shares.
But it's summer; shares trade by appointment. Here are some stocks that recently came out with blistering drill results and the market pretty much ignored them. With any luck, these companies should be the first companies to respond to increased interest in gold shares.
Premium Exploration (PEM-V) was the subject of a piece of mine recently. I was trying to say that I thought the company was doing everything right. As I said in the piece, they will be coming out with drill results for months. They are in a 10,000-meter program at their Friday-Petsite project and that's a lot of holes.
It's important to understand that these are step-out holes. They have an existing 531,000-ounce gold resource and these holes are going to expand that. When you read the drill results, understand that because of the angle they are drilling, the intercepts do not reflect true widths. PEM estimates the true widths at between 50% and 75% of reported intercepts.
Hole #1 or PFR2010-1 reported 203 meters of .98 g/t. That's a great intercept of ok grade. Hole #2 or PFR2010-2 hit 274 meters of 1.84 g/t including 5.74 g/t gold over 76 meters. Those are exceptional lengths and good grade. Hole #3 or PFR2010-3 hit a blistering 2.23 g/t gold over 157 meters. Again, great length and wonderful grade. When they report an updated 43-101, it will be a lot bigger.
Another favorite company of mine is Richfield Ventures. (RVC-V) I wrote about them last October. When I wrote about them the stock was $1.73 and they had a market cap of about $25 million. That seemed cheap to me at the time. Now they have a price of $1.36 and a market cap of only $37 million. So much for success in drilling.
Richfield came out with results on the 26th of July. The market yawned. One thing I'd like all readers to do is plug in the numbers they reported last fall into the Casey formula. What was $36.77 rock last fall is now worth $42.48 even with the giant drop in the POG and POS. How soon we forget that gold was $1000 an ounce back then.
In any case, these latest numbers from Richfield show continued success in the first five holes released from this year's program at the Blackwater project in British Colombia. The first hole reported 260 meters of 1.57 g/t gold and 6.7 g/t Ag. In comparison to last year's best hole of 207 meters this is 53 meters longer, has 1.57-g/t gold compared to 1.06 g/t last year and 6.7 g/t Ag compared to 5 grams last year. This is a giant hole.
The other four holes were all good and will play a giant part in the 43-101 upcoming. These intercepts are not true widths, as the company doesn't know the dip of the strike. There are an additional 25 holes planned in the same general area.
I think Richfield will be a takeover target. They are pulling giant holes and will have a whopper of a 43-101. The majors are eating their young and not replacing what they are producing. One day soon they will pull their checkbooks out of their pockets and start spending. You can look for takeovers to be taking place between $100 and $300 an ounce in a mining friendly environment such as Canada. Richfield could be on the way to a giant project with millions of ounces. With a $36 million dollar market cap, investors are ignoring what they have already done, much less the blue sky potential.
I was very harsh when I last wrote about Maya Gold (MYA-V) It wasn't the lack of progress as much as the total lack of communication. I will give them credit today for at least posting a press release; they weren't doing that before on any kind of a timely basis. The results of the one hole they announced were outstanding. But the purpose of press releases is communication and their press releases need to be rewritten.
They are anything but simple. Investors are not interested in the geological theory; they are interested in the practical. What is the company looking for? How many holes will they drill? When will the results be released? When will an updated 43-101 be prepared?
This particular anomaly [pdf] was something they have been trying to drill for 6 months without success. It's called the Tiqlit prospect and they are drilling for a Carlin type system. From a technical point of view this is a giant hole, it shows there is something really big down there.
They missed on the first two holes; A-1 and A-2, and that's not a big deal. They hit big on the 3rd hole and that is a big deal. They hit a high grade intercept of 7.05 grams over an 8 meter length that averaged 3.02 g/t Au over 20 meters width. The black shales are similar to Carlin type deposits and that's what management would like to be hitting. In any case, they have hit and shown high grade gold. They are in the process of moving a rig over to this prospect and I expect more results soon.
The company has only 29 million shares outstanding and with a price under $.20, has less than a $6 million market cap. It wouldn't take too much in the way of drill results to blast this stock a lot higher. It will take better communication.
All of these companies are advertisers. I have been to see Premium and Maya Gold and have had my boots on the ground. In the case of Richfield, the outstanding results pretty much speak for themselves. That is going to be a big system and have lots of gold. Premium is proving up a solid prospect in a big district. Maya is a crapshoot at this point with interesting numbers showing a sniff of something that might be pretty big. At the very least, it's a pretty cheap lottery ticket. I was happy to pay twice as much for the stock 6 months ago.
Since we get income from them, we obviously are biased. I own Premium and Maya Gold shares and have participated in PPs in both companies. I don't own Richfield but you can't kiss all the handsome toads. Please accept responsibility for your own due diligence. We share neither your losses nor your gains.
Premium Exploration
PEM-V $.465 (Jul 29, 2010)
PMMEF-PK 111.6 million shares
Premium Exploration website
Richfield Ventures
RVC-V $1.37 (Jul 29, 2010)
RCVTF-PK 27 million shares
Richfield website
Maya Gold
MYA-V $.22 (Jul 29, 2010)
MYAGF-PK 29.1 million shares
Maya website
###
Bob Moriarty
President: 321gold
Archives