Failure is an option in mining
Bob Moriarty
Archives
July 28, 2008
Many writers have pointed out that we are probably in the 2nd phase of the precious metals bull market. The first phase ran from the middle of 2001 at the bottom until December of 2004 when we had a major top. The juniors have kind of moved sideways for at least a couple of years. A few did well; many haven't done much at all. In 2002 and 2003, even the biggest turkeys were flying, the wind was so brisk.
In phase 3, even bigger turkeys will fly but we aren't there yet. We are in the area where disgruntled shareholders and directors are firing CEOs left and right. Many deserve it, many don't. Failure is an option and many juniors have failed.
From 2nd quarter 2003 to the 2nd quarter of 2004, the share price of Sterling Mining went from around $.25 to $14. I met with Ray Demotte of Sterling when the stock was $.75. He thought it was worth $2-$3 in a year, I thought it was worth $7- $8 if he communicated the brilliant move of purchasing the Sunshine Mine in Kellogg, Idaho. We were both wrong, the stock shot to $14 on the strength of just the name. Everyone knows the name of the Sunshine.
At $14 Demotte ran around Vancouver telling everyone the stock was really worth $30 and it was all due to his brilliance. I told him that he needed a real management team and if he wasn't careful, he would have a $3 stock. Again we were both wrong. He never hired the management team he promised me and the stock plummeted to $.95.
In late May of 2008, his rubber-stamp Board of Directors turned on Demotte and let him go; "Raymond De Motte is no longer President of the Corporation." I'm told they got to the point they couldn't make payroll and were on the verge of bankruptcy. It was an action long overdue. You haven't heard boo from a goose from any of the silver "Gurus" but Ray Demotte had no mining background and couldn't mine his way out of a wet paper bag.
That said we probably have hit a major bottom in gold shares last Friday. According to my favorite chart investors favor the metal over mining shares more than at any time in the last five years. That is the mark of a bottom. Investors hate gold shares. Gold and gold shares should be at a low.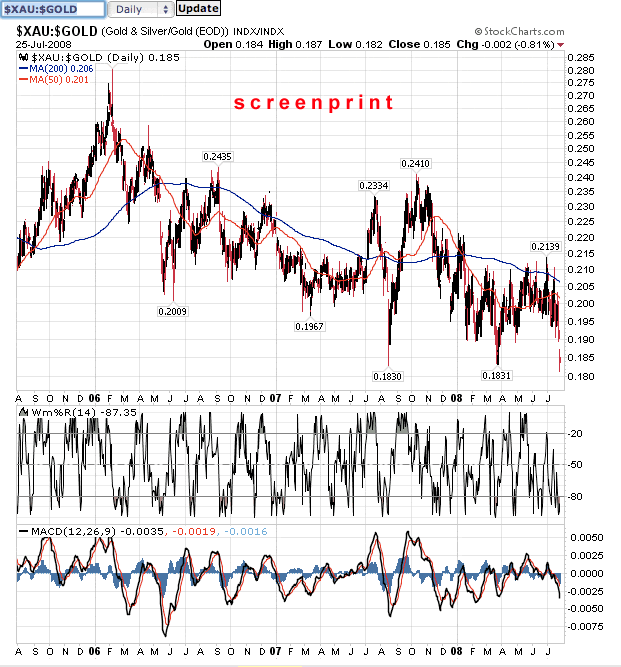 The slow motion crash of the world financial system continues. The FDIC seized two more banks last week. Fannie Mae and Freddie Mac have for all practical purposes been nationalized. Those brilliant 435 fools in Congress now get to vote on the correct price for their shares. I hope they vote the right to do the same with my gold and silver shares soon.
On the 22nd of July Minco Silver (MSV-T) announced a takeover bid for Sterling Mining. As is usual with most takeover bids, MSV immediately dropped 10% while Sterling climbed to $1.30 from $1.25. I'm surprised on both counts. It's a great deal for Minco, putting them solidly in the mid-tier category and it saves Sterling from bankruptcy.
In late June Sterling took out a secured loan for $2.021 million dollars at an annual interest rate of 56% with payment due in 120 days. That should give you a good idea of just how critical things got. But Sterling has assets, real assets that in the right hands could be quite valuable.
Sterling believes they can produce 2.8 million ounces of silver in 2008 and ramp up production to over 5.84 million ounces in 2011. The company ran out of money at just about the same time they ran out of management. Their 43-101 ounces are over 231 million ounces.
Minco Silver is offering .51 shares of Minco (MSV) per Sterling share. At the time of the offer, it was worth $1.58 a share to Sterling shareholders. I was aware other silver companies were looking at Sterling but I didn't know Minco was bidding until the press release.
The bid may seem cheap but I can guarantee Demotte left a pile of unexploded mines all over the company. I watched him for five years and it was remarkable that he never showed up on the SEC's radar screen. It won't be a totally clean takeover; the board did nothing but rubber stamp Demotte for years. There will be surprises.
Even knowing that, I think Minco is a good fit. I think the bid will succeed and I think they will close the deal, headaches and all. Minco is well on the way to becoming a large silver producer in China with their Fuwan project at a bankable feasibility stage with 140 million ounces of silver and another 16 million ounces of silver at Changkeng.
I wrote the company up in early March and nothing has changed except the price is lower. Now they are on the verge of doubling potential silver production to 10 million ounces a year in a few years. That's a giant leap forward.
Banks are in the business of lending long and borrowing short. At any given time in the business cycle, a run on any bank would put it into bankruptcy. Not because they aren't profitable, profit has nothing to do with it. But because they run out of cash. We can't know if Washington Mutual will go belly up but we can guess a lot of banks are on the edge of collapse or a run. But a collapse of WaMu would bankcrupt the FDIC all by itself.
Americans still believe the government can step in and save them. If IndyMac goes teats up, all of their insured savings up to $100,000 are insured and half of everything after that. But there was still a bank run. What happens when Americans wake up and realize the FDIC is in worst shape than the banks and more highly leveraged? What happens when the FDIC can't cover the trillions of dollars they have covered?
Personally I don't keep any money in banks except what I need for paying a month's bills. Even that is at risk but it's a risk I'm willing to take. I believe more Americans wake up daily and one day very soon there will be an Argentina style run on all the banks and there is an excellent chance it will go worldwide.
Before that happens you want to have as much money as you can pour into producing silver and gold shares.
When I wrote up Sterling Mining in 2003, an ounce of silver in the ground was valued at $.76 by investors with $5 silver. Now with $17.37 silver you can buy silver in the ground from Minco Silver at below $.60. That's nuts.
But I came across an even better deal last week. Arian Silver (AGQ) closed at $.145 on Friday, a new all time low for the stock that has traded since mid-2006. With just over 131 million shares outstanding, that gives AGQ a total market cap of just over $19 million dollars. But AGQ has 50 million 43-101 silver equivalent ounces and is about to report much higher numbers. Based on Friday's close, investors can buy silver ounces in the ground from Arian at $.38. That's not nuts, that's universe class insanity. Silver Standard was getting $.67 with $5 silver.
And Arian has plans for near-term production in one of the most mining friendly countries in the world, Mexico. This isn't a stock anyone should be selling, it's a stock everyone should be buying.
Arian and Minco are advertisers. We own shares in Arian but the Minco/Sterling deal just took place and I haven't come to grips with it just yet. We are biased so I beg readers to understand they are the ones who win or lose and should be responsible for their own due diligence.
But silver in the ground below $1 an ounce is pretty cheap.
Minco Silver Corporation
MSV-T $2.76 (July 25)
MISVF-OTCBB
32.1 million shares
Minco Silver website
Arian Silver
AGQ-V $.145 (July 25)
ASLRF-OTCBB
131.5 million shares
Arian Silver website
Sterling Mining
SRLM-OTCBB $1.30 (July 25)
SMQ-T
52 million shares fully diluted
Sterling Mining website
Jul 27, 2008
Bob Moriarty
President: 321gold
Archives