Ethos Swings for the Fence Three Times
Bob Moriarty
Archives
Jun 10, 2019
I wrote a new book for resource investors in January of this year called Basic Investing in Resource Stocks. In it I predicted that 2019 would be the year the everything bubble would be popped and our lives changed in a big way for a long time.
Should my prediction of doom be accurate, I will go down in the history books as being brilliant. On the other hand, since the odds are always against a collapse happening in a particular year if I am wrong, I will go down as a blithering idiot.
We had a record-breaking climb in the general stock market starting right at Christmas and I did get that right. And for months I have said we were approaching a top and the start of a crash. That seems to have happened in April and we are in yet another dead cat bounce I think. When it makes the next turn I will either look like a genius or a fool. But so far, so good.
Bitcon, Mary Jane and the Dow all have the attention of the mob. I hate crowds but if you can track what they are doing, all you have to do is to do the opposite and you can make a lot of money. Once the fools following the 2568 variations of Bitcon have been burned once more, their attention will be focused on something a lot more real than electronic Beanie Babies. I think gold and silver are going to run.
In the resource stock market you have a good clue as to where you stand if you just follow volume. If it's high and stocks are really easy to buy, you are nearing a top. If you can't give stocks away and everything is at a yearly low, you are near at least a tradable bottom. At bottoms there are great well-run companies selling for pennies on the dollar. That's the time to buy.
I've talked a few times in the past about the meeting between Mark Creasy and Quinton Hennigh in Perth in 2009 that led to the creation of Novo Resources. I was at the meeting but so was another person, a long time friend, Craig Roberts who was working with Cal Everett at the time.
Craig, Quinton, Mark's lead geologist and I went up to the Pilbara to look at Mark's ground, we spent a week in the field sleeping in tents eating out of cans of beans and swilling $1200 wine. I saw enough on the trip that matched Quinton's theory that I became a believer. Nothing has changed my point of view since and I've spent weeks with Quinton looking at projects from Mexico to Tanzania to Japan to Aussieland.
Upon the untimely death of the company founder, Gary Freeman, Craig took over Ethos Gold. (ECC-V) When you are chatting with anyone who claims to have a lot of experience in the silver and gold stock sector, ask them for a Gary Freeman story. If they don't have one, they haven't been around very long. Gary Freeman was a character. You never quite knew if you wanted to hug him or strangle him or do both at the same time. He couldn't walk into a room without becoming the center of attention. I miss him a lot.
But Gary had created the foundation for a good, perhaps great, junior resource company in Ethos. Gary had also founded Pediment Gold with Mel Herdrick and financed by Cal Everett and Craig Roberts. That sold to Argonaut Gold in 2011 for $137 million. Their biggest asset in Pediment was the La Colorada gold mine in northern Mexico.
I begged Freeman for years to put the leach pad back into production. According to my SWAG, the pad had $10-$15 million in gold and silver on the pad just begging for cyanide. He kept promising he would but he lied and I wanted to strangle him. As soon as Argonaut took over, they turned the pad back on and they got the gold and silver from the already mined and crushed ore. Gnash, gnash, mumble, mumble.
Mel Herdrick had his eyes on another gold project in Northern Mexico in Chihuahua called La Purisima. Craig and Mel dragged it into the company in 2017. The deal calls for Ethos to gain a 100% interest in the property for a total of $3.495 million USD and 3 million shares. To date they have paid $145,000 USD and 150,000 shares. Another payment is due of $250,000 USD and 250,000 shares in late November of this year.
The technical term for a gold deposit such as La Purisima is a "Slamo, Dunko" in Spanish. I can translate for any readers not conversant in Spanish.
Trench samples reported in May showed 0.49 g/t Au over 118 meters including 1.13 g/t gold over 20 meters and 4.17 g/t over 5.4 meters. That's all easy to leach oxide gold. Another trench showed 0.47 g/t gold over 127 meters and a third sample showed 0.84 g/t Au over 10 meters. Those are great holes.
La Purisima is fully permitted and a 15-hole drill program has started. The initial drill budget for 2019 is $350,000 CAD and will be expanded if results due in late July or August merit.
While I love La Purisima, it's good grade in a favorable country and oxide gold suitable for a heap leach, Ethos' next project was what made me a buyer of shares in the open market.
The jewel in the Ethos' Crown as far as I am concerned is the option for 50% of what they call the Iron Point gold project. The project is currently owned by Victory Metals founded by Paul Matysek and Collin Kettell. They drilled it as a vanadium project but it's a property with over $20 million of prior drilling over the last 30 years. Quinton Hennigh drilled it over 20 years ago as a Carlin style deposit for three different groups but the drilling was way too shallow.
(Click on image to enlarge)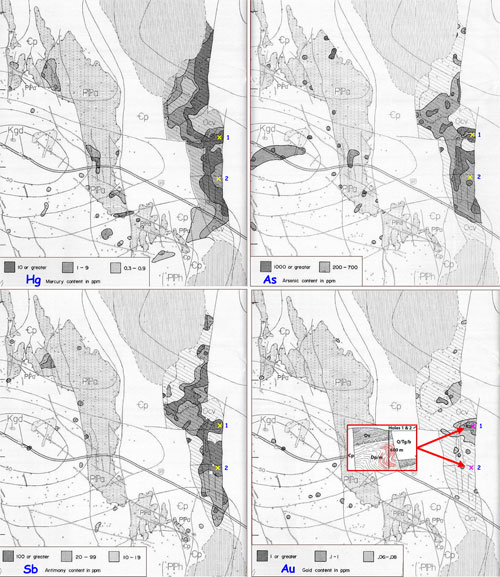 USGS data from the 1970s show one of the highest concentrations in Nevada of pathfinder elements for Carlin style gold including mercury, arsenic and antimony. Quinton wanted to put in deep holes in 1994 but his boss maintained that anything below 1000 feet was uneconomic. Since then Getchell drilled a 3,000 foot deep 10 million ounce deposit at Turquoise Ridge 30 miles north while Newmont drilled a 2,800 foot 10 million ounce project at Leeville, 50 miles to the east.
Iron Point is on an intersection of the Getchell and the Battle Mountain trends. Quinton had gotten in touch with Victory Metals about drilling for Carlin style gold at Iron Point previously. In early May of this year Craig, Paul and Quinton negotiated a most unusual deal for the project.
Ethos can earn a 50% interest in the gold only at Iron Point by spending $5 million CAD over a three-year period. Victory Metals retains all rights to the vanadium and any other metals. The company has budgeted $1 million for three deep holes between 500 and 800 meters deep.
Frankly the holes either hit economic Carlin grade gold or Ethos walks away from the property and Victory Metals works on the vanadium. They either sink or they swim, drilling deep holes in the Carlin burns through money faster than a drunken sailor on a Saturday night.
I like that project a lot. I happen to be a giant Quinton Hennigh fan. For $1 million Ethos is buying a lottery ticket on 50% of a potential 10 million ounce gold deposit. Once Saturday night comes and the lottery machine spits out the numbers, either Ethos starts drinking champagne with their cheerios in the morning or tears up the ticket and tries to get a real job.
I've heard and I can't prove it but it sounds correct, I've heard that AOC thinks that Cheerios are donut seeds. I'm not sure if that is right or not but just in case, I have planted some in our garden and I watch eagerly for the first sprouts to pop up.
Iron Point drilling will begin by the end of June. Expect results to come in between August and September.
I should mention here that Ethos is one of the better-financed junior gold companies in the sector. With just at $7 million in cash they are perfectly positioned to advance both the slam-dunk Mexican surface gold project and the Carlin style lottery ticket at Iron Point. They have about 55 million shares and at Friday's close a market cap of only $13 million and an enterprise value of a tiny $6 million. Good results from either Mexico or Nevada would blast the value of the shares higher. But wait, there is more.
Ethos had a vanadium project in BC they called the Pine Pass property. In December of 2018 they raised $1.96 million in flow through money to drill Pine Pass. Then the BC government notified them in March that there might be a moratorium on exploration in that area so Ethos suspended work on the property.
That created a bit of a problem for them. They had too much cash. Remember, flow through funds has to be spent in Canada. While it's a rotten time to be trying to raise money for exploration in the junior market, it's a great time to be doing a deal for lottery tickets if you happen to have your hands on some cash. Ethos not only has cash in their hands, they have to spend it soon in Canada.
So. In May Ethos announced an option on a Canadian project they call Perk Rocky to earn a 100% interest in a gold rich copper porphyry of a 6,700 ha claim block 225 km west of Williams Lake, BC. 2019 plans call for an extensive airborne geophysics along with ground mapping and sampling. The goal is to determine high potential drill targets with the intent of drilling when reasonable.
Financial terms call for 100% ownership based on an immediate $350,000 in exploration expenses in the first year, milestone payments of a total of $3.85 million USD by the time a decision is made to go to commercial production. At that point the vendors retain a 3% NSR.
And since 3 home runs is not a full ball game in Canada it seems, Ethos just announced participation in a private placement in a company named Carlin Type Holdings Ltd where Ethos paid $198,000 CAD for 8% of CTH.
CTH has three Carlin style targets and will be drilling one and perhaps two this year. Ethos gets exposure to three interesting and highly potential projects for minimum cost. Better yet the drilling will be on top of the three programs already planned for Ethos in Mexico, Canada and Nevada.
I have done very well over the years investing in every lottery ticket with Quinton Hennigh's brand on it. I've had to throw away a couple that didn't win the jackpot but who knows, someday they might. And I've done exceptionally well on others. When I learned Quinton was an advisor to Ethos I wanted it. I have bought a fair number of shares in the open market and participated in the last private placement as well.
If you had listened to me seven years ago, you could have picked up Novo shares at $.45 and you had the same opportunity to buy Irving at $.45 a couple of years ago. Novo went up 1900% and Irving is going to. While Ethos is still an unknown known, it's a lottery ticket with a potentially giant payoff. You can buy now at $.24 or you can wait until it's safe to buy when it's $3-$4, it's your choice. I have made my bet already.
Craig Roberts has a lot of good sense so Ethos is an advertiser. I own shares and I'm biased. Do your own due diligence. I won't share in your profit or hold your hand if you lose. It's your money and your decision.
Ethos Gold Corp
ECC-V $0.24 (Jun 07, 2019)
ETHOF-OTCBB 55.1 million shares
Ethos Gold website
###
Bob Moriarty
President: 321gold
Archives
321gold Ltd