BitGold Goes Big
Bob Moriarty
Archives
May 22, 2015

A new Canadian company, BitGold, with a financial platform similar to PayPal but using gold, went public on the 13th of May at $2.50.

[Editor's note: BitGold did not go public at $0.90c as reported by some 'journalists,' grrrrrrr.]

On that day the shares dipped to $2.35 before closing at $2.70. In the next six trading days, the shares rocketed higher hitting a high of $8 a week later. To the market, the shares appeared overbought and on May 21, the shares started a correction and dropped to $4.63.

Those who doubted the wisdom of my piece written on May 15th may now regret it. Those who bought this newborn at $8 will be pleased and those who sold will regret after reading the news on May 21 when BitGold announced doing an all share deal with James Turk to purchase his GoldMoney Network Ltd.

For an explanation of BitGold go here.
BitGold is going to go big, very very big.

You can sign up for an account here.

I was an investor in Loma Vista in 2012 that did the RTO that became XAU. I have bought XAU shares on the open market. You should do your own due diligence.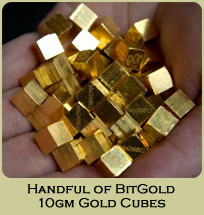 Bitgold
XAU-V $4.65 (May 21, 2015)
36.6 million shares
BitGold website

###
Bob Moriarty
President: 321gold
Archives
321gold Ltd