Gold Floats on Golden Lake
Bob Moriarty
Archives
Apr 27, 2021
Golden Lake Exploration (GLM-C) exploded higher by over 350% in late February on the strength of a bonanza grade drill hole completed last fall at their Jewel Ridge project at the southern end of the Battle Mountain-Eureka trend. The shares went from $.15 apiece on February 19th to a high of $.70 on February 24th. Wisely management opted to do an immediate cash raise of just over $10 million at $.45 to fund a full exploration program including 20,000 feet of drilling.
Golden Lake has an option to purchase 100% of the Jewel Ridge property for $155,000 in cash with a $700,000 exploration requirement and 5 million shares. There is a 4% NSR on the project which consists of 96 unpatented lode claims and 30 patented claims totaling 1800 acres. There were several historic small gold mines on the ground.
This is a Carlin style deposit but starts literally at surface. The Phase 1 drill program conducted last summer drilled a total of nineteen RC holes completed with many of the holes showing interesting results. The bonanza grade results came out on Feb 23rd and showed both Carlin style mineralization and CRD (Carbonate Replacement Deposit) material.
From surface the 24.54 meter interval showed 9.16 g/t Gold and 65.8 g/t Silver. The rocks in the ground show a theoretical value of $578.
(Click on images to enlarge)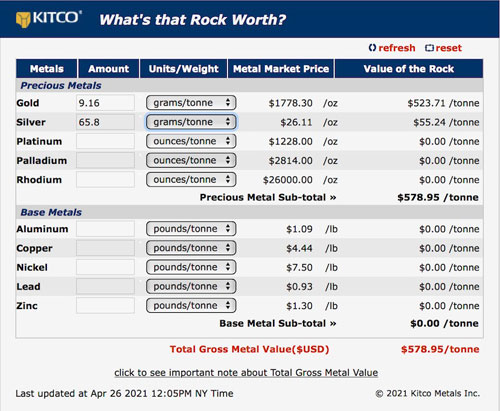 Within the above interval there was a home run bonanza interval of 3.23 meters with a rocks in the ground value of $4,139.
With a lot of cash in the bank, the company is aggressively planning a major exploration program for 2021 starting about May 1st with one drill scheduled for a 14,000 foot program and a second drill planned for about 6,000 feet of drilling. In addition Golden Lake is going to run a Long Wave Infrared Survey conduced by satellite and a detailed gravity and induced polarization (IP) survey over the property.
Since the high point in the stock at $.70 in late February the stock has retraced a perfectly normal 50% correction to the current price of about $.34. In my view gold and silver have completed the correction that began early last August and are primed to go higher, perhaps much higher. Golden Lake should lead the way. The company is well cashed up with about $10 million in the till that should fund a lot of exploration. With a market cap of about $20 million CAD today the stock seems very cheap to me.
Golden Lake is an advertiser and naturally I am biased. Do your own due diligence.
Golden Lake Exploration Inc
GLM-C $.345 (Apr 26, 2021)
GOLXF-OTCBB 59.3 million shares
Golden Lake website
###
Bob Moriarty
President: 321gold
Archives
321gold Ltd