Anaconda Scores Home Run After Home Run
Bob Moriarty
Archives
Apr 27, 2018
When I was a kid my baseball heroes were Mickey Mantle and Roger Maris. At the age of fourteen, I was eighty pounds soaking wet so the only thing I played well was the radio. I used to have to run around in the shower to get wet. Year after year Maris and Mantle would go back and forth each trying to hit more home runs than the other. Eventually I learned that hitters who could get singles every time won more ball games but who doesn't follow home run hitters? They are a lot cooler.
Markets go up and markets go down. That may seem a little simplistic for me to say but there are entire cliques in the market place trying to convince investors that markets should only go up or only go down. That's pretty stupid if you think about it. Markets go up and markets go down. Right now the metals are easing down. There was a small but nice rally starting back in December that petered out at the end of January. Like many others, I have firmly believed the next major move was up. But all along, I wanted to see a washout.
Even the biggest speculator short position in silver since 2001 doesn't seem to be as important as the near record open interest. Silver is going to go up a lot relative to gold but when? For certain Bitcon and the rest of the cliptocurrencies are taking money from the junior mining space.
I want to see a washout. I want to see the DSI on both gold and silver below 10. Typically we have two low marks a year, in June/July and in December. I think we will decline into June/July before going up. Watch the DSI. When it goes below 10 I will be throwing money at the market. If you are skeptical, go reread the piece I wrote on January 26th. I talked about a dozen different and unrelated commodities. I said they were about to turn, some up, some down. See for yourself just how I did.
Anaconda Mining (ANX-T) has been hitting home runs for months just as I said they would when I wrote about them in January. I happen to be a big fan of saddle reef deposits. Their latest results from Goldboro in Nova Scotia showed 11.27 g/t gold over 13.5 meters, 9.93 g/t gold over 7.5 meters, 10.55 g/t Au over 6.1 meter and 5.10 g/t Au over 9.6 meters. It's all part of a 30 hole, 7,200-meter drill program at Goldboro. Those are all home run holes. The bad holes at Goldboro are at least doubles in baseball terms.
(Click on images to enlarge)
Anaconda is currently producing about 16,000 ounces of gold yearly at Point Rousse in Newfoundland. By 2021 they expect to be adding an additional 41,000 ounces a year from Goldboro according to their PEA. The company is in the process of making a bid for Maritime. It's an interesting bid. Maritime (MAE-V) has about one million ounces in a 43-101 resource at what was the Hammerdown mine owned and operated by Richmont Mines but shut down in 2004 due to the low price of gold. Anaconda's offer was a 64% premium to the 20-day average price of MAE.
For a lot of reasons on both sides, I see the takeover happening. Maritime is studying the offer presently but until the offer investors only valued Maritime's ounces at about $8 US an ounce. Maritime would have to spend a lot of money to buy a mill. The mill that Richmont had used to process the ore from Hammerdown is now owned by another mining company.
Anaconda has excess capacity at their existing Newfoundland mill at Pine Cove so a merger is the best of all worlds for shareholders of both companies. If Maritime ships the ore to the Nugget Pond mill they have to pay a big toll-milling fee that would be saved by shipping the ore to the Pine Cove Mill owned by Anaconda and the distance is about the same.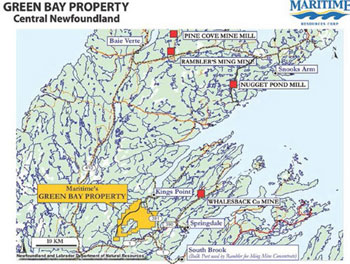 Time will tell if the merger takes place but I can't see it as anything but a win-win for shareholders of both companies. Anaconda really wants the deposit since it would add another 40,000 to 50,000 ounces a year to production. The offer is good through July 27, 2018 but I would expect management of Maritime to understand the synergy of such a deal and suggest to their shareholders to approve it.
Months ago I said that Anaconda was one of the least understood gold mining companies I knew of. Investors were focused only on the 16,000 ounces a year gold production which frankly is chicken feed, hobby mining. But adding 41,000 ounces a year from Goldboro would be a home run and adding another 40,000 to 50,000 ounces a year from Maritime's Green Bay/Hammerdown project is an even bigger home run.
Institutions want to see 100,000 ounces a year in gold production before they will take a company seriously. Anaconda has a plan and it is a serious plan. I love the management and would marry them but Barbara would have a fit so I dropped that idea. In any case, Anaconda has several routes to success. They have a plan and are executing it. Novo Scotia and Newfoundland are not on the horizon of most investors but they should be.
Currently Anaconda has almost 1.1 million ounces of a 43-101 resource. With today's market cap, that values their gold ounces at about $25 US, which is absurd. They are producing gold at a profit. They are in the midst of a 30-hole drill program at Goldboro that is going to add a lot more ounces. They are the most logical bidder for another deposit (Green Bay/Hammerdown) that can add 40,000 to 50,000 ounces of gold a year to their production. They also have an exploration project called the Great Northern project that contains another 600,000 43-101 ounces I haven't even figured into the equation. They have a mine and mill at the Point Rousse project with a 1,300 tpd operating mill next to a deep-water port and 15 years tailings capacity.
In short, Anaconda has everything they need to jump into the lower segment of mid-tier producers. With that there will be a major revaluation of the value of their ounces. As I said and I will continue to say, Anaconda is a sleeper and investors now are going to be easy to recognize at the gold shows because they will be the people with the shit-eating grins. And they have about $4 million in the bank. I see a whole lot of blue sky for the company and that's why I am an investor.
Anaconda is an advertiser. I have participated in their latest PP and bought shares in the open market. The shares topped at $.56 in January, have made a perfectly normal and reasonable correction to $.34 and are about to go higher. With progress on the merger front and a tail wind from the price of gold I expect them to go a lot higher. Do your own due diligence.
Anaconda Mining
ANX-T $.36 (Apr 26, 2018)
ANXGF-OTCBB 107.2 million shares
Anaconda Mining website
###
Bob Moriarty
President: 321gold
Archives
321gold Ltd