Paycore Minerals, New Nevada Gold Company Goes Public
Bob Moriarty
Archives
Apr 25, 2022
Paycore Minerals (CORE-V) is going public today and has released some incredible drill results. The company has two major projects located less than three Km from Eureka, Nevada.
The FAD Mine consists of 156 unpatented hardrock mining claims with 110-patented claims totaling about 1,467 ha. The patented claims will be far easier to permit. Hecla did a 1974, Pre-43-101 resource on the FAD mine reporting 3.9 million tonnes at 13 g/t AuEq or 1.3 million ounces. Since the stock has never traded, we need some metric to judge the value of the company. I will give you a couple.
The Hecla report said the grade in the underground CRD deposit consisted of 5.14 g/t Au, 196 g/t Ag, 03.8% Pb and 07.99% zinc. At today's prices that makes each tonne worth just over $922. That is a mine in the making with $3.6 billion worth of minerals in the ground.
(Click on images to enlarge)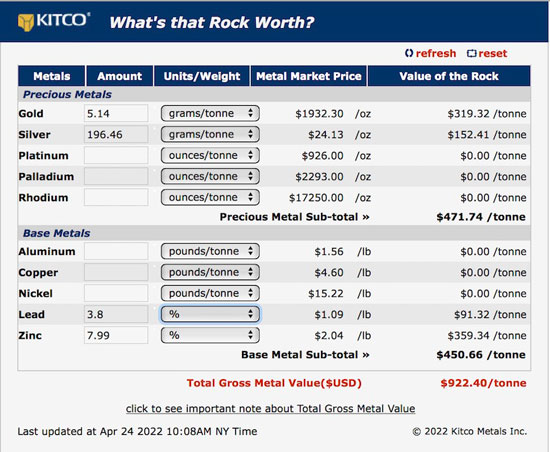 The company has released drill results from three of the first eight holes planned in a Phase 1 drill program. The remaining five holes will be released in May. The holes were nothing short of brilliant with hole GH21-01 showing 3.5 meters of 18.1 g/t AuEq. Hole GH21-02 reported 36.6 meters of 13.0 g/t AuEq and hole GH21-03 gave a still impressive 14.3 meters of 5.3 g/t AuEq.
Hole 01 showed $1251 USD per tonne and it wasn't even the best hole. A Phase 2 drill program of about 3,800 meters will begin in Q2 of 2022.
This is a very interesting company for several reasons. The 1974 Hecla historic resource is exceptional. The mine produced from 1956-1958 and hasn't had a single drill hole or modern exploration since. The mine was shut down due to an inability to pump out water. That isn't an issue now.
But the project is interesting from a geological point of view as well. The underground resource is from a CRD style deposit. I've been to a lot of projects in Nevada and have never even heard of a CRD located there though I'm sure there must be.
In absurdly simple terms CRD deposits tend to occur when hot and highly acidic sulfide fluids hit a limestone sedimentary layer. Generally it takes at least two pulses for a deposit to form. The first pulse prepares the limestone by forming holes or cracks as the acidic fluids eat away at the more base chemistry of the limestone. The second or further pulses leave the mineralization. CRDs are generally larger than epithermal deposits and not as large as porphyry deposits.
But I was talking about two different projects. This is really unusual. The underground CRD, the FAD mine is rare especially in Nevada but as part of the same land package there is another near surface oxide gold deposit last mined about a hundred years ago. It is called the Ruby Hill project and consists of a number of adits and declines.
Historic records indicate the near surface Ruby Hill mine produced 1.6 million ounces of gold and 38 million ounces of silver from 1.8 million tons of ore. The gold grade on average was about 0.89 oz/ton and 21.1 ounces of silver per ton. The Phase 2 drill program will target both the Ruby Hill project and the underground FAD mine. Should the exploration prove up an oxide potential I-80 Gold has a processing plant right next door.
How do you value a brand new company when it first starts to trade? There are a number of important metrics. The last placement was done with no warrant at $2.10 in November. You have a fairly hard number given the $3.6 billion figure for rocks in the ground at FAD. With 29 million shares outstanding and about $12 million in the bank you have an enterprise number of $49 million if the shares traded at the same price as the last PP.
I think there is a better metric and that would be to compare to another similar company with a major CRD deposit. Of course I am talking about Eskay Mining. I am a fair size shareholder in ESK and I love the company. They are going to go much higher and will deliver a lot more good results. But without any 43-101-resource, ESK has a market cap of $372 million CAD.
So with 1.3 million ounces of gold in a historic resource, that would be worth $80-$100 in a decent market. The float is very tight with a lot of strong shareholders and I don't see anyone giving their shares away. I'm going to guess the stock could go to $3-$5 in the near future.
Paycore might be an advertiser. I have participated in two different private placements so I am biased. Do your own due diligence.
Paycore Minerals
CORE-V 29 million shares
Paycore website
###
Bob Moriarty
President: 321gold
Archives
321gold Ltd