Low Risk, High Potential, revisited
Bob Moriarty
Archives
Apr 16, 2007
This market has matured to the point I am beginning to revisit properties I first visited many months ago. These revisits probably are the best part of the job. Face it, when you begin a property from the grass roots stage, for the first year or so, it's about as exciting as watching paint dry.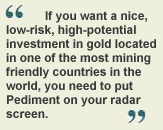 The company must map the property, do soil samples: in general, earn their spurs. Investors tend to not get interested until you put the truth detector to work, the drill.
I wrote up Pediment for the first time after a visit in late 2005. I called it a low risk, high potential company. The stock was $.68. It's now up about 40%, a decent return but it's about to get a whole lot better.
Our first stop on the tour, after a grueling 6 hour drive from Hermosillo, was the 700 hectares La Juliana gold property located a mere 6 km from the 2.1 million ounce Mulatos Gold mine owned by Alamos Gold.
Mulatos is a good model for the potential at La Juliana. Mulatos is an open pit; heap leach operation with costs of about $8.12 a ton of ore and production estimated at 120,000 ounces of gold for 2007. You don't need high grade when you have bulk tonnage and open pit potential. And heap leaching is the cheapest form of mining.
There is a giant advantage to being located next to a producing mine in the Sierra Madres, which we soon picked up on. Alamos had to build a many million-dollar road, which gave them big truck access to the project. In general, the roads in the Sierra Madres aren't much. Pediment get free use of what could have cost them many millions of dollars worth of road access.
Prior drill results from La Juliana indicated 1.19 g/t gold over 13.50 meters, 3.6 g/t over 3 meters and down to .47 g/t over 46 meters. The project had been owned at various times by Chesapeake and New World Resources. As part of the agreement with New World Resources, Pediment managed to obtain their exploration data. Gold mineralization at the Mulatos Mine consists of a 70-meter thick stratabound gold horizon.
Pediment plans a major drill program for 2007. 10 drill pads have been constructed out of 23 planned. In addition, mapping has been completed and an additional 200 surface samples have been taken.
I always like to see VG or visible gold. Gold is the single best indicator for the presence of gold and seeing is truly believing. We arrived at the project in two trucks; Pediment VP of Exploration Mel Herdrick walked over to a pile of rocks and picked one up. After peering at it closely with his loupe he handed it around as he smiled. Literally, the first rock he picked up had visible gold. That's always a good sign.
La Juliana has all the potential for being a Mulatos size project. There is oxidized, visible gold at surface, it is on the same NW running trend as a major deposit only 6 km away already in production and surface sampling indicates the potential for bulk tonnage. Grades are similar to Mulatos and they have scheduled the start of the lie detector machine (Drilling) for the next few weeks. This project alone has company making potential. But it wasn't my favorite project by a long stretch.
The original theory of Pediment was to focus in the Mojave-Sonora megashear gold-silver belt, host to a dozen or more major mines. Our next stop was to visit the Daniel gold project located near the El Chanate gold mine of Capital Gold just now going into production.
Trenching at Daniel shows similar mineralization to the El Chanate Mine. It's a large system of mineralization at Daniel, open in all directions so Pediment is continuing to add trenches and do surface sampling. A drill program is scheduled for summer, though they are still enlarging the targets and have been approached by at least three companies interested in joint venturing the project. Pediment says they haven't talked hard numbers on an option deal yet and aren't sure they even want to option Daniel before it is drilled.
One of the projects, which I visited in October of 2005 but we didn't have time to see except from the air, was the copper/gold porphyry project at Caborca. Inmet Mining Company has entered into a Joint Venture with Pediment on this property and can earn a 70% interest with payment of $250,000 and exploration expenditure of $5 million over four years.
Caborca is a company making potential project. The Mexican government actually put the project into production in the 1950s but failed to solve metalurigical issues and shut it down. They were trying to float oxidized material and that doesn't work. You have to leach oxidized copper with an acid solution.
Inmet is in the process of conducting an Induced Polarity program and will be drilling after completion of the IP and drill targets have been selected.
After we returned to Hermosillo, we flew commercial down to La Paz in Baja California Sur, near the southern tip of Baja to see my favorite Pediment project, Las Colinas managed by Pedro Teran.
Echo Bay Mines controlled this area in the 1990s and conducted a major exploration program, which succeeded in defining a resource of just over 3 million ounces at Paredones Amarillos, and about 750,000 ounces at Las Colinas using a .2-gram per ton cut off. Echo Bay dropped the projects when gold plummeted in 2001. Vista Gold picked up the Paredones Amarillos project in 2002 and Pediment acquired the Las Colinas area in 2005 with the merger of El Dragon.
Las Colinas is a mesothermal shear zone hosted gold deposit of Cretaceous age in Mesozoic crystalline rocks similar to that of Paredones Amarillos. (Try spitting that out after sucking down a couple of Coronas on a hot day sitting in the bar) IP has been exceptionally successful at locating excellent drill targets. Echo Bay drilled 31 RC holes at the edge of a shallow pediment cover. Some results indicated 15 meters at 1.32 g/t gold, 16.5 meters at 2.02 grams and 39 meters at .83 g/t. Pediment began drilling in early February of 2007 and as of early April had completed 8 holes. Pediment has two drill rigs turning at Las Colinas.
Las Colinas has giant potential, visually it appears that it may be much larger than the Paredones Amarillo project owned by Vista. Vista conducted a pre-feasibility study in September of 2005. Obviously costs have gone up since then but gold is also a lot higher.
Vista concluded that an open pit mine with a flotation processing plant would cost in the neighborhood of $100 million and provide a production planned for 141,000 ounces of gold in the first year, and averaging about 130,000 ounces per year over a 13 year mine life. Operating costs were estimated to be about $9 a ton. That will have gone up maybe 50% since 2005 due to the cost of power mainly.
Pediment has extended the IP project to the north and northeast where IP appears to be stronger than in the already drilled areas. They have two drills turning and plan a 10,000-meter program in 2007. Pediment plans on releasing an updated 43-101 resource reflecting the results of the drill program in the fourth quarter of 2007.
I've been on dozens and dozens of tours with all sorts of people. Geos tend to want to look at core and study drill results. Numbers are very important to them. Me, I want lick my finger well and thrust it into the air to get a feel for which way the wind blows. I do a SWAG as to the capability of management and try to guess just how successful they will be at putting together a good strong team. And that's getting harder and harder every day.
In 2005, Pediment had the benefit of having a good management and technical team, a great theory and properties, which had yet to prove their potential. Gary Freeman, President and CEO of Pediment convinced me to invest early on and I've been quite happy with his results. Mel Herdrick has done an incredible job of expanding his technical team during a period where picking up technical people pretty much requires an arm, leg and rights to your first-born.
Pediment has many more projects than I have covered, they may well have company making potential as well. But I want to see and hold something in my hands that I can measure. I love La Juliana, anything in the Sierra Madres has big potential and when you have VG at surface, you know you have gold.
Caborca was one of the major projects from two years ago and it has been JVed with a good partner who is advancing the project rapidly.
But Las Colinas is the real deal. It's located in an area that has been mined on a small scale by local miners for a couple of hundred years. IP has proven to be the best tool for locating the large near-surface gold mineralization and it is telling Mel and Gary that the undrilled areas should be better yet than the areas which already have a known and measured resource. Pediment is advancing this project; full speed ahead and I expect it to deliver a mine at the end of the day.
Vista hasn't put Paredones Amarillos into production yet but with no doubt it is a mine. Having a 3 million ounce project just 18 miles away from Las Colinas offers all sorts of potential for joining the projects together and gaining all kinds of cost savings.
I could see and touch and feel what Pediment has at Las Colinas. It's one of the sweeter projects I've seen and it's right at the stage where the company has the potential for making big waves and catching the fancy of the investing public. Gary needed to do a small placement and offered a piece to us on the tour. We took a large piece of the placement and I cannot give a higher recommendation to any company.
I like the theory, I like the management, the number of shares is tiny in comparison to their peers, they have cash in the bank and the lie detector is turning. While Pediment is an advertiser, we have voluntarily taken a major position in the company based on what I saw and we are prejudiced. If you want a nice, low-risk, high-potential investment in gold located in one of the most mining friendly countries in the world, you need to put Pediment on your radar screen. It's a winner.
Pediment Exploration Ltd
PEZ-V $1.01 Canadian (Apr 13, 2007)
PEZFF-OTCBB
24.7 million shares
32 million shares fully diluted
Pediment website
Bob Moriarty
President: 321gold
Archives