Gold Leverage
Bob Moriarty
Archives
Feb 23, 2012
With a Greek default scheduled for March 20th and WWIII planned by our masters in Israel it might be a good time to own some gold. I'm going to presume all my readers have taken out a gold/silver insurance policy over the last 11 years. But the question is what do you buy once you own a safe insurance policy hopefully under your bed.
The answer is resource shares. It might be gold or silver or energy or even water. I have attached a chart I printed out yesterday showing the ratio of the XAU to Gold. It's a pure measure of investor psychology. When investors are bullish, they prefer gold shares (XAU), when they are bearish, they prefer GOLD.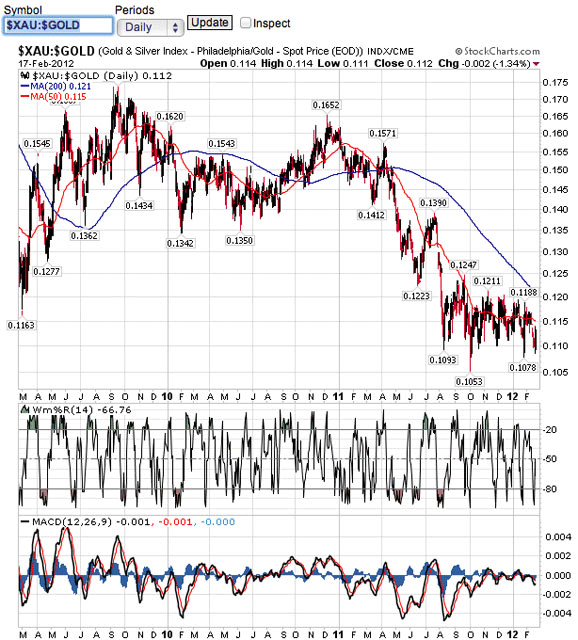 The chart dropped to an all time record low last August and has never recovered. So basically with $1700 gold, investors are more bearish than they were at $252 gold. That doesn't make any sense at all. This chart used to be the best forecasting tool around for predicting tops and bottoms in gold but has been ineffective since August of 2008 when we entered a Brave New World.
At $1756 gold, which is where it is at as I write, a gram of gold is worth $56.47. When you are trying to buy into a gold project, you need to understand the economics. One of the companies I have owned for quite a while just announced a deal on a 1.1 million ounce gold resource in British Colombia. The company is called Altair Ventures. (AVX-V)
Altair did a deal with Sultan Minerals in December of 2011 to acquire 75% of a 1.1 million ounce resource. It's low grade, averaging .7 g/t but if you think gold is headed higher from here, you want to be buying gold companies with the highest leverage to the price of gold. That would be Altair. With only 14.6 million shares outstanding, the company sports a $2.9 million dollar market cap.
The company will either go a lot higher or it will go away. This is a pure bet on the price of gold.
Altair is an advertiser and I have owned shares for a long time. The Chairman of the Board is Bob Archer, founder and leader of Great Panther Resources. I am biased, I know management and I like them. As always, you are responsible for your own due diligence.
Altair Ventures Inc
AVX-V $.20 (Feb 22, 2012)
AAEEF-OTCBB
14.6 million shares
Altair Ventures website
###
Bob Moriarty
President: 321gold
Archives