Novo Grabs the Gold Ring
Bob Moriarty
Archives
Feb 18, 2021
Novo Resources was aiming to deliver their first 400 ounce gold bar from a pour at their Nullagine mill on February 15th. It looked like they were going to make the target in spite of torrential rain and floods in the area. Ever the spoilsport, I pointed out to them that the 15th was a holiday in both Canada and the US and few would be paying attention. A flash flood did create a last minute delay when a bit needed fixing on the furnace so they flew in a tech to repair what went wrong.
But Rob Humphryson and his magnificent crew came through in the nick of time. And on the 16th of February CEO Rob Humphryson of Novo Resources announced the first gold pour at their newly redone Nullagine gold mill. They call it the Golden Eagle mill. I like Nullagine better.
(Click on images to enlarge)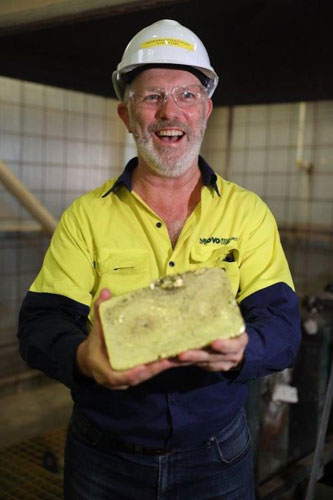 I have written a lot about Novo and just released a full-length hardback book about the company to date. A lot of readers will be surprised at what was going on behind the scenes. As early as 2013 Quinton Hennigh was making plans for taking over Millennium Minerals and the mill.
I don't know how a company could possibly screw up a $100 million dollar project but MOY management did from the gitgo. They designed, permitted, and constructed a wonderful brand new mill that was entirely the wrong mill for the ore they discovered. Now, frankly this isn't rocket science. It's like building a concrete dump truck to take your favorite girl to the prom. Anyone who passed Mining and Milling 101 with a grade of a D-Minus or above could have figured it out. Millennium couldn't.
Alas the best laid plans of mice, men and genius geologists oft go astray. The Aussie peso kept going down and the price of gold kept going up. Millennium somehow managed to eek out another week one day at a time. It wasn't a mining company; it was more of an employment agency for a management team that really deserved to be living under a bridge.
The wheel of fate finally caught up with them and Quinton Hennigh managed to pick up the mill and some pretty useless gold resources at an acceptable price. Naturally the naysayers were out in force predicting failure at every turn. That confused me. Rob Humphryson is one of the most experienced mining guys in Australia. There were experienced and qualified people working for Millennium who worked hard to make the company a success while management worked even harder to screw up everything they did.
That was then. This is now. Novo has a great team. They delivered on time and under budget. In a few months we will fully understand the ore grade and recovery. While Novo already has a healthy market cap, they will get a rerating when the production and profit numbers come out. And frankly of the three major profit areas, Egina, Beatons Creek and PR/CW at Karratha, BC is the cash cow but there is a whole lot more gold to be mined in the other projects. BC will merely fund them.
I became a shareholder when the company first went public. I have participated in a lot of private placements. I have bought and sold shares in the open market and Novo has always been one of my favorite companies. The gold potential for the Pilbara is just being scratched 133 years after it was first discovered. It will be producing gold fifty years from now and by then the market will have woken up to what a wonderful team Novo Resources has become.
Novo is an advertiser and I am biased. Do your own due diligence.
Novo Resources Corp
NVO-T $3.20 (Feb 17, 2021)
NSRPF-OTCBB 232 million shares
Novo Resources website
###
Bob Moriarty
President: 321gold
Archives
321gold Ltd