Irving's Hole 10 had Great Results
Bob Moriarty
Archives
Feb 10, 2020
There are times I want to grab the average investor by the stacking swivel and give them a good hard shake. While the shares are up about 35% since the first of the year, they took a 15% tumble on Friday when the company announced the first deep hole.
Strong investors in Irving should wave at the weak hands and remind them to not let the swinging door bang them on the butt on their way out.
On January 17th Irving released results from seven holes drilled at the Omui Mine. Six of the holes delivered significant results. These were shallow holes and not expected to hit much. The intercepts exceeded expectations.
Hole 10 was the first deep hole drilled on the project at either the mine or the sinter. It was intended to intercept an attractive target revealed by the CSAMT program conducted by Newmont's top guys. Quinton Hennigh has always wanted to drill deep, believing the goodie locker would be located deeper than 350 meters.
Quinton did give some hints in the press release about Hole 10 saying numerous quartz veins were intercepted and at least nine revealed particles of electrum. When the Hole 10 results came out on Friday, the company reported having intercepted 21 individual Au-Ag veins. Hole 10 was actually the very first hole to reach the primary target zone.
The weak hands promptly sold the shares down 15%. Sometimes you just can't fix stupid.
Hole 9 was another shallow hole and it had results worthy of mention. The assays from 9 and 10 came back together so they were released together.
From 190.0 to 190.8 meters down hole results over the .80 meters showed 46.3 g/t Au and 22.1 g/t Ag. That's $2350 per ton rock.
(Click on images to enlarge)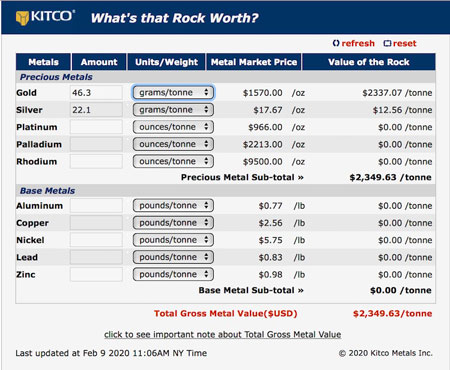 Hole 10 started off with a bang with the first three meters from surface showing 27.0 g/t Au and 40.5 g/t Ag. That's $1386 rock.
From 117.0 to 118.1 meters down hole came up with 29.6 g/t Au and 36.5 g/t Ag over 1.1 meters. That's $1515 rock.
That last intercept included 0.30 meters of 96.5 g/t Au and 65.7 g/t Ag worth $4,908 rock.
The system appears to have a silver rich pulse as well as the gold rich pulse. From 454.8 meters to 455.1 meters assays showed 26.2 g/t Au and 2970 g/t Ag over 0.30 meter. That's $3,010 rock.
Those who are concerned by the narrow widths of the high-grade veins should know that most of the veins at Hishikari average 0.5 meters in width. You could mine a mini-jumbo width of 1.8 meters and ship the whole thing or sort it and ship only the high-grade.
You will never make money in investing by being smart. You make money by realizing when others are being stupid.
This is the best initial drill program that I have ever seen. But the adventure is still ahead of Irving. At some point these numbers will get really boring. That might be a good time to sell.
My numbers indicate that 90% of the shares are in the hands of the top dozen shareholders. What goes down will go up. And quickly.
Irving is an advertiser. I have bought shares in the open market and in every private placement. Naturally I am biased.
Meanwhile I have been making belt buckles out of slabbed material that Quinton sent me.
Irving Resources
IRV-C $3.85 (Feb 7, 2020)
IRVRF OTCBB 53.4 million shares
Irving Resources website
###
Bob Moriarty
President: 321gold
Archives
321gold Ltd