White Rock Minerals Still Snoring
Bob Moriarty
Archives
Feb 8, 2021
When I visited Australia with Quinton Hennigh in June of 2009 while we were in Perth we visited an Australian mining company that wanted to talk about how to increase shareholder interest and boost the value of the company. For most periods, the Australian shares suffer a deep discount in almost every category to Canadian listed shares. On occasion you have something like De Grey that blasted higher from $.04 on Jan 1, 2020 to $1.55 by September 15th. Those kind of rocket ship runs can make one a fortune. I owned shares at $.04 and thought they were cheap and exited before $1.55 because I invest to make money and I had. At $1.55 it was getting absurd.
In any case in the meeting we had in Perth in 2009 everyone agreed Australian shares were mispriced. For the most part, I think that is still true. One of the best examples is a company I've owned for a year that became a sponsor a few months ago, White Rock Minerals (WRM-AX, WRMCF-OTCBB).
I bought shares in White Rock because Quinton Hennigh became an advisor to them. The company has three keystone projects and just added a fourth. With a $37 million dollar market cap the company has $13 million Australian in cash. The numbers on the company are nuts. The Alaska property contains two distinct assets. There is a 9 million ton polymetallic concession named Red Mountain not far from Fairbanks. It holds rocks in the ground worth $4.7 billion dollars. That ought to be worth something.
(Click on image to enlarge)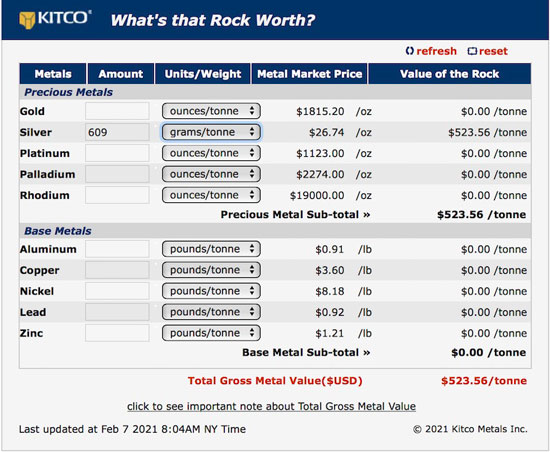 I started buying shares after talking to Quinton Hennigh about the company many months ago. While certainly a base metals project with that rich a grade should be attractive to majors, Quinton sees a bigger potential in their Last Chance gold piece of the total property. In 2019 White Rock did stream sediments on the ground and got results higher than what led to the discovery of the Pogo gold mine now owned by Sumitomo with 3 million ounces of gold. White Rock began drilling in 2020 but it was late in the season. Winter caught them early but they still had encouraging results from the short program.
The original bedrock property for the company was their Mount Carrington gold/silver project in Australia with 23 million ounces of silver and 352,000 ounces of gold. The property is 100% owned by WRM. You might believe that with all those mineral rich properties the company would get some respect but you would be wrong.
So recently management added an additional Australian asset, with 670 square km of a prime Victorian goldfield surrounded by the $100 million market cap and heavily promoted Fosterville South. Historic production from mines on the property has shown over 1 million ounces of high grade produced.
Matt Gill, the Managing Director, is first class. Quinton Hennigh is a technical advisor. I think they have exceptional projects combined with a strong technical team in both Australia and Alaska. I have made this one of my top picks for both 2020 and 2021. Anyone who has read my books knows that I stress buying shares in companies that are cheap. I bought a lot of shares in De Grey over the years when they couldn't give shares away. I rode them for a 1000% gain before selling out. If I had been smarter, I could have doubled my money again but no one ever captures both the bottom and the top of any share market. And it's far better to sell out too early than too late.
White Rock is going to move the latest asset into underground production with grades above 10 g/t. Perhaps one day the market will wake up and smell the roses as WRM goes a lot higher.
White Rock is an advertiser. I have bought a lot of shares in the open market and in multiple private placements. Naturally that makes me biased so do your own due diligence.
White Rock Minerals Ltd
WRM-AX $.515 Aussie (Feb 05, 2021)
WRMCF-OTCBB 72.7 million shares
White Rock Minerals website
###
Bob Moriarty
President: 321gold
Archives
321gold Ltd