Prime Mining Wants to Produce in 2022
Bob Moriarty
Archives
Feb 4, 2020
Prime Mining (PRYM-V) has picked up an existing gold mine in Sinaloa Mexico with a production history going to the 18th Century. Guadalupe de los Reyes is estimated to have produced 500,000 to 600,000 ounces of gold and 40 million ounces of silver. Prime is buying the project for $6 million and a 1% NSR. The 6300 square km property comes with a 43-101 resource of 535,000 ounces of gold and over 10 million ounces of silver. To date only 40% of the project has been explored.
When I talked to management at Prime they told me of their plans for going into production on a small scale within two years at a low capital expense. I'm hoping they change their minds. Their plan calls for a low cost heap leach with production of somewhere in the 60,000 to 70,000 ounce per year range.
The project was bought from Vista Gold who spent in excess of $20 million on exploration. It lies in a nest of half a dozen other similar mines in the area including Minera Alamos, First Majestic, McEwen Mining and Chesapeake.
Mining companies love heap leach systems because they are cheap to set up and mine. While the recovery leaves something to be desired, the low capex can turn a low-grade mine, well, into a gold mine. But heap leach is suitable only for low-grade ore. Some of the material Prime is reporting is out of the range for a heap leach.
Here's why.
In their presentation Prime talks about "potential" to optimize gold recovery to over 76% and silver to over 24%. In their recent press release they give numbers for surface samples. One of the best, from Zapote Central showed 30 meters of 3.93 g/t gold and 40.1 g/t Ag. If you assume (and notice that the word makes an ass out of U and me) they manage to accomplish their potential to optimize gold and silver recovery. If you take 24% of 3.93 and 76% of 40.1 grams of silver, by their own numbers they are leaving .935 g/t Au and 30.48 g/t Ag on the heap leach pad due to the inefficiency of heap leach pads. That's $65 rock and anyone in Mexico would love to start off with metal values that high.
(Click on images to enlarge)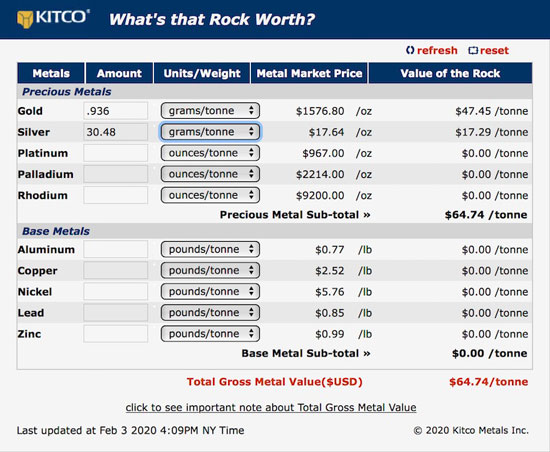 In short, heap leach pads are cheap but when you have higher grade ore as Prime seems to be finding, you lose a lot of money by not building a mill. Heap leach pads are great for $50 rock. I've seen mines that had all in costs of under $8 a ton. But when you start off with $222 a ton rock, it pretty much demands you build a mill even if it costs more.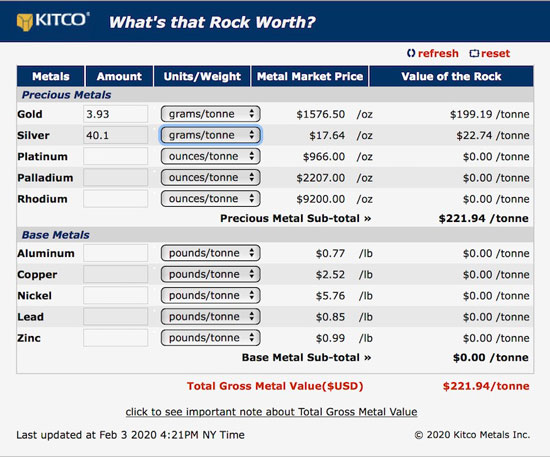 There is another even more practical reason for changing the plan that management is now contemplating. Thelr current business plan calls for production of 60,000-70,000 ounces of gold a year by 2022. But in this market investors just don't give a damn or a cent for anyone producing under the magic number of 100,000 ounces a year. It's like selling diamonds. A 1.00 carat stone is worth 25-50% more than a 0.98 carat stone even if you can't possibly see any difference. Investors demand 100,000 ounces a year. You either give it to them or you pay a giant premium for not delivering what the market wants to see.
If it were me, I would make the priority to increase the resource by 50-100% and build a mill with much better recovery rates than the 76% for gold and 24% for silver. This market demands a certain business model and from what I was told, management I think is going down the wrong path. They should either do it right or not do it at all. They bought the project at a great price. They have cash in the bank and are releasing a current up to date 43-101 shortly. At today's price of the shares, the company is only getting $30 an ounce for resources in USD. Their peers who surround them are doing a lot better than that.
This is a new deal only put together in the last six months. Management is just now getting their feet on the ground. But their silver resource alone would justify the entire market cap. They have money and times are improving for the junior sector.
Prime is an advertiser. I have bought shares in their coming out private placement so naturally I am biased. Please do your own due diligence.
Prime Mining Corp.
PRYM-V $.45 (Feb 03, 2020)
PRMNF-OTCQB 59.1 million shares
Prime Mining Website
###
Bob Moriarty
President: 321gold
Archives
321gold Ltd