Canada Silver Cobalt Drills $70,714 Silver Intercept
Bob Moriarty
Archives
Feb 1, 2021
A new company to me called last week and were eager to be advertisers on 321gold.com. I was basically familiar with the company but not nearly so much as many other companies I follow. On Friday I figured out why they wanted more exposure. They released a silver intercept of $71,000 rock. That's USD $71,000. That's about 9% silver and by far the highest-grade silver intercept I have ever seen.
(Click on images to enlarge)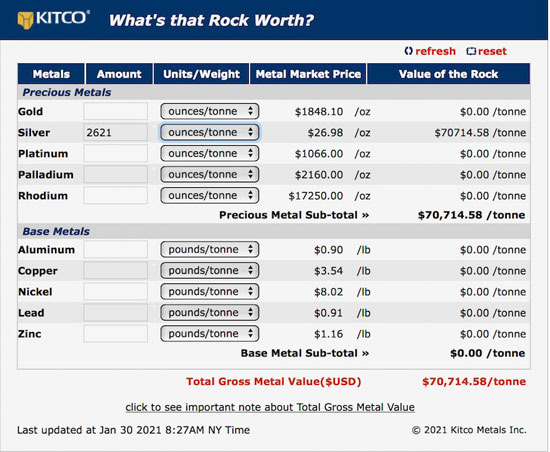 In the press release that came out on Friday the company talks about the intercept and call it 0.3 meters or about one foot. Then they go further into the details and explain that it is a true width of 5-7 cm or about 2-3 inches for those metrically confused. I really appreciate that because with any intercept that rich, investors really need to know the exact details. That is nothing short of remarkable. The picture of the actual core is even more incredible.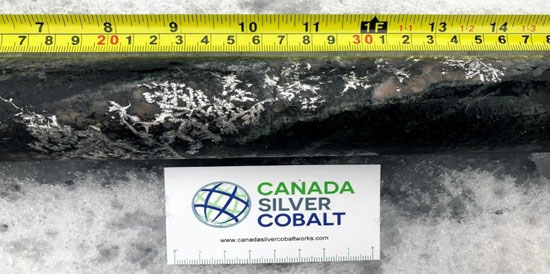 While Canada Silver Cobalt, hell, I'm going to call them CCW, their name makes me stumble, CCW has an inferred silver resource already of 7.2 million ounces which is not enough to set the world on fire. But the grade is at 250 ounces to the ton. You could practically mine that sort of mineralization with a blowtorch.
CCW is in the midst of a 50,000-meter drill program. They have completed 18,000 to 20,000 meters and so far have encountered an additional six new veins. The latest vein containing the 9% silver is only 60 meters from the last high grade silver vein. They have two drills working. Investors should expect results to keep coming out for months.
The silver and cobalt rich mineralization comes from what is called the Nipissing diabase formation, which was the source for 70 million ounces of silver and 300,000 pounds of cobalt, produced in the district. The diabase formation thickens and dips to the southeast and is high potential for more high-grade mineralization.
CCW is aggressively perusing other directions. They purchased the Temiskaming Testing Lab in the town of Cobalt. They have hired an independent contract operator to run the lab. In most of Canada and the US assays are running up to 6 months behind since the governments are paying people more to not work than to work. Owning the lab will cut the assay times down considerably.
At two of the former operating mines CCW owns, the Castle and the Beaver mine, there are sizeable tailings from mining activities going back to the turn of the 20th century. CCW is working on permits and plans on processing the material in order to shorten the time to the production of revenue.
I will know more about the company when I have a chance to study it but so far I'm impressed with what I see. CCW makes a valid point that the 7.6 million ounce silver resource came from only 3,000 meters of drilling. They ask the perfectly reasonable question, if you can define 7.6 million ounces with 3,000 meters of drilling, how much can you define with 50,000 meters of drilling?
Obviously CCW is a brand new advertiser. I have not bought shares or participated in any private placements but still I am biased so as always do your own due diligence. On Friday the results drove the share price up $.085 or 19% and nothing says it can't run higher.
I've had a lot of questions about a potential run on silver. Much of what is being said is pure rubbish. In commodities it is not possible to have naked short selling. Every single contract has one buyer and one seller so no one is going to stiff the shorts on the basis of naked short selling because it can't exist. So anything you read about naked short selling in commodities is written either by a fool or a liar.
The idiots investing through Robbinghood are well meaning, I'd like to see Wall Street taken down a notch or two but they are going to not only lose their investment, they may well bring down the entire financial system on their heads. The markets are a giant balloon in search of a needle. I think they just found it.
Canada Silver Cobalt Works Inc
CCW-V $.59 (Jan 29, 2021)

CCWOF-OTCBB 121 million shares

Canada Silver Cobalt Works website
###
Bob Moriarty
President: 321gold
Archives
321gold Ltd