Deal of the Year
Bob Moriarty
Archives
Jan 31, 2014
If you are determined to make your fortune in the shortest time possible, you want to head over to Albania and open a Mercedes dealership. I just got back from a week there and I saw more Mercedes cars than any other vehicles.
People who don't know me well don't realize that I am a big fan of economies collapsing. I would find it the most wonderful thing in the world if the US Banking system shut down tomorrow and half the population of America was unemployed. Albania should be our model. In 1997 the economy there consisted of a lottery Ponzi scheme run out of Italy. This was after 50+ years of Communist mismanagement.
The economy blew sky high and unemployment rates went to the moon. For the next several years, there was no government in Albania. It must have been heaven. Now the most popular car is a Mercedes, beautiful new buildings are climbing to the sky. Food is both excellent and cheap. My meals there cost me about $7.
We should be so lucky. Meanwhile the government of the United States bleeds us to death with a myriad of taxes and government mismanagement. We are the most spied on people in world history, all in the name of fighting "TERRORISM" while we are subservient to a tiny country in the Middle East that invented TERRORISM. We have engaged in half a dozen wars on their behalf and lost every one. Our military didn't fight anything bigger than a good-sized Girl Scout troop in either Afghanistan or Iraq and we still lost.
Anyone defending their family or country there was immediately labeled a TERRORIST while our Congress and Senate fought to see who could commit the most treason. The Prime Minister of our Master State visited Washington DC and addressed a joint secession of Congress and the Senate. When he lifted his leg to pass gas, he received a 15-minute standing ovation. Could our congress be any more corrupt than they are today?
We will collapse, it's written in the cards. Our banking system went under water in 2008 and never recovered. Congress and the Fed sold out Americans and handed the keys to the candy store to the banks and Wall Street. As a result we have impoverished not only our children but also their children. The Piper must be paid and the bill is coming due.
The company I went to visit in Albania is named Arian Resources. (ARC-V) They just announced the deal of the year. I saw three projects, the last is a giant winner and the first two aren't bad all by themselves.
The announcement on Thursday Jan 30th had to do with the prior producing Perlat copper-gold-silver-cobalt deposit in Northern Albania. The project is permitted for 25 years with the option to renew for 10 years.
The mine was discovered by the state run geological institute under the Communist government in the 1960s. The Communists drilled some 165,000 meters of drilling in 460 holes. Only rarely did the Communists actually assay for gold but there are excellent gold values. The drill data the company has would cost $30-$40 million to duplicate.
You owe it to yourself to look at the assays in the news release. It hasn't even made it onto their website yet, the President of the company is in China talking to his business partner and hasn't had time to get the website updates.
The results are outstanding. The deposit is a Cyprus Style VMS form of mineralization. The copper-gold mineralization is found in a series of flat lying lenses near surface.
The Rubik Geological Enterprise (Communists) recorded historic resources for the Periat mine in 1979, 1983, 1986 and 1993. They correspond to the Russian "reserve" categories of A, B, C1 and C2 in order of decreasing confidence.
Since the resource is non-43-101, the Canadian bureaucrats want you to ignore them until they can be drill tested to see if they conform to Canadian standards. Don't bother waiting. In Canada if you fudged resources prior to Bre-X, you got your hands slapped. Post Bre-X, they slap your hands with a wooden ruler. Folks, in Albania under the Communists if you faked resources, you got shot, your dog got BBQed, your family got sent off to a slave labor camp working in the same mine and your house got burned down as a warning to the other geos.
Read the press release, it contains just the copper resource numbers, not the gold or the silver. Those metals made it to the refinery but they then disappeared and there are no records of what happened to the precious metals. The lowest grade resource was 1.78% copper; the highest-grade resource was 3.49%. Those numbers would rocket a stock higher anywhere in the world. But few people have read the press release yet. That's why I'm pounding on my keyboard at 11:30 at night.
I picked up a likely looking rock and bashed it with my hammer while I was inspecting the 2nd existing shaft. The first rock I picked up turned out to be 6% copper. This is a nice project.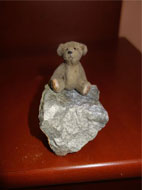 This mine already has 200 million pounds of copper located. Taking the drill results conducted by Balkan Resources seem to show a 1-1 value with the copper and the gold. The copper equivalent numbers are 2-3 times the simple copper values. It's pretty rich.
The mine was in production until 1996. In 2006 Balkan Resources, a private company picked up the property and drilled 5000 meters of core drilling in 2007 and 2008. Balkan found itself unable to raise more money as a private company so put the company up for sale.
Arian is buying 100% of Balkan for about $9 million. Arian is paying 5 million shares on Feb 14, 2014, a $2 million dollar payment on Jun 30, 2015, another $2 million dollar payment on or before December 30, 2016, $2 million more when a concentrate from the mine is accepted by a smelter and an additional $3 million or 3 million shares. Balkan will hold a 2.5% NSR on the mine for the life of the mine.
Arian has a work commitment of $472,000 by August 1 of 2014 and an additional $3 million in 2015 and $6 million in 2016. To raise money to advance the project, Arian is conducting a 16 million unit Private Placement at $.15 to raise $2.4 million. Expect existing shareholders to feed shares into the market at $.14 to $.15 until 16 million shares have traded. This is going to allow potential investors a narrow window of opportunity until the PP is finished to buy the shares cheap.
The project is a gimmie. Arian has hired the management team that actually ran the project under the Communists. They know what is there and how to extract it. There are two existing shafts that can be put back into service just by installing a head frame and pulley. Power and water are available. This would be the cheapest copper-gold mine to put into production I have ever seen. They can be shipping ore to a nearby Turkish mill for under $10 million complete.
I don't know what the value of 200 million pounds of copper and an unknown number of ounces of silver and gold in the ground are worth. With 50 million shares outstanding today, the market values the company at about $7 million.
But the Perlat copper/gold mine is not their only pony. In December Arian announced a $1 million dollar 2000 meter drill program to be paid for by their Chinese partners on the Kacinar Gold project. Kacinar is a newly discovered greenstone hosted gold system. Arian's partner in the JV is a Chinese company named Sinomine International Exploration.
Sinomine has an option to buy up to 60% of the project by spending $6 million over three years in exploration. By implication that values the entire Kacinar Gold project at $10 million and Arian's portion at $4 million once Sinomine finishes their $6 million dollar program. This is in a company worth only $7 million today. That seems pretty cheap.
Arian has scored a giant coup by snatching up this project. It's very high grade and that means it will go into production no matter what the price of copper. If copper goes up, the value of Perlat goes up even more. If the price of copper goes down, all those marginal projects in Colombia get tossed on the scrap heap. It's a pretty much no lose situation for Arian.
Arian is going to have to increase their bandwidth. They have been keeping costs cut to the bone and staffing levels down. To advance Perlat to production they need money and good people. I don't think either will be hard to find.
Arian is an easy 10-bagger. If it weren't for the 13 million-share overhang due to the pending PP, the stock would have doubled today. Investors will have some little time to do their own due diligence and make up their own minds.
I have bought shares in the open market and will probably participate in the PP. Arian may well be an advertiser and I am biased. Do your own due diligence.
Arian Resources
ARC-V $.14 (Jan 30, 2014)
GNHRF-OTCBB 50 million shares
Arian Resources website
###
Bob Moriarty
President: 321gold
Archives