Irving Resources Delivers
Bob Moriarty
Archives
Jan 25, 2018
If you needed to be reminded that Japan sits on the Ring of Fire and what that means for volcanos and earthquakes all you have to do is read about the latest 7.9 earthquake in Alaska. In Alaska the Pacific plate is being subducted under the Aleutian Islands arc. In Japan the Pacific plate is being subducted under the Kamchatka Peninsula arc.
As a result you get a lot of violent earth activity. Including fluid movement that brings up minerals from below up through cracks in the earth or low-pressure areas. When either the pressure drops or the temperature or chemistry changes, you often have minerals precipitating out of solution. All minerals are found everywhere but to have an economic resource or mine, you must have a concentration.
There is so much mineral bearing fluid movement in Japan that the country hosts the highest-grade gold mine in the world, the Hishikari gold mine with a head grade over 40 g/t.
I'm going to write today about Irving Resources (IRV-C) and I will define a new sort of company. That is, a sleeper. I call it a sleeper because watching paint dry is a whole lot more interesting that watching the share price move for Irving. In a word, it's boring. But like Sleeping Beauty, one day a handsome prince (the bureaucracy) is going to kiss the company and it will be a sleeper no more.
Actually I believe the company is going to shock everyone in the mining business except Akiko Levinson, Quinton Hennigh, Hidetoshi Takaoka, technical advisor and discoverer of the Pogo Mine in Alaska and of course, myself. I don't think they have another Hishikari. I think they have a couple of Hishikari mines and that's just based on the information they have already announced.
(Click on images to enlarge)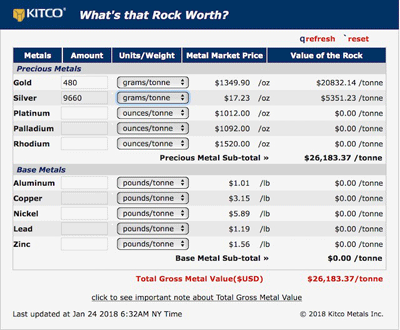 All gold mining in Japan ceased in the early years of World War II. As with the United States, gold mining was hardly a critical war resource. The Hishikari mine was an outlier, little exploration work has been done in the last 75 years and there is almost no mining expertise in the government so it takes a lot longer for approvals to be made than in any other country I know of.
Irving got serious about Japan in 2016 and began releasing interesting results about thirteen months ago. The highest-grade sample is shown above but by no means was it totally out of the ballpark. The same press released that was pretty much ignored by the market included samples of 143.5 g/t gold and 2,090 g/t Ag as well as 67.5 g/t Au and 1,060 g/t Ag.
I went to see the project in July. Before that I kinda had the idea Quinton was wandering through the bamboo knocking interesting looking rocks to get what he got. Boy did I have it dead wrong. We took samples from several veins that looked exactly alike the high-grade material Irving was reporting in December of 2016. It was at surface, there wouldn't be any drilling 600-meter deep holes in the hopes of finding a vein. You could explore using a backhoe. You could mine with a pickaxe.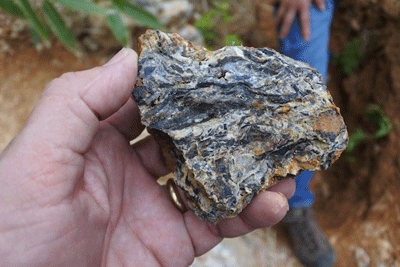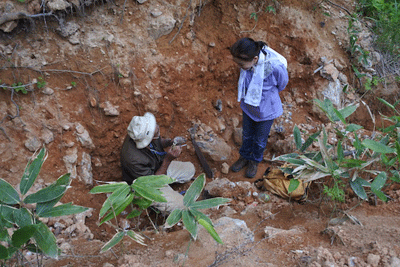 Irving is awaiting acceptance of their mining applications. Those take time, the government has to relearn the mining approval process and it is Japan after all. Things get done right but not necessarily swiftly.
I know few investors read press releases other than drill results and many times they can be confusing as well even to me. Irving began to release results from their groundwork in early January. The market yawned and it shouldn't have. Most basic exploration is both technical beyond belief and frankly boring. But the January 3 release was a barnburner if you understood it. Clearly the market didn't.
First of all, Irving is not doing greenfield exploration in the hopes of finding a gold mine. It's brownfield; there were mines there for many years. But they are using modern technology and the results are staggering even to them.
Since the summer when I was there, Irving has had a team on the ground doing BLEG sampling. BLEG stands for Bulk Leach Extractable Gold. Try saying that quickly after about four martinis. It is done by sampling the very fine material where water flows. You are not measuring grade, indeed the coarse gold is kept out of the sample. You are doing nothing more than seeing if you have very fine gold. It will show you areas where gold has been washed out of the country rock.
I have had a discussion with the people responsible for the press releases for Irving. There are a bunch of pictures of results from the BLEG survey at the bottom of this press release but they are much too small to read. I am hoping I can convince the company to put up images that can be read. However, I know how to read the data and the Omu gold/silver project is a lot bigger than Irving thought. And we already know it is near surface and shows obscene grades.
They released more interesting information a couple of days ago. Again you have to look closely. Now this is just my impression and opinion but I've been to hundreds of projects and worked with hundreds of companies. Irving has more solid high-class technology people than any company I have ever seen. They have no dead wood. You can go look at dozens of companies that are doing nothing yet have twenty people working for them. Doing what?
Quinton and Akiko wanted to fly magnetics over the property. They talked to their technical people from MINDECO. (Mitsui Mineral Development Engineering Company) Everyone realized it was probably out of the question. It's not like Australia or Canada or Nevada where every small airport has two or three planes equipped to do airborne geophysical work. It's Japan and there are few private aircraft of any type. Someone from MINDECO suggested they just build a unit and hang it on a drone. So they did. I think it took two weeks to do. This is a first in the world as far as I know.
To give you an idea of the value, an aircraft and pilot to do this would be in the couple of thousand dollars an hour. And frankly, aircraft aren't as sensitive to altitude as a drone might be. So an airborne program might cost a company $250,000 to $500,000 with a fixed wing plane and 50% more than that for a chopper.
MINDECO designed and flew a drone-based system in two weeks. That's how good Irving's people are. There are pictures of the drone at the bottom of this press release.
One of the things I saw when I was in Japan in July was a potential sinter. That's a hot springs system similar to the one that mineralized Hishikari. A sinter is nothing more than a quartz cap formed over a hot springs. Geos like them because often the cap holds in the mineralizing fluids so they can't spread out. Quinton told me in July that the Omu sinter (as opposed to the Omui mine which is totally different) is the largest he has ever seen.
The latest press release indicates the potential for that being a giant deal. If you look at figure 4 at the bottom of the release, the airborne mag literally glows in the dark. That's a giant indication of a highly altered system. We aren't going to know what it means in terms of gold until we hook up the lie detector (Drill rigs) but it had Quinton and Akiko Levinson jumping up and down and singing. Marijuana is not yet legal in Japan so I think it was the mag survey.
And if you continue down to figure 5 you can see the mag survey at the Omui gold mine. We know already just how rich it is so the data tells us it's bigger than Irving believed and implies the Omu project has a lot of potential.
Investors have been patient with Irving and while the latest technical data is vital to their future, it's boring unless you understand it. The market will be comatose until the drill rigs start turning and for patient investors there will be a lot of time to buy shares cheap.
Understand that when you are waiting for government approvals, you are limited in what you can do. The lack of information flowing from Irving is not because of Irving. The timing is out of their control for now. But in the coming six months, the company will be announcing soil samples for Omui and the Omu project. They are developing drill targets and are planning for bulk samples as soon as they are approved.
Irving plans on submitting a mine plan for the Omui mine in February and will be submitting their exploration plan for their new licenses. In March they hope to receive transfer of the Omui mining application. By April if all goes well, they will have gotten approval of the exploration licenses. And if all works out, by May they will have approval of the mine plan for Omui. Hopefully in June they will commence drilling, trenching and bulk sampling.
From now until they can begin drilling and trenching, Irving is going to be a sleeper. This piece may attract some attention to the company but the price will come right back down until they can announce assay results that indicate the potential. From that point on, I expect the price of the stock to go a lot higher. This is not a lottery ticket on the Omui gold mine. It is a lottery ticket on the Omui gold mine and the Omu sinter project. Either property has world class potentially. While others like to hem and haw and measure their words carefully, I'm too old to give a damn.
This project is going to hit on both and at today's price the total value of the company is about $21 million USD. If they hit on both, the company will go up ten fold. But that won't be its high.
Irving is an advertiser. I have participated in private placements and bought shares in the open market. I am naturally biased and any potential investors are responsible for their own due diligence.
Irving Resources
IRV-C $.79 (Jan 24, 2018)
IRVRF OTCBB 32.8 million shares
Irving Resources website
###
Bob Moriarty
President: 321gold
Archives
321gold Ltd