Brigadier Strikes Gold in Mexico
Bob Moriarty
Archives
Jan 20, 2021
What if they gave you a party and nobody came?
That's the situation that Brigadier Gold (BRG-V) seems to be caught in. Brigadier has been drilling their Picachos gold property in Mexico and coming out with excellent results. No one seems to care.
Brigadier has an option on the 3954 ha Picachos Gold-Silver property in Sinaloa. To earn 100% BRG is paying cash of $275,000 USD along with issuing 4 million shares and has a cumulative exploration requirement of $3,850,000 over a five-year period. In addition when they have delineated a 350,000 ounce inferred resource they must issue an additional 1 million shares. Upon completion of the feasibility study they need to pay $750,000 more and 1 million shares. At commencement of commercial production they need to pay a final $2 million in USD. There is a 2% NSR.
The terms may sound like a lot but the property is only fifteen miles from the Vizsla Resources' Panuco property. Vizsla currently has a $140 million CAD market cap. The Plomosas deposit of GR Silver is also only 15 miles from BRG. GR Silver sports an $88 million CAD market cap.
The San Agustin Mine has never been drill tested. The mine has 665 meters of historic underground development. On the overall project there are more than 160 historic mines. The company is in the midst of a 5,000 meter fully funded drill program. So far 3,085 meters have been completed in 28 holes with assays from 20 holes released so far.
The assays fully support management's theory that the mines still have vast economic potential once drilled. On January 19th the company released a set of assays ranging as high as 9.49 g/t Au and 24 g/t Ag over three meters.
(Click on image to enlarge)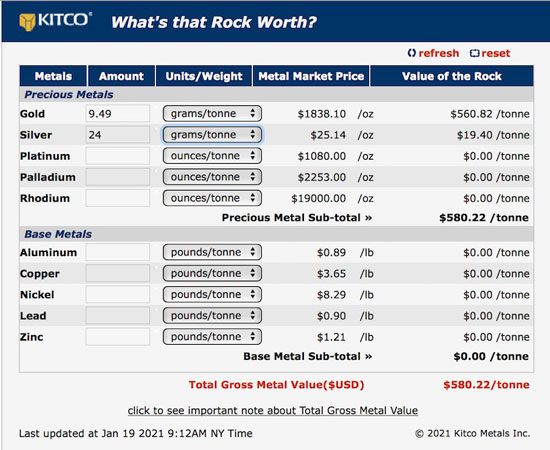 Other results showed 6.24 g/t Au and 79 g/t Ag over 3 meters, 7.03 g/t Au and 110 g/t Ag over 3.5 meters and 6.75 g/t Au and 44 g/t Ag over 2/5 meters. Numbers such as those will build ounces in a hell of a hurry.
I don't think that investing is rocket science. I've written a couple of books talking about what I recommend. If you go to Amazon and read the reviews you will see they have been well received. If you want to make a profit, you have to ignore the crowd. When everyone is cheering for gold, you should be selling. When everyone is whining about manipulation and how rotten gold has been acting you should be buying. If you will buy when things are cheap and sell when they get expensive, you can make a lot of money on junior mining lottery tickets.
Brigadier is absurdly cheap. It is one of my top three picks for the year and frankly I expect it to go up by the biggest percentage gain of the three stocks I picked. At $.20 a share it has a market cap of under $12 million CAD. Their results are exceptional and will continue. The company has 14 million warrants at $0.10 expiring in June that are solidly in the money. Look for them to expand the drill program when the first 5,000 meters is complete.
I have bought a lot of shares in the open market. BRG is an advertiser therefore I am biased. Do your own due diligence.
Brigadier Gold Limited
BRG-V $.20 (Jan 19, 2021)
BRADF-OTCBB 58.5 million shares
Brigadier Gold website
###
Bob Moriarty
President: 321gold
Archives
321gold Ltd