Sterling is Hot in Newfoundland
Bob Moriarty
Archives
Jan 19, 2021
Sterling Metals used to be Latin American Minerals with an interesting gold project with excellent numbers in Paraguay. After LAT spent millions of dollars advancing the project in the landlocked South American country, the locals decided they should get the benefit, not Latin American. So in September of 2018 the company pretty much gave away the project. Actually it was a good move, the project had turned into a giant money pit. The powers that be in Paraguay were not about to allow a Canadian mining company to make money mining in the country.
CEO Mat Wilson spent the next two years finding a world-class potential project in a more mining friendly area. It took until the summer of 2020 for Mat to find the right project. Wisely he settled on both Canada and Newfoundland and got into bed with the top and most experienced junior in the province, Altius Minerals.
The two companies came to an agreement on what they call the Sail Pond Silver project in NW Newfoundland. In August of 2020 they agreed on terms where the former Latin American Minerals, soon to be named Sterling Metals would issue about 19.9% of their shares to Altius for a 100% interest in Sail Pond. Sterling was required to complete at least a $2 million financing as well as a work commitment of $500,000 in the first year and an additional $1 million within the first three years to get their 100% interest.
Sail Pond is a recent 2016 discovery made by a local prospector. So far $1 million has been spent on exploration by Altius. So far they have little more than grab samples to give an indication of what they might have. The project has not yet been drilled. Grab samples include results as high as 2030 g/t Ag with 7.08% Cu, 9.4% Pb and 0.46 g/t Au, worth a nifty $2400 a tonne.
(Click on image to enlarge)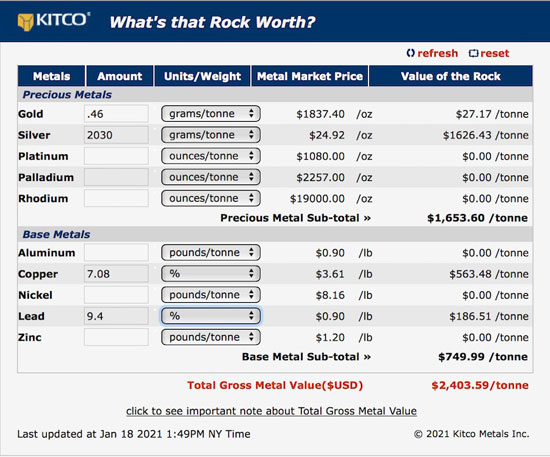 I know Mat Wilson from his time at Pinetree Capital. We have been on trips together. I have a lot of respect for him even though I lost a fair bit of money on LAT.
I think he has come up trumps but obviously he is going to have to show some serious progress to get the company on track again. I like the guys at Altius. They do good technical work. They have structured a deal that I think is good for both parties. The work that has already been done at Sail Pond suggests it has good potential but it will take a lot more work and more money to prove it up.
Sterling Metals is an advertiser. I have participated in the latest PP so I am biased. Please do your own due diligence.
Sterling Metals
SAG-V $.53 (Jan 18, 2021)
LATNF-OTCBB 40.6 million shares
Sterling Metals website
###
Bob Moriarty
President: 321gold
Archives
321gold Ltd