GSP Resource Hits High-Grade Copper
Bob Moriarty
Archives
Jan 11, 2021
I don't think I would surprise any of my readers by saying this is probably the most irrational I have ever seen any market. But when you have the stupidity going on in Washington DC that we have, Bitcon sucking in new chumps and a totally fake Plandemic around the world why should anyone expect anything rational?
I am on record as saying even recently that I thought the correction was over and the next couple of months should be smooth sailing for resources. But in the last week the DSI went up a lot for the metals. The DSI hit 9 for the dollar on the 17th of December and the dollar is almost certainly going to continue higher.
So now I think we are in for what might be a major correction for a couple of reasons. Bitcon has gone totally stupid. The idiots who think electronic Beanie Babies are just wonderful are back telling me how stupid I am. Of course I have been right 99% of the time since I called the top in December of 2017 and they were wrong. I now realize that being right 99% of the time is not good enough for some people and them being right for 1% of the time qualifies them as a genius.
Bitcon is in the clouds and there will be a mighty crash. As will the general markets that might well include gold and silver and resource stocks. The world isn't ending but it is beyond stupid. The Nasdaq DSI is 92, the Nikkei is 93, the S&P is 88 and if you don't have a nose bleed now you are going to have one soon. They will correct and correct hard. And soon.
Copper was going great guns for months to a new four year high. The copper shares shrugged. Now the DSI for copper is 92 and it will correct. That said, there are still some great copper stocks out there. One that I follow and like a lot is named GSP Resource. If you like copper I think you have to think about GSPR. It owns the Alwin deposit right next to Teck's Highland Valley Copper mine.
GSP Resource just finished a Phase 1 drill program at Alwin and released excellent results on the 23rd of December. I wish someone had told them to never ever release results from the middle of December until at least the 1st week of January. No one pays attention and they didn't in this case. The share price has hovered around $.31 for two weeks but the numbers from the six-hole program were great.
Hole 1 showed 2.27% copper over 12.1 meters. That is $184 a tonne rock in USD.
(Click on images to enlarge)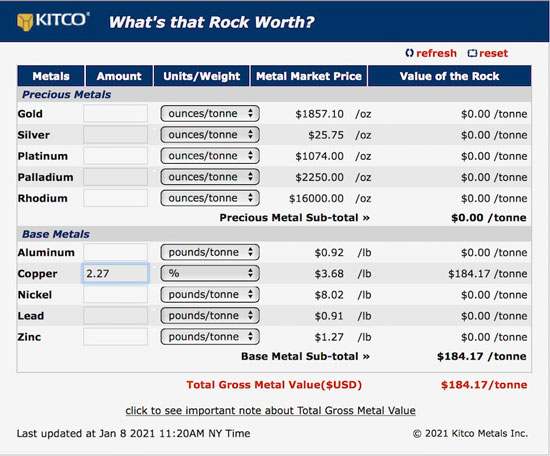 In what management considers of more importance, hole 2 showed 0.40% copper over an impressive 39.8 meters. Just as a matter of interest, at the Highland Valley mine just to the east of the Alwin deposit, Teck uses a cutoff grade of 0.10% for ore. Management believes further drilling will reveal a low-grade halo around the higher-grade material. If so that would offer the alternative of having an open pit deposit.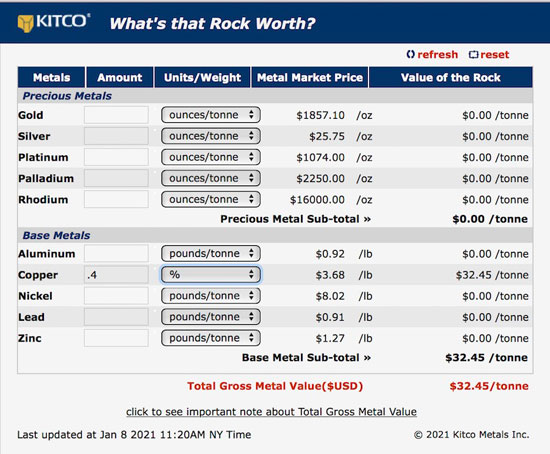 Obviously what the company really wants is to show sufficient grade and tonnage to encourage Teck to buy them out. If they continue to drill similar intercepts near surface, which is probably going to happen. With a market cap of under $5.7 million GSP Resource is cheap and worth buying for that simple reason.
GSPR plans a Phase 2 drill program starting soon and completed a $550,000 private placement in November to pay for it.
Now would be a great time to take some money off the table in the hope of picking up shares cheaper soon. At the very least use the chaos as an opportunity to rearrange what you own.
GSP Resource is an advertiser. I have participated in a private placement in the past and as such that makes me biased.
Do your own due diligence, please.
GSP Resource Corp
GSPR-V $.305 Jan 08, 2021
GSRCF OTCBB 18.3 million shares
GSP Resource website
###
Bob Moriarty
President: 321gold
Archives
321gold Ltd